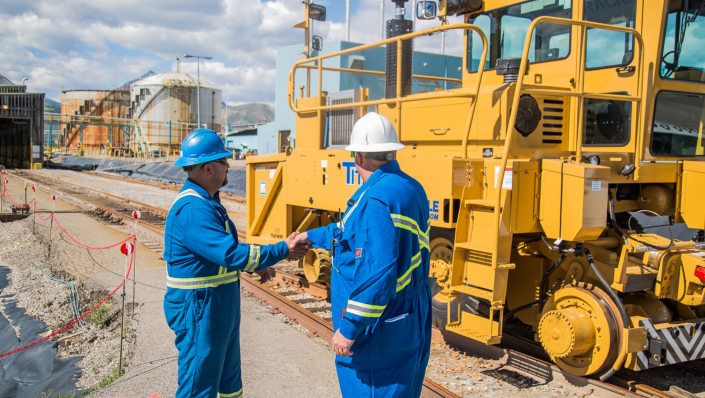 A leader and innovator in the railcar mover industry, Trackmobile has unleashed another new breakthrough product this year. The LaGrange, Ga.-based manufacturer of railcars, released its Atlas model – the company's largest railcar to date.
"It is the thoroughbred of the railcar mover line," says Judith Sebastian, marketing manager. "And it has state-of-the-art features that are unique to Trackmobile."
The Atlas is designed to better accommodate rail application locations that require greater tractive effort due to unfavorable conditions or applications.
Delivering 43,900 pounds of single coupled tractive effort and 60,200 pounds when double coupled, the Atlas offers more capacity, increased operator comfort, ease-of-use and includes many options as standard equipment.
"It has a new cab design that really enhances the 360 view that the operators need," Sebastian adds. "It also has tinted windows and a complete HVAC system similar to heavy-duty trucking."
Its premium HVAC system promises unparalleled defrost, heating and cooling effectiveness and the new fully suspended cab design offers enhanced operator comfort with reduced rail vibration.
The Atlas' other standard features that come as an option on other railcars include an upgraded jump seat, underhood engine and work lights, fire extinguisher, patented MAX-Tran and MAX-Trac systems and a train air charge indicator.
Enhanced Features
In development for two years, Trackmobile's Atlas provides the most consistent tractive effort in applications with adverse track conditions in the industry. Its shorter wheel base and machine length are an asset when it comes to the equipment being agile and easy to maneuver.
"We have the most consistent tractive effort in all kinds of weather and that's a big deal," Sebastian says.
The first new model to be introduced by Trackmobile since 2009, the Atlas is loaded with a variety of enhanced features. It has an upgraded traverse coupler control valve that smooths out compression in tight curves, reducing potential for coupler buckling. It also features an enhanced hydraulic roadwheel lift which allows its wheels to extend 33 percent faster.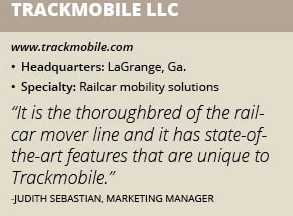 "A lot of features that come as options on other machines are standard on this," Sebastian says. "It even has a digital readout that instantly lets the operator know when the railcar brakes have enough air pressure to travel safely. This saves time and critical operator attention. Without this, the operators need to calculate it manually."
Other enhanced features include a rear rail wheel alignment window cover that maintains cab temperature and reduces noise, a 12-step cab epoxy dipping and finish painting to penetrate and seal all crevices for optimal rust resistance, forged steel wheels to offering longer wheel life and a transmission mounted hydraulic parking brake. Coat hooks, embedded LED headlights and a locking glove compartment further enhance the operator's job.
"With the exception of opening the hand brakes on the railcar and connecting gladhand hoses, everything is done from inside the Trackmobile," Sebastian says. "The operator has full knowledge and control." Since its introduction to the market in March, the Atlas has proved to be a popular product for Trackmobile. "It's been very well received and we've maxed out our order capacity on the models for this year," she adds.
70 Years Later
Founded in 1948, Trackmobile is celebrating its 70th anniversary this year. The company created the railcar switching and movement category that year as a solution to specific customer needs in railcar switching.
It is known as the founding innovator and leading manufacturer of the bi-modal railcar mover with more than 11,000 sold globally. Since then, Trackmobile has introduced products like Viking, Hercules, Titan and the Atlas to the railcar mover industry.
"Trackmobile delivers higher operational efficiency, lower maintenance costs, longer service life, greater safety and comfort with a market-leading total cost of ownerships that can break even in as little as one and a half years," Sebastian says. "We have had several customers' business units that have performed cost analysis of their rail operations that provided us with the 1.5 year ROI on the investment in Trackmobile."
The company's success has been partially driven by the company's forward-thinking attitude and ability to cultivate an environment of continual innovation to stay ahead of the curve as the market changes and grows.
"The company was started by engineers," Sebastian says. "And engineering continues to be our focus. Our engineering department is always stewing on new ideas."
Trackmobile engineers often visit customers onsite to make sure their machines perform the way the customer wants them to perform. "That's how they get ideas for improvements," she adds. "That's what built our brand."
A Group Effort
Trackmobile is a Georgia-based Marmon Group/Berkshire Hathaway Company which serves the global energy, transportation and other markets in North America, South America, Africa, Middle East, Asia and Australia.
In 2016, Marmon Group acquired Zephir, a leading European manufacturer of mobile railcar movers and industrial tractors.
Through a partnership with Zephir, Trackmobile's distributors started selling electric rail car movers this year in North America. "They are for environmentally sensitive customers that seek zero emissions in certain areas," Sebastian says. "That includes the metro transit market. They like to use them in their underground facilities and tunnels, as well as in work shops."