On the right track
Trakm8 is the UK's largest manufacturer of telematics devices. Going beyond mere vehicle tracking, the company has innovated for nearly two decades, building a successful business engaged in diverse sectors such as intelligent mobility, connected and autonomous vehicles, and telematics insurance. As the company invests in a new production facility, Mark Watkins, Chief Operating Officer, explains how manufacturing in the UK gives Trakm8 a competitive edge
Trakm8's recently-announced, multi-million-pound investment in a new manufacturing facility marks the latest milestone in the company's rapid growth.
Telematics is a highly competitive sector, with scores of companies now offering vehicle tracking and related services. Yet Trakm8's continued investment in the UK sets it apart from the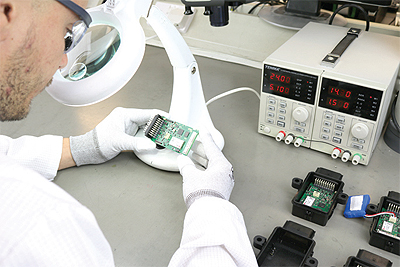 competition.
"We prefer to use the term 'telematics' over 'vehicle tracking', because what we provide for our customers goes way beyond vehicle tracking," said Mark Watkins, Chief Operating Officer for Trakm8. "We deliver a much broader and deeper set of solutions."
The nature of these solutions depends on the type of client, with Trakm8 operating three distinct business units. At the heart of all three, however, is Trakm8's CANbus connectivity. Whether its device is hard-wired to a vehicle, or plugged into the on-board diagnostics port (OBD), Trakm8 can extract detailed data about the vehicle and its movements.
Its Insurance division supplies the 'plug n play' telematics black boxes that are increasingly used by younger drivers. These discreet OBD devices – the most compact on the market – provide insurers with data on key performance indicators (KPIs) as to how the vehicle is driven. Trakm8 customers in this space include Direct Line Group and Young Marmalade.
"Globally the telematics insurance market is growing at a rate of around 20 per cent per year," said Mark. "There is huge headroom above and beyond the growth in young driver policies. For example, our devices can enable usage-based insurance (UBI), where drivers pay per mile."
Trakm8's Automotive division supplies telematics solutions to plant equipment manufacturers such as Kubota and Mecalac, which are offered as factory-fitted, optional extras. It also provides a 'white label' telematics service for vehicle leasing brokers and companies such as the AA – the AA Car Genie product is designed, manufactured and supported by Trakm8.
"Our expertise in CANbus connectivity creates a range of value-add propositions for plant equipment and vehicle operators," added Mark. "Along with the driver behaviour profiling we provide to our insurance customers, our Connectedcare solution gives clients an array of useful data that improves safety and productivity."
This data includes service hours updates for construction and materials handling equipment; enabling plant hire companies to schedule service, maintenance and repair so that it minimises down time and increases utilisation rates. Trakm8's devices can also read diagnostic trouble codes (DTCs), converting them into vehicle and battery health alerts which help to prevent costly breakdowns.
Through the Automotive division's contract with Intelematics, Trakm8 is now exporting to Europe and farther afield. It has a long-established customer support centre in Prague and will open another in Australia next year.
The company's Fleet and Optimisation business unit provides a comprehensive fleet management solution to companies including ScottishPower, Iceland Foods, and Calor. This integrated service comprises vehicle cameras, providing evidence of culpability in road traffic collisions; telematics including driver behaviour scoring and vehicle health alerts; and fleet optimisation. The latter uses Trakm8's proprietary algorithms to significantly improve on manual planning of transport and delivery operations.
"Optimisation is a truly powerful tool for fleets," added Mark. "It delivers near-instantaneous return on investment, so the business case is very attractive. One of our key selling points, however, is that we can integrate our telematics, vehicle cameras and optimisation into one device, and provide all the data to fleet managers from one user-friendly dashboard."
The algorithms within Trakm8 Optimisation are just one example of the company's strategy of owning all its intellectual property – a strategy evident in Trakm8's development of one of the world's first and smallest OBD telematics device 2013. Most recently, it launched the RH600, the UK's leading 4G integrated telematics camera.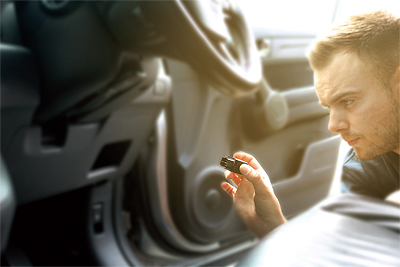 "The RH600 is emblematic of the current trend in customer demand for single-source solutions," said Mark. "Fleet managers don't want the hassle associated with multiple suppliers for vehicle cameras, telematics devices and driver behaviour analytics. So, we combined them all into one piece of kit."
Trakm8 is building on the success of the RH600 by developing a series of advanced driver assistance (ADAS) features. These include vehicle proximity alerts, lane drifting alerts, and driver distraction or micro-sleeping alerts.
The company designs and develops all its telematics devices at its production facility in Coleshill, West Midlands. Its commitment to quality is underpinned by accreditation to ISO 9001. It also holds ISO 14001 for environmental management and ISO 27001 for information security.
It is also investing in a new factory opposite its Coleshill headquarters, in preparation for the launch of a new generation of industry-leading telematics devices and the expansion of its camera range. This will also increase production capacity to one million devices per annum. The new facility will include a greater degree of automation on the assembly lines, to further enhance product quality and help Trakm8 to produce higher-specification devices at a lower cost.
"Because we own all the IP, we reap all the benefits from investment in research and development. We have executed a strategy to develop the best technology on the market and will continue to do so."
Trakm8's cutting-edge position among UK telematics companies is reflected in its involvement in some high-profile projects. These include the REPLICATE smart cities initiative and Navigogo, Scotland's first Mobility as a Service application. In both cases, Trakm8's algorithms are powering journey planners which combine an array of public and private transport options to deliver an on-demand travel service. Trakm8 is also the lead partner in FreightShareLab, a pioneering freight-sharing initiative funded by Innovate UK, the UK's innovation agency; several projects to encourage more rapid adoption of ultra-low emission vehicles; and initiatives to develop better connected, autonomous vehicles.
"Being a UK manufacturer means much more to Trakm8 than having a 'Made in Britain' logo on our website," said Mark. "Because of our investment in research and development, we are acknowledged as a leader in our field. This in turn leads to our involvement in more R&D projects, which help to further enhance our solutions for the benefit of our customers and long term future of our business. We are in charge of our own destiny, as we open up some incredibly exciting new growth markets."
Trakm8's Route to Success
2002 Trakm8 established in Shaftesbury, Dorset, as a developer of vehicle tracking solutions
2005 flotation on AIM market of the London Stock Exchange
2013 acquisition of BOX Telematics in Coleshill, West Midlands, providing Trakm8 with a UK manufacturing base; plus launch of T8 mini device, with market-leading capabilities
2014 wins a string of contracts with major clients including Kubota, Direct Line Group, the AA and Scottish Power
2015 acquisition of RoadHawk (vehicle cameras) and Route Monkey (fleet optimisation)
2016 acquisition of Roadsense (telematics) and launch of Connectedcare solution
2017 launch of RH600 4G telematics camera. Additional contract wins with Mecalac, Calor and Intelematics; plus contract extensions with Direct Line Group and Iceland Foods. Launches Trakm8 Prime 'plug n play' telematics solution for smaller fleets
2018 announces expansion into new manufacturing facility in Coleshill, and extension of Intelematics contract to include Australia