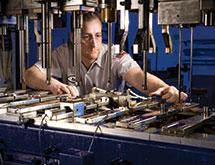 Trans-Matic Manufacturing Co.
Trans-Matic Manufacturing Co.'s products are typically small and difficult to make, but the company ranks among the top-10 deep-drawn metal stamping companies in the world because of its ability to deliver those high-quality components with ease. "That's what we do well – we produce very difficult parts," Senior Executive of Special Projects Bob Stander says. "Trans-Matic was built upon a heritage of craftsmanship."
The Holland, Mich.-based company began in 1968 with two used transfer presses. It began building a team of skilled toolmakers, die designers and support personnel into an effective organization during the 1970s. "We cut out our niche in the marketplace by developing a unique reputation for reliable deliveries," the company says. "Many of our customers still refer to us as a supplier you can always count on."
As Trans-Matic continued to grow through the 1990s, the company invested a significant amount of capital in its Holland plant. To ensure the company was constantly improving in productivity, quality and service, it began a value added/value engineering department in 1995.
Today, Trans-Matic operates three facilities – one in Mesa, Ariz., and one in Suzhou New District in China in addition to its headquarters in Holland. About 75 percent of its production in Mesa is shipped to Mexico and the Suzhou plant supplies its customers in China and a few in Europe. Trans-Matic utilizes its state-of-the-art capabilities of deep-drawn metal stamping to produce mechanical components for 130 customers in more than 30 markets worldwide, including the automotive, lock hardware, compressor, appliance, fire prevention, pharmaceutical, HVAC and plumbing. "We make about 700 million parts per year and market diversity is an important part of our business strategy," Stander notes.
With innovation also being a key part of the company's strategy, Trans-Matic and H&T Battery Components of Marsberg, Germany joined forces in February 2011 to launch HTTM LLC, a joint-venture limited liability company that produces metal container systems for high-performance batteries used in hybrid, plug-in hybrid and electric vehicles, as well as other communication, mobile and stationary power storage applications. HTTM is the only high-volume production source in North America for these large format-type battery containers.
Deep-Drawn Process
Trans-Matic's deep-drawn metal stamping process begins with a coil of flat metal raw material that is fed into a transfer press containing tooling-punches and forming dies. The tooling forms the part into custom shapes for customers.
"Imagine a roll of Scotch tape – but being steel instead of tape and wider and thicker – and then feeding the tape into one end of a press," Stander explains. "The first station cuts a round disc of metal, a 'blank.' A servo-transfer system moves the blank to the next station in the tool where the flat disc is formed into a bowl or cup shape. The transfer moves it again to the next of up to 26 stations. These next stations are where the drawing, ironing, side motions and trimming processes take place as the metal is stretched and shaped into the final part."
The deep-draw process also enables the addition of features to the parts, including things like adding a serial number to the side, making steps in the diameter or bottom or adding knurling, threads or holes.
"The ability to add features to a part while in the press is a distinct advantage of the deep-draw process done by Trans-Matic," Stander says. "Deep-drawing is a very versatile technology that has been around for more than a century."
Trans-Matic's presses range in size from five to 600 tons and have the capability to manufacture products as small as this letter "T" to the size of a tennis-ball-containers. Parts are made out of steel, stainless steel, aluminum, copper, brass, Inconel and titanium.
"We don't just bend metal," Stander adds. "We form and shape it into precision components and also make complete assemblies. Another big part of who we are is our value analysis and value engineering capability. Many of our customers have asked us to improve their products and we end up combining parts, making sub-assemblies, and ultimately offering significant savings to our customers. In fact, Trans-Matic has won the Precision Metalforming Awards for Excellence in design or product development six times over the last few years."
The deep-drawing manufacturing process is monitored constantly by computers that are connected to each machine. The computers monitor the machine's process performance, record quality information and automatically alert operators and toolmakers when there is a machine problem. "We do run quality checks on all the presses every hour and all critical dimensions daily," Stander explains. "And if a part gets out of position in the press, it stops automatically and the computer notifies the toolmaker."
The tools used in the deep-draw manufacturing process are constantly wearing from drawing and stretching the metal. They wear at different rates and can break unexpectedly or cause the part dimensions to move out of specification.
To ensure top-notch product quality and responsiveness to customer requirements, Trans-Matic has its own in-house tool room, designs and makes more than 80 percent of its own tooling.
A Capable Team
All of this detailed work requires a very capable group of people. About 70 percent of Trans-Matic's employees are "technical," including toolmakers, designers, engineers, quality technicians and maintenance.
Deep-draw toolmakers are required to attend the company's four-year accredited apprenticeship program to earn their "Journeyman" certificate, Stander explains.
"We have a complete work center in each facility that is dedicated to the training of our apprentices on a variety of equipment," he adds. "The apprentices take the machines apart and put them together again. We want them to understand how to make parts and tooling, how the machine works and how to adjust and repair it. It's a fantastic program."
Even with a top-notch apprenticeship program, Trans-Matic and other companies in the industry struggle to find enough talented technical people to learn the deep-draw process. "The media and higher education have unfortunately demonized manufacturing and many younger people do not even consider it," Stander says. "The truth is there are very good, high-income jobs in manufacturing, utilizing skills that are transferable all over the world. We are working hard to find people that enjoy the challenge of manufacturing and might like the niche process of deep-drawing."
Trans-Matic is partnering with local colleges and trade schools to build awareness of manufacturing opportunities. With most students being told they must have a four-year college degree, Stander attests, Trans-Matic talks directly with area middle and high school students to let them know there are good careers in technical manufacturing companies – especially at Trans-Matic.
"Students usually don't know what they want to do when they are in school, so we try to expose them to the processes, techniques, and skills needed for this type of work," Stander explains. "We offer a two-year specialized technical curriculum in partnership with a local college with full educational reimbursement and then paid co-op jobs at Trans-Matic while in school.  It's a great deal and a great opportunity to build a skill and career with Trans-Matic."
Continuous Improvement
With its its dedication to continuous improvement (CI), Trans-Matic hired a consulting firm five years ago and established a process called Managing for Daily Improvement (MDI). The MDI method utilizes real-time performance metrics, presented by work center leaders to Trans-Matic's leadership team on a daily basis. Often called a "gemba walk," the press group and assembly group leaders give a three-minute update to the leaders of each manufacturing support group each day. The gemba team gets through all the updates in the entire facility in less than 30 minutes.
A key part of the three- minute update is the SQDC and hour-by-hour board. "SQDC stands for safety, quality, delivery, and cost," Stander explains. "The group leaders present safety performance, the number of parts put on hold or scrapped, any rework, machine efficiency and uptime, and perishable tooling cost."
The gemba team meets for 15 minutes after the walk to review yesterday's to-do list and then assigns today's tasks. This simple process  dramatically reduces the turnaround time for solving production issues. With the daily MDI reviews generating real-time results, Trans-Matic also has a CI manager to address long-term projects and improvements.  The CI manager initiates the quarterly Kaizen events throughout the company and tackles special projects involving quality or cost issues.
Trans-Matic proves that manufacturing is flourishing in the United States and beyond. With its precision deep-draw process, diverse product and market portfolio, and dedicated team of technical professionals, Trans-Matic is a great example of how the future of manufacturing will be shaped.