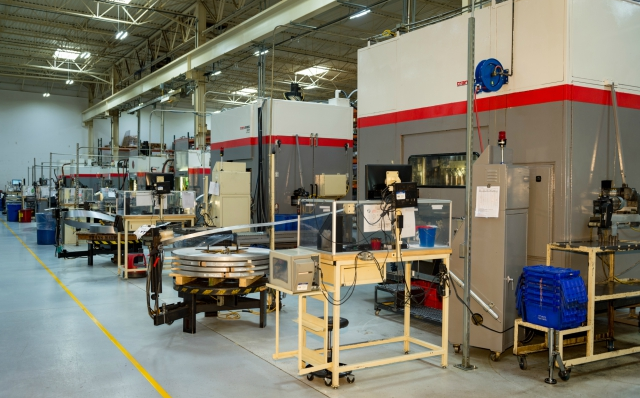 Trans-Matic Manufacturing Inc.
Trans-Matic Manufacturing Inc.'s family oriented culture and ability to produce highly precise deep drawn components greatly contribute to its longevity.
The Holland, Mich.-headquartered company will celebrate its 50th anniversary next year. "This is a milestone achievement for a company of our size," Vice President of Sales and Marketing Adam Briggs says. "We're proud of what we've accomplished as a small, family owned company with a global presence across our multiple markets. We're excited to celebrate our success, however we look forward to future growth and opportunities with our customers."
President P.J. Thompson credits the upcoming milestone in part to the company's technical abilities. "I am most proud of the dedicated craftsmanship we have assembled at Trans-Matic," he says. "While this certainly includes our toolmakers, we have a workforce that is by and large dedicated to being craftsmen toward the work they do here regardless of their role or position."
Briggs says the company's internal culture has helped it attract a dedicated customer base. "We really enjoy visiting our customers and seeing how excited they are to work with Trans-Matic because of our technical expertise and global footprint," he says. "When we face a challenge, our team pulls together and responds to it."
A Global Leader
Founded in 1968, the company was the first deep draw metal stamping company in western Michigan. During its five decades in business, founder Pat Thompson and his family grew the company from two production machines to having four locations in three countries. "We are a global leader in the supply of precision deep drawn components and value-added solutions such as non-destructive testing and manual or fully automated assembly," Briggs adds.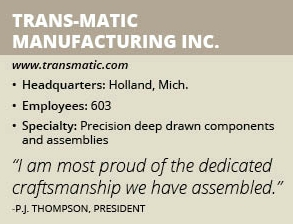 Trans-Matic serves a wide variety of markets including the automotive industry, for which it stamps components used in sub-assemblies and systems manufactured by Tier 1 suppliers. These include fuel delivery systems, transmission components and brake systems.
The automotive industry makes up roughly 50 percent of Trans-Matic's customer base. The other half includes the residential and commercial lock hardware market, lawn and garden product manufacturers, the HVAC industry and more. "We attract a broad range of customers in markets that we have decades of experience serving," president P.J. Thompson says. "Added to this is a select few new markets and customers that can benefit from our unique capabilities."
Trans-Matic will spotlight its wide spectrum of components supplied to the residential and commercial heating and cooling market during the AHR Expo in January in Chicago. This will be the second time the company has participated in the trade show.
Pressing Expertise
Trans-Matic serves customers from its headquarters location in Holland, Mich., as well as from manufacturing sites in
Mesa, Ariz.; Monterrey, Mexico; and Suzhou, China. The company acquired the location in Mexico last year. All four facilities are ISO 14001 certified. Three of the facilities are TS16969 certified with all manufacturing facilities working towards IATF certifications by the end of 2018.
The company uses a variety of state-of-the-art high-speed transfer presses that range from 5 to 600 tons in capacity to press parts stainless steel, low carbon steel, aluminum, copper,brass, and other metals. Trans-Matic can manufacture complex deep drawn stamped metal parts up to 4.5 millimeters thick and 8 inches deep.
Trans-Matic has a number of processes in place that help assure the quality of its products. These include quality systems based on its TS 16949 certification. The company also has a continuous improvement program, the Trans-Matic Global Business System, which is based on a number of lean manufacturing principles, Thompson notes.
The company's ability to meet its customers' needs was noted recently by the Precision Metalforming Association (PMA), which awarded Trans-Matic its 2015 Ulbrich Award for Excellence in Product Development. The award recognized the company's work with a customer to stamp small tube-shaped parts from an alloy that is typically not deep drawn, Trans-Matic notes.
Cultivating the Community
Trans-Matic maintains a high profile in its community and industry. The company is an active member of the PMA, and has had several of its executives hold leadership roles within the organization. It also regularly participates in PMA-sponsored networking and other educational events.
The company's community activities include participating in several local charitable organizations and events in both a donor and volunteer capacity.
Trans-Matic also partners with local schools to offer internships and other programs. The company participates in Grand Rapids Community College's Advanced Manufacturing Program and has partnered with the engineering co-op program of Grand Valley State University in Allendale, Mich.
The company is also active within local middle and high schools. In early October, Trans-Matic invited 176 students from the Ottawa Area Intermediate School District to tour its Holland, Mich., facility as part of National Manufacturing Week. "We have also cultivated working relationships with vocational education instructors in high schools across west Michigan," Thompson adds.