A leading manufacturer of powertrain components and assemblies, TransForm Automotive predicts it will double in size in the next 5 years.
The Sterling Heights, Mich.-based company is observing its 20th anniversary this year. It provides components for major automotive companies including General Motors, Ford, Fiat Chrysler and ZF, a key maker of premium-brand automatic transmissions. Utilizing proprietary stamping, forming, flow forming, machining, laser-welding and assembly processes, TransForm specializes in clutch housing assemblies, planet carriers, drum assemblies and various tight tolerance components and assemblies for transmission production.
"Our advanced metal forming capabilities are being incorporated into transmission design by more and more car manufacturing companies," President Ted Ens says.
The company expects to double its revenue from $100 million this year to $200 million by 2022. Ens, who joined the company in 1999, says that TransForm's advanced metal-forming capabilities give it a niche in its industry and has helped it grow.
Two areas of this technology include in-die spline forming (also known as roller-die forming) and flow forming. These processes are unique because they allow the company to form high-strength materials to very tight and specific tolerances with very little labor or wasted material. They also allow transmissions to be made lighter, stronger and more cost-effectively.
TransForm is planning to introduce its advanced metal-forming technology in China in the near future. "We're currently exploring the best plan of entry," Ens says. "We've been investigating alternative options for the last 18 months."
The company's other manufacturing capabilities include laser welding, precision machining, parts finishing, grinding, balancing, tooling and metal joining. Its manufacturing facilities include multiple large-bed, automated transfer presses ranging between 800 and 2,000 tons and an increasing quantity capability for flow form production.
Growth and Expansion
In September 2016, TransForm celebrated the launch of its new facility in Shelby Township, Mich. The 150,000-square-foot facility manufactures several highly sophisticated components and assemblies for nine- and 10-speed automatic transmissions that allow for greater fuel efficiency and lower emissions. TransForm says the flow-formed aluminum housing for the 10R/10L transmissions is a great example of its advanced metal-forming capabilities.
A further expansion of the massive new facility is slated to begin prior to 2020. Since being founded in 1997, "we've pretty much opened a new facility every five years," Ens says.
In addition to the Shelby Township location, the company operates two facilities in Sterling Heights, Mich., and a third in London, Ontario. Among its four locations, TransForm employs roughly 300 workers.
TransForm is owned by Means Industries, headquartered in Saginaw, Mich. Means Industries is a division of Amsted Industries based in Chicago. Amsted is a diversified global manufacturer of industrial components serving the railroad, vehicular, construction and building markets.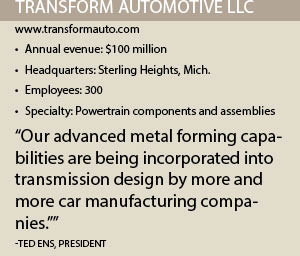 Building Blocks
When it comes to manufacturing and operating philosophies, TransForm operates by three core building blocks. One of these is the company's 5S program, a set of techniques that calls for removing waste from a work area to provide for better workplace organization, visual communication and general housekeeping.
This lean manufacturing method encourages workers to improve their working conditions and helps them learn to reduce waste, unplanned downtime and in-process inventory. Some of its benefits include increased morale, better efficiency and organization, less waste, higher-quality results, faster lead times and reduction of inventory and supply costs.
Another building block is TransForm's Elimination of Waste program. It is designed to identify and eliminate non-value-added steps to improve overall operational efficiency. TransForm has developed more than 20 teams that meet regularly to discuss process inefficiencies and solutions. Associates participate in seven elimination-of-waste projects per year.
This allows employees to be educated about the various types of waste in the manufacturing environment and gives them the opportunity to implement new ideas for eliminating unnecessary processes.
TransForm's third building block is its Goals and Objectives program. It focuses on a variety of controllable and variable measurables. These include equipment and labor efficiencies, urgent response time, safety and environmental compliance and employee turnover rates.
The system allows employees to plan and communicate company goals, measure and analyze performance against those same goals and identify necessary countermeasures if needed. Commitment to continuous improvement is the overall objective. The company's associates are actively engaged in overall company performance. TransForm cites accountability, responsibility and authority as the keys to its success.
"We promote things like innovation, pushing the status quo, and we want to be customer focused and team orientated. Those are our core values," Ens says. "We adopt principles and we combine them with our behavior-based culture. We recognize our people as our biggest asset and try to give them the resources and tools to support them."
TransForm is committed to providing employees with opportunities for advancement and believes that internal promotions are essential to building a sense of loyalty and increasing employee engagement for long-term security.
The company offers a number of apprenticeship and training programs. These philosophies combine to give TransForm's operations and products exceptional quality. The company is ISO/TS 16949, ISO 14001 and Q1 certified.
Awards and Recognition
Over the years, TransForm has received numerous awards and recognitions from the industry. They include FCA Supplier of the Year, General Motor Supplier Excellence and Ford Q1.
TransForm's precision in-die splining, laser-welding and flow-forming processes enable it to produce highly complex custom components and assemblies. A full-service metal forming supplier, the company partners with its OEM customers to design future powertrain architectures. Over the years, TransForm has pioneered many advanced forming technologies, including in-die and roller-die technology and new aluminum flow forming methods. The company first introduced roller-die technology to North America in 1997.
Its products include clutch housings, clutch hubs, clutch drums, carriers, pistons and assemblies. TransForm partners with potential customers to determine the formability of parts based on geometry, function and tolerance requirements. Materials range from low carbon to high-strength as well as aluminum grades 5052 and 6061 and stainless steel.