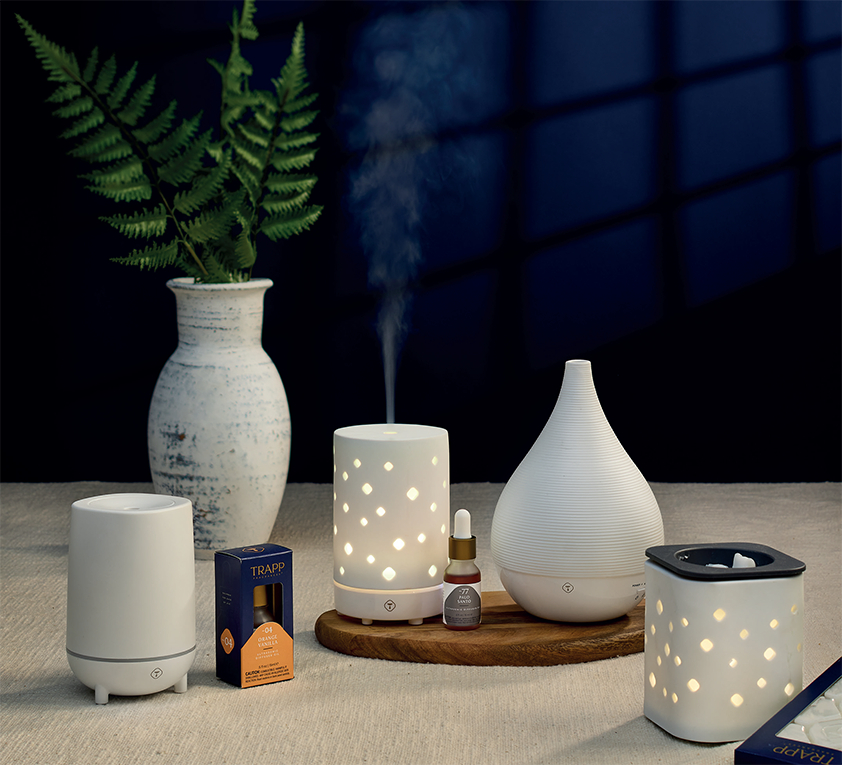 Full of life
From candles and fragrance mists to ultrasonic diffusers and wax melts, Trapp Fragrances might just become your latest olfactory obsession
Trapp Fragrances was founded in Kansas City, Missouri, in the early 1990s by Bob Trapp, a renowned local interior and floral designer. By 1994, the company had been making strong moves in the domestic candle market and was consequently acquired by Faultless Brands, a family-owned company also located in Kansas City.
Since then, Trapp continues to promote Bob's founding affection for the olfactory with an ever-growing, dynamic product line. "Trapp is one of the original luxury fragrance brands in the specialty market," begins Kelsey Anderson, Product Manager at Trapp Fragrances. "The brand has built a loyal following due to its impressive fragrance performance and quality."
Though the world has changed a lot since Trapp's founding, the way in which the company carries out its meticulous process of scent creation hasn't. "Throughout the decades, our philosophy has remained the same," asserts Kelsey. "We're set apart from the competition by our use of only the highest quality ingredients across an unmatched range of fragrance types.
"At Trapp, we guarantee that every product will fill the room with fragrance in minutes, creating an environment that feels like home every day. We have a talented team at our laboratory that rigorously work to ensure that our products perform to high standards. In turn, they work with our product team as well as the research and development unit to guarantee our products will always be of the uppermost quality, especially when adding new merchandise to the Trapp line."
However, change is ultimately inevitable. For Trapp, 2022 has been a time of exciting and promising development. "After more than 25 years, Trapp introduced a complete brand refresh, including a new logo, brand identity, and tagline," says Kelsey.
"Our brand refresh features updated packaging designs, new products, and new fragrances. Trapp's staple seven-ounce candle is now available in both our signature packaging and a re-imagined house box. Other featured products include room sprays, reed diffusers, and new ultrasonic diffuser oils," she adds.
Amber & Bergamot, Ginger Sage, Patchouli Sandalwood, Lemon Leaf & Basil, and Amalfi Citron. These are, among a throng of others, the well-loved aromas that Trapp invites its customers to welcome into their homes. Each one, the company's new tagline tells us, is 'Full of Life'.
Part of that imbued love stems from the physical processes that surround the development of Trapp's extensive range of candles, diffusers, fragrance mists, and wax melts. As Kelsey explains, however, the arrival of the Covid-19 pandemic threatened to disrupt these processes: "Last year, we made the decision to bring some processes internal to increase efficiency and flexibility. By doing so, we've been able to increase efficiency and better manage our materials. We look forward to continuing this growth."
Though the deft decision to move key processes in-house mitigated many issues induced by the pandemic, life after Covid-19 has not been entirely easy. "Like most in the industry, we've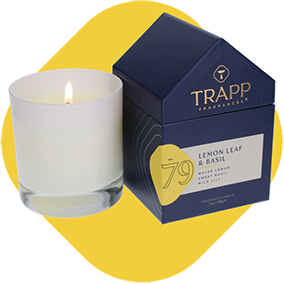 experienced the drastic effects that the pandemic has had on the supply chain, including lead times for materials and logistics delays," Kelsey observes. "Our purchasing team has worked incredibly hard to navigate these changes, allowing us to produce our goods as efficiently and timely as possible.
"The team at Trapp is small, and consequently many of our employees 'wear a lot of hats' and move at a fast pace. We place a strong emphasis on innovation and constant improvement, while keeping our people our priority. Trapp has employees with decades of experience in the home fragrance category; we use that to our advantage as we continue to evolve and grow as a brand," she adds.
More recently, the brand has seen some exciting partnerships form. One that stands out in particular is with Build-A-Bear's HeartBox. The carefully curated boxes, which include a wide range of gifts such as soft cuddly toys, candy, loose leaf teas, and (of course) candles, are a great way of celebrating a variety of occasions for a multitude of recipients. "We're really grateful for this partnership, not least because it has afforded us some exposure in a new consumer category," says Kelsey.
"We are also very excited about upcoming product launches, most notably our ultrasonic diffusers, which are due to be released this summer," she adds. "Our diffusers use ultrasonic technology to energize your space and inspire wellness. With three designs to choose from, our customers can decide which one fits their lifestyle: USB Travel, Signature, or Smart App-Driven. We also launched our ultrasonic diffuser oils, which are available in several of our best-selling fragrances. These allow you to experience Trapp fragrances in a new way, adjusting the fragrance intensity by adding more or less drops of oil to your ultrasonic diffuser. Similarly fresh off the production line is our new melt warmer, which features an easy-to-clean, flexible silicone dish, enabling hassle-free swapping between multiple fragrances."
Trapp's future is certainly burning bright and contains various notes of success. Kelsey is the first to champion this sentiment: "In the future, while home fragrance will always be at the core of our brand, we plan to delve into other categories, bringing our customers a variety of products that are, indeed, Full of Life!"