TRB Lightweight Structures
Taking the weight off
Working closely with its customers, and setting clear metrics for quality and timely delivery, TRB Lightweight Structures has established itself as a leader when it comes to high-performance engineering for demanding applications machinery
Tackling big challenges – specifically by reducing weight while improving performance, safety and durability – is what TRB Lightweight Structures' (TRB) team of experienced composite
engineers specialise in. As has been proven on numerous occasions, lightweight structures can enable clean technologies, decrease fuel use and reduce pollution, and these factors are hugely important for a company made up of a management team with a passion for the environment and a desire to make a positive difference.
What began over 60 years ago as a business manufacturing honeycomb flat panels, has since grown into a leading provider of lightweight structural assemblies that are used extensively in the rail, aerospace and automotive industries. "Arguably the most significant change to the business in recent times came in 2013, when the decision was made to sell our sister business, Amber Composites, and to channel all of our skills, resources and efforts into growing TRB as a business," explains TRB President, Andrew Dugmore. "Since then, we have made a concerted effort to reach out to customers early, supporting them in areas such as design and materials selection, through to initial prototyping and onto mid-to-high volume manufacturing."
The result of its efforts has meant that TRB has established itself as a Tier 1 supplier to a host of UK and European players. In the rail industry, for example, assembled items that the company produces – for both new train builds and refurbishments – include universal access toilet modules, structural partitions, high-use doors, detrainment doors, stock rooms, coffee units and bike storage areas. These high quality interior products are designed, built, tested and validated to stand up to heavy usage over long lifespans.
One of TRB's most notable customers within the rail sector, in which it has been active for a number of decades, is Hitachi which, in 2014, confirmed it as being a preferred supplier for interior partition walls for the company's Intercity Express Programme (IEP). Closely working with engineering teams in the UK and Japan, TRB has designed and manufactured said walls, as well as toilet panels, and bike and bulk storage solutions for East Coast Main Line and Great Western Main Line Class 800 series trains, which have been in operation since 2017.
By leveraging its deep heritage of building rail interior products, TRB has also obtained a strong foothold in the aerospace sector, which is an ever-growing field of importance for the company. Possessing complete AS9100 certification, as well as EASA Part 21 organisation approval, TRB is able to offer OEMs high-performance, lightweight aircraft interiors and end-to-end solutions. These include, seat assemblies, galley inserts, lavatory inserts, bulkhead partitions, ceiling panels and storage units.
The newest area of interest for TRB is the automotive sector, as Andrew goes on to reveal. "We are currently in the midst of a large project involving electric vehicles, specifically in the field of battery enclosures," he states. "What we have done is taken an aluminium sandwich structure and converted that into a thermoset component, complete with faraday cage, designed to meet the stress load requirements of the customer. We are now producing this en masse, with the capacity to produce anywhere between 5000 and 150,000 items per year, and have signed an LOI agreement for several years of production activity."
The success of TRB in the last several years has resulted in a three-year growth rate approaching 50 per cent, and saw it included last year in the prestigious The Sunday Times Fast Track Top 100 Companies list for 2018. "Prior to 2013, we existed as a business that for many years turned over an average of £4 million to £5 million per annum, while in 2017, we recorded growth of 68 per cent, turning over £16.5 million," Andrew states. "We put a lot of this down to the greater degree of focus we place on the projects we take on. In the past, we used to quote on everything, right down to the odd one-sheet requirement, whereas today we channel our time and effort into larger contracts. At the same time, we have been making continuous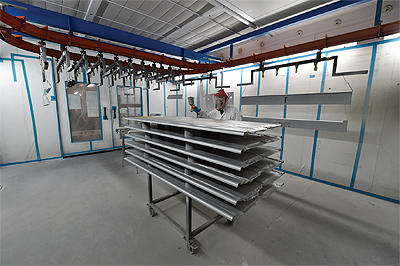 improvements to our efficiencies when it comes to high volume production, and we have the contracts already in place to achieve our medium-term goal of achieving a turnover of £25 million by 2021."
Following the sale of Amber Composites, a new Managing Director came into the business in the summer of 2014. That individual was Richard Holland, and with him came his significant expertise in lean manufacturing, having previously held a Vice President position with a leading consultancy business. As one would expect, since Richard's appointment TRB has fully embraced the creation of a lean environment, running kaizen events across all areas of the business. "As well as creating higher product quality, quicker lead times, greater levels of responsiveness and lower costs, these lean principles also allow us to put greater focus on our relationship with the supply chain. Therefore, we can work more closely with our suppliers, better explain the journey we are on, and gain stronger commitments in the form of supply agreements," Andrew details.
The quest for continuous improvement has also seen the company make a significant investment in research and development, and automation, as Andrew goes on to describe. "In 2018, we invested some £0.75 million in our own facilities for testing and a dedicated product development team," he says. "This year we will be investing over £1 million in the automation of composite materials and products, which will help greatly when it comes to producing mid-to-high volume lines more efficiently. It is well known that, as well as being subject to fluctuating material costs, composite work is very labour intensive. Therefore, the adoption of automated technology will help to put TRB in an extremely exclusive bracket of only a handful of companies with the capability to meet the needs of customers in this demanding field of manufacturing."
Looking further ahead, Andrew and the rest of the TRB team have a shared ambition to grow the business to a £50 million per annum company by the end of 2023. "Achieving this goal is something we believe to be very realistic indeed, and it will entail continued growth in the main markets in which we are currently present, these being rail, aerospace and industrial, the latter encompassing our work on electric vehicles. Needless to say, as we grow so too will the scale of the projects we undertake, and that is a very exciting proposition," he concludes.
TRB Lightweight Structures
Products: Lightweight structural assemblies