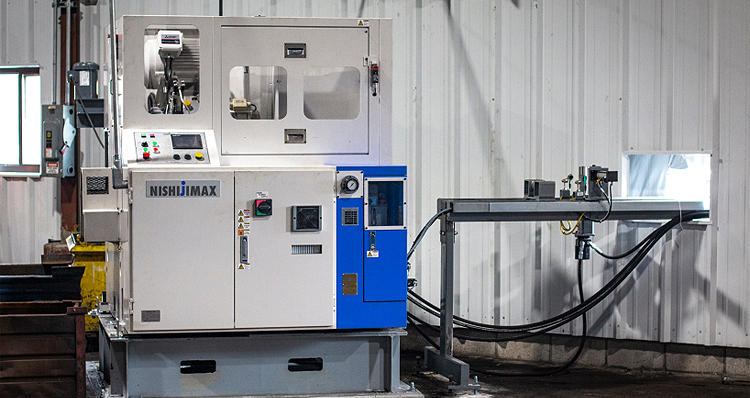 Trenton Forging continues to set itself apart in the industry and increase efficiency by implementing state-of-the-art equipment.
Trenton Forging is known to be the most innovative company in the industry, implementing game-changing technology that results in unmatched efficiency, speed and quality. Over the past 51 years, change in the form of continuous improvement strategies and adding services continues to be Trenton Forging's primary competitive edge.
"Our culture here is a can-do attitude," CEO David Moxlow says. "There's no room for the opinion that something can't be done. We support ourselves with state-of-the-art equipment and that is a big deal. We can reverse engineer in a matter of minutes, which augments our ability to go to market and produce quickly."
Moxlow's father, George S. Moxlow, founded the Trenton, Mich.-based company in 1967 with a mission to provide clients with "superior quality products, outstanding customer service and maximum performance." Trenton Forging continues to be known for its long-term relationships with its clients.
Trenton Forging's customers range from small component suppliers to Fortune 500 OEMs. The company began as a producer of quality forgings for Tier I and II suppliers to the automotive and truck sectors, but has since expanded throughout the transportation industry to provide railroad, defense, agricultural, recreational vehicle and performance racing components. It also manufactures custom machine tool parts and hand tools.
"Our flexibility is our strong point," Moxlow says. "We say 'yes' to whatever we can do for our customers. On the other side of that, you have to make sure you have the technology and engineering services to back it up."
Staying on the Forefront
Trenton Forging prides itself on its ability to remain flexible and add capabilities while its annual production volume averages between 60,000 and 800,000 components. Individual
production runs span from one to one million pieces. "We are known for our flexibility and fast response time," Moxlow adds. "We also pride ourselves on being first to market. No one can produce production dies and go into production quicker than Trenton, and that's because of our flexibility."
As it has from its inception, Trenton Forging continues to employ the most advanced technologies. The company's focus this year has been to eliminate the process of mechanically shearing steel bars into billets, which is technology from the 1940s. For decades, the standard for cutting 20-foot-long steel bars into billets that are easily handled and the correct size was to mechanically shear them using a fracturing movement and a lot of horsepower.
This dated method of shearing leaves a burr on the end of the billet which, depending on the customer's specifications, may be unacceptable for safety critical parts. It also leads to waste as the shearing process inherently leads to waste "drops" at the end of the 20-foot bar.
Trenton Forging purchased five CNC carbide cold saws to complement its five identical drop hammers, which will allow it to create something close to the lean one-piece-flow principle in its raw material to forging line transfers. "The inherent difference between billet shearing and saw cutting is that the quality of the cut is much better, we reduce maintenance costs on induction heating, no burrs are coming off and all the saws are automated," Moxlow explains. "The maintenance cost of four billet shears annually alone was higher than the cost of one saw. In five years, we will have paid for the saws and the life expectancy of the saws is 10 to 20 years."
The saws are loaded by automated feeder tables. A 20-foot bundle of material is loaded onto the feeder rack, banding is cut, and the tables automatically feed and cut the bars into billets specifically sized for that particular job. The saws are programmed with an algorithm that allows it to "see" the end of the bar with a laser-vision eye and calculate the most efficient way to segment the bar based on the desired bar length and eliminate the waste normally associated with shear drops.
A custom-designed structure was designed outside of the hammer shop to shelter the system and allow the feeder tables to be loaded with a fork lift without the structural columns getting in the way. The outdoor feeder tables pull the material through small openings in the wall and pass the bars into the saws, which are located indoors, in line with each hammer. "Some sizes and grades of material we could not shear and had to send it out for saw cutting, but we now have brought that in-house and are saving on all the freight associated," Moxlow says.
Trenton Forging also updated its website in July to make it not only more visually appealing, but also more functional. "We always try to stay ahead of the competition when it comes to marketing and being right in front of everybody," Moxlow notes. "Branding is huge."
Continuous Improvement
Last year, the company added blue light laser scanning and 3-D printing capabilities that can create true-tolerance machined and forged tangible models overnight. The 3-D equipment chosen by Trenton Forging is more advanced than one might imagine when thinking of a 3-D printer. The most accessible units deposit filament-style materials via spool, extruded through a heated nozzle. These lack accuracy and surface quality and are a tough sell in an industry where tolerances are crucial.
To maintain tolerance and actually be able to use the tangible models, Trenton Forging invested in a machine that uses digital light projection to cure a photopolymer resin. It can provide smooth surface finishes down to 10 microns with no visible pixilation or layer. "We can build real, working models made up of multiple complex components," Moxlow says. "If you didn't recognize the weight difference, it would be hard to tell they were a polymer."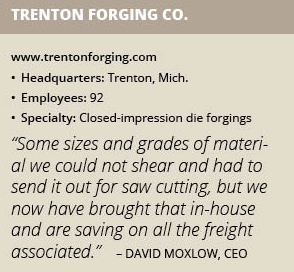 Other advancements include: specialized tool holding, real-time 3-D laser verification of new and post-run tooling and four state-of-the-art machine tools. These extensive capabilities allow Trenton Forging to create conceptual plastic forged models in three days or less, and produce dies and forged samples in three weeks or less.
Trenton Forging's state-of-the-art, on-site die making facility produces more than 370 new tools each year. The company's multiple high-speed CNC vertical machining centers enable it to increase its efficiency and quickly produce dies with multiple impressions. Its engineering and design specialists are linked via fiber optics to its die-sinking machines, and video cameras on the machines ensure an operation is never unattended.
Bridging the Gap
Trenton Forging ensures its staff of 92 people has the most up-to-date equipment with which to perform their duties, but is also an advocate for ongoing education. "One of our core values at Trenton Forging is to continuously improve not only our facilities and equipment, but more importantly our team members," Moxlow says. "I'm most proud of our people and the culture we have developed here – it just keeps getting better."
The company added a learning center last year to its facility for continuing education. Built like a university classroom, the learning center features three rows of desk-style seating with enough ergonomic chairs to educate 12 people at a time. "The learning center is used as a place where members of our team can attend continuing education-type classes, seminars and online courses," Moxlow adds.
As the baby boomer generation retires at an increasing rate, Trenton Forging recognizes engaging youth and educating them about manufacturing and skilled trades is critical to bridge the skills gap. "Dane and Chelsea Moxlow, my son and daughter, just did a presentation at a local college prep high school with a group of kids who were on the fence about college and they were extremely receptive," Moxlow says. "We are targeting kids who either don't have the financial means or the desire to go to college. We want to recruit talent that is ready to work by going into schools and instilling passion for manufacturing."
Trenton Forging offers 100 percent reimbursement for continuing education. "Students had no idea the difference in cost between college and a trade school or the fact that you don't have to go to school and can become an apprentice through on-the-job training," Moxlow adds. "Job security is there because skilled trades are in such high demand. With the salaries that are available, they can make more than those with 4-year degrees."
This past spring, Trenton Forging hosted an open house for local high schools to visit with the goal of building excitement around manufacturing.
Moving forward, Trenton Forging will continue to focus on growing the company another 30 percent over the next four years by working smarter. The company will continue to be a one-stop-shop for its customers by enhancing its services and capabilities. "We have several people who just focus on process improvement and innovation," Moxlow says. "We are always looking at how to do things better and how to make it cheaper for our customers."
Photos: Dane Moxlow