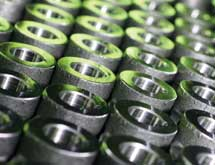 When in the forging business, a progressive focus on quality is an important tool to have in one's arsenal. Having been in business for nearly 45 years, Trenton Forging Co. of Trenton, Mich., understands this well. In fact, as a leading producer of custom impression die forgings for a wide range of industries, the company knows that any deviation from a strict quality focus can spell doom for its business.
That is the reason why continuous improvement strategies and adding services to make it more of a one-stop shop are key aspects of Trenton Forging's operations.
"We view change as Trenton Forg­ing's primary competitive edge," President David Moxlow stresses.
Understanding the quality needs of its transportation market customers and the competitive nature of its industry, Trenton Forging is distinguished as being one of the first companies of any kind in the world to gain QS9000 certification, as well as the first closed impression die forging company in the world to be QS9000/ISO9002 certified. The company is now ISO9000-2008.
Founded in 1967, Trenton Forging is known for maintaining long-term relationships with its clients by providing them with "superior quality products, outstanding customer service and maximum performance," Moxlow notes. The company's customers range from small component suppliers to Fortune 500 OEMs. It began as a producer of quality forgings for Tier I and II suppliers to the automotive and truck sectors, but it has since expanded throughout the transportation industry to provide railroad, defense, agricultural, recreational vehicle and performance racing components. Trenton Forging also manufactures custom machine tool parts and hand tools.
New Functions
A recent area of improvement for Trenton Forging has been to add the machining and final assembly of its own forgings to its operation. Heat treating and plating operations are still outside processes. The company began adding these functions about a year ago, Moxlow explains. Trenton Forging had been supplying universal joint yoke forgings to a customer, but when that customer closed shop, Trenton decided to take on its business.
"We started less than a year ago by investing in horizontal machining centers," he says. "It has made us become more of a one-stop shop for our customers, and we changed the scope of our ISO certification to reflect our new capabilities. These processes are tied in to our new production line, which produces low-speed, high-torque universal joints for agricultural applications as well as high-speed versions."
Improved Control
Trenton Forging's state-of-the-art, on-site die making facility produces more than 370 new tools each year. Employing the most advanced technology, the company's multiple CNC vertical machining centers enable it to increase its efficiency and quickly produce dies with multiple impressions.
Additionally, its engineering and design specialists are linked via fiber optics to its die-sinking machines, and video cameras on the machines ensure the operation is never fully unattended.
In terms of its machining capabilities, Trenton Forging's services range from milling and drilling to intricate contour milling and broaching. The company's fully machined forgings are finished on-site or at its partner machining houses, and are designed with the machinist in mind. These extensive capabilities allow Trenton Forging to take conceptual plastic to forged models in three days or less, and produce dies and samples in three weeks or less.
"Our broaching capability is among our newest technology," Moxlow explains. "We have been making our own dies for the last 12 years, and we brought the broaching in-house to have more control over our quality."
He notes that Trenton Forging's annual production volume averages between 60,000 and 80,000 components, and its individual production runs span from one to 1 million pieces. Additionally, the company generates inventory turns 30 times per year, compared to the industry average of 6.5 turns per year. Moxlow explains that Trenton Forging can design forgings, produce the dies and deliver product samples in one week if necessary, and always within three to four weeks, a capability that also distinguishes the company from competitors.
"We are known for our flexibility and fast response time," he says. "We provide quick reaction time on quotes by quoting within one or two days, as well as fast response on tooling. We also pride ourselves on being first to market. No one can produce production dies and go into production quicker than Trenton, and that is because of our flexibility."
Bringing Back Business
As customers continue to look for one-stop-shop suppliers, Trenton Forging will continue to enhance its services and capabilities as it makes sense for its business.
"Our goal is to give our customers a complete solution if possible," Moxlow stresses.
To ensure its quality culture is maintained, Trenton Forging is constantly upgrading its training, he adds. The company has been producing training videos for machining operators, for example, and the training mode of its ERP system went live July 1, and is now in use. "That was one of our largest investments," Moxlow notes.
He admits one of the company's largest challenges is raw material supply because lead times are increasing, but Trenton Forging is working closely with its steel service centers to ensure it has a constant supply. The company is gaining strength in its machining capabilities, he says, and with its ability to change and adapt easily, Trenton Forging can go after new market segments if they are attractive.
"There is a big push to buy American right now, so we will continue to focus on our customers in Michigan, the United States and North America," Moxlow says. "We will continue to grow at a controllable rate, and with our flexibility and cost competitiveness, we will bring back the business that went offshore."