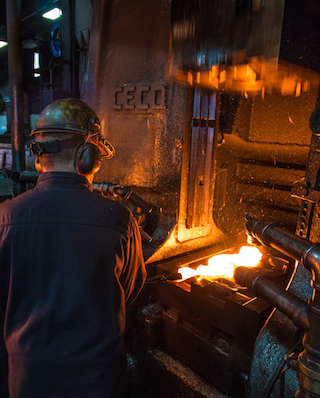 Change is Trenton Forging's primary competitive edge, CEO David Moxlow says. The company remains in motion by implementing continuous improvement strategies and adding services such as 3-D scanning and printing capabilities. "We want to grow the company about another 30 percent in the next four to five years by working smarter," he adds.
Moxlow's father, George S. Moxlow, founded the Trenton, Mich.-based company in 1967. Trenton Forging continues to be known for maintaining long-term relationships with its clients by providing them with "superior quality products, outstanding customer service and maximum performance."
"My dad came out of the foundry industry and had worked 23 years with Ford," Moxlow says. "He left on a whim and ended up running a large forging facility in Dearborn, Mich., until it closed down. He got a small group of investors together, found this greenfield site which was a cornfield at the time and started Trenton Forging."
With the company celebrating its 50th anniversary this year, Moxlow thinks back over his tenure and remembers getting his start at the company at just 11 years old, wiring rebar in preparation to pour Trenton's first concrete foundations. In celebration of its milestone, Trenton Forging is partnering with a local festival to sponsor a fireworks display in June. "Looking back over the years, I'm most proud of our ability to provide for 100 families," he adds. "We take care of our employees and their families, and that's a big responsibility."
Expertly Machined
Trenton Forging's customers range from small component suppliers to Fortune 500 OEMs. The company began as a producer of quality forgings for Tier I and II suppliers to the automotive and truck sectors, but has since expanded throughout the transportation industry to provide railroad, defense, agricultural, recreational vehicle and performance racing components. It also manufactures custom machine tool parts and hand tools.
"Our flexibility is our strong point," Moxlow says. "It's more of an attitude than anything by saying 'yes' to whatever we can do for [our customers.] On the other side of that, you have to make sure you have the technology and engineering services to back it up."
Trenton Forging's state-of-the-art, on-site die making facility produces more than 370 new tools each year. The company's multiple high-speed CNC vertical machining centers enable it to increase its efficiency and quickly produce dies with multiple impressions. Its engineering and design specialists are linked via fiber optics to its die-sinking machines, and video cameras on the machines ensure an operation is never unattended.
Other advancements include: specialized tool holding, real-time 3-D laser verification of new and post-run tooling and the recent procurement of four new state-of-the-art machine tools. These extensive capabilities allow Trenton Forging to create conceptual plastic forged models in three days or less, and produce dies and samples in three weeks or less.
Greater Expectations
As it has from inception, the company continues to employ the most advanced technologies, which include blue light laser scanners and 3-D printing capabilities that it added in March. Overnight, Trenton Forging can create true-tolerance machine and forged tangible models. "The 3-D printing equipment we have chosen is very expensive, but holds a tight tolerance," Moxlow explains. "3-D printing is not yet expected by clients at this point, and it's not equipment you have just sitting around."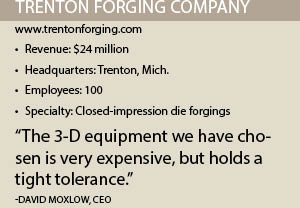 The 3-D equipment chosen by Trenton Forging is more advanced than one might imagine when thinking of a 3-D printer. The most accessible units deposit filament-style materials via spool, extruded through a heated nozzle. These lack accuracy and surface quality and are a tough sell in an industry where tolerances are critical.
To maintain tolerance and actually be able to use the tangible models, Trenton invested in a machine that uses digital light projection to cure a photopolymer resin. It can provide smooth surface finishes down to 10 microns with no visible pixilation or layer. "We can build real, working models made up of multiple complex components," Moxlow says. "If you didn't recognize the weight difference, it would be hard to tell they were a polymer."
Trenton Forging's goal is to create 3-D models that work together as a machined component. The company is marketing and educating its customers on its new capabilities through mailers and a website full of information, Moxlow says. "I believe that there is not anyone in our industry that markets as well as Trenton Forging does," he adds.
The company prides itself on its ability to remain flexible and add capabilities while its annual production volume averages between 60,000 and 800,000 components. Individual production runs span from one to one million pieces. "We are known for our flexibility and fast response time," Moxlow says. "We also pride ourselves on being first to market. No one can produce production dies and go into production quicker than Trenton, and that's because of our flexibility."
Continuous Improvement
To remain knowledgeable and up-to-date on the latest technologies, Trenton Forging added a learning center to its facility for continuing education. "One of our core values at Trenton Forging is to continuously improve not only our facilities and equipment, but more importantly our team members," the company says.
Built like a university classroom, the learning center features three rows of desk-style seating with enough ergonomic chairs to educate 12 people at a time. The room captures a lot of natural light and offers birds-eye views of the plant.
"To better facilitate learning in this environment, an oversized, wall-mounted monitor is fed from a dedicated CPU with wireless controls that can be used from anywhere in the space," the company explains. "The learning center [is] utilized as a place where members of our team can attend continuing education-type classes, seminars and online courses."
In addition to continuing education, Moxlow says he wants the learning center to focus on issues that its team members see every day. "You have to train people before you can set expectations for them," he adds. "We will focus on ongoing education and specialty training for programming of processors and things like that."
This spring, Trenton Forging will host open houses for local high schools to visit, hoping to build excitement around manufacturing. Moxlow emphasizes that the company offers 100 percent reimbursement for continuing education.
Moving forward, Trenton Forging plans to continue to grow and become more efficient. And as customers continue to look for one-stop-shop suppliers, Trenton Forging will continue to enhance its services and capabilities as it makes sense for its business. "Our goal is to give our customers a complete solution, if possible," Moxlow says.