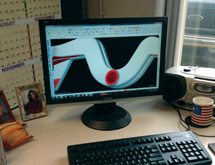 In the quest for zero defects, the journey rather than achievement of the goal – a lofty statistic that might be unreachable – benefits a manufacturing company most. In its production of forgings and machined forgings for a variety of industries, Trenton Forging is aiming for zero defects, even if ever hitting the bull's-eye is unlikely.
To help the company get as close as possible to that goal, Trenton Forging President David Moxlow invited Dana Clarke, a consultant with the Applied Innovation Alliance, to work with employees and develop new procedures at the company. Clarke's specialty is structured approaches to innovation.
"It's a never-ending thing – they're always bringing something new in and moving it forward," Clarke says of Trenton Forging. "They have recently started a zero-defect initiative. They're helping employees get a better understanding of the need to identify failures before they occur and prevent defects from ever occurring. They have used techniques like mistake-proofing processes."
Innovative Solutions
Clarke is becoming involved early in the sales process to bring innovative solutions to customers and prospects. "So we're really taking a different look at how we expand on the services offered during the early stage of helping customers," Clarke says. "It's adding innovation to support the customers' needs or drive cost or weight out of their product."
"Trenton Forging wants to be one step ahead of everyone else," Clarke adds. "They want to be a total solution, a best-cost producer. They're not just saying to the customer, 'We'll make what you give us,' but, 'Let us offer you some suggestions on how to make it better, design it for manufacturability and add some innovation here that changes the way it's made to drive cost down or make the components stronger.'"
For one prospect, this meant finding solutions outside of Trenton Forging. "We went out and identified other technologies that could be used to produce this part and provided that information to the client," Clarke recalls. "So it's not just about Trenton Forging – it's about the customer and helping them meet their objectives."
Some Changes Made
Family owned and managed Trenton Forging – which was founded by David Moxlow's father, George, in 1967 – produces custom impression die forgings for a variety of industries. It claims to be the first closed impression die forging company in the world that has been certified QS 9000/ISO9002. As an outsider, Clarke was impressed with several qualities of Trenton Forging: its people, and its commitment to customer satisfaction and innovating its way forward.
"As a consultant, I get inside a lot of different companies," Clarke says. "When you get inside a really good company, you know you're there – it's just different. As an outsider, it's rare when I walk into a company and see everybody cooperating, good communication and a willingness to work together to do whatever it takes to satisfy a customer, even if it never makes it past a prospect point."
Among the improvements made at Trenton Forging is quick setup on hammer forges in 20 to 30 minutes. "That is really a pretty big feat, and they do that as a matter of routine." Clarke points out. "To me, it all starts with people. Some long-time employees have been there for years and years, and people stay there because it's just such a good place to work."
Trenton Forging has in-house engineering and the latest modeling and design technology. It uses Sharp Cutter Grinding Co.'s products in its operations. Sharp Cutter Grinding is a supplier that grinds carbide cutting tools. Trenton Forging says Sharp Cutter Grinding offers good cost, pickup and delivery as well as emergency turnaround support.
Along with CNC machining, welding, drilling and broaching, Trenton Forging also offers die production. The company produces more than 400 different parts and makes its forgings with multiple cavity dies that have up to 12 impressions. Parts can range in weight from ounces to 20 pounds.
Clean Environment
The other quality that Clarke noticed right away about Trenton Forging is the cleanliness of its forging shop. "Forges typically aren't known as clean environments," Clarke concedes. Additional improvements have been made to scheduling and planning, and large investments made in production equipment.
Parts are forged in carbon and alloy steel with electric induction heat that plays a part in operation of the greenhouse on the company's roof. "They use waste heat from the plant to grow beautiful tomatoes in the middle of winter," Clarke marvels. "It tells you a little bit about David."