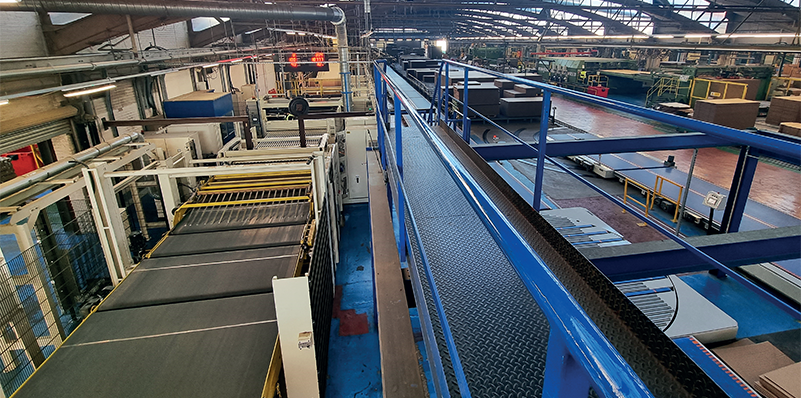 Driving packaging innovation
As it continues to play a vital role within the UK's vaccination roll-out, Tri-Wall UK is targeting the delivery of new and exciting products to markets across the globe
Tri-Wall UK (Tri-Wall) has seen rapid growth globally and in the UK, having acquired sites in Manchester, North Shields, Gateshead, Swansea and Wolverhampton in the last five years. Now, in 2022, Tri-Wall has ambitious plans for further investment of over £20m in further acquisitions over the next few years. A company born of innovation, Tri-Wall acquired its distinctive name from being the first and only manufacturer of Triple-Wall AAA flute corrugated board in the UK. Today, the company sits within the Tri-Wall Group, a network of companies across Europe, America and Asia dedicated to offering innovative and cost-effective packaging solutions.
An award-winner when it comes to smart packaging design, Tri-Wall supplies a complete range of material options, including heavy-duty and conventional corrugated board, timber and ply, steel and metals, foam and plastics. "This material advantage allows us to deliver the best packaging solutions for any job," insists Gavin Peters, Tri-Wall CEO. "Our flexibility is such that we can fully optimize manufacturing efficiencies and reduce shipping costs, either by reducing weight, streamlining operations or simply maximizing container usage."
Design expertise
Tri-Wall's focus on efficiency is a timely one, as 2022 sees the introduction of the UK Government's new Plastic Packaging Tax (PPT). The legislation isn't due to come into force until 1st April, but it's a move that's already prompting the industry to reassess its credentials with regards to sustainability. "It's an important goal for every company at the moment," Gavin admits. "Choosing the right material for a job isn't simply a question of price. At Tri-Wall, we're dedicated to lowering our customers' carbon footprints, be that through the use of returnable solutions, or replacing plastics with our own trademark corrugated board, manufactured using fully recyclable papers sourced from FSC-registered forests."
The company is equally committed to reducing its own carbon emissions. "Our parent company, Rengo, has published plans in its global sustainability report committing to becoming carbon neutral by 2050," Gavin says. "As well as responsibly sourcing our materials, Tri-Wall is recycling waste back into production to create added value products. All our paper and timber products are 100 percent recyclable, and, from this year, all our employee company cars will be electric or plug-in hybrid."
But the drive for Net Zero isn't the only pressure forcing Tri-Wall's hand. "I think everyone would agree that the combined effects of Brexit and the pandemic have shaken most industries to their core," Gavin acknowledges. "Being able to react quickly to changing customer needs and ever-more turbulent market conditions, while maintaining high levels of customer service, has been key to our success throughout the last few years."
Evidence of that success is not hard to find. As successive waves of Covid-19 brought the UK's healthcare system close to breaking point, Tri-Wall, in collaboration with one of its key customers, fulfilled an essential role supplying heavy-duty corrugated packaging in support of the global vaccine roll-out. "Our design expertise allows us to continually innovate packaging solutions for new applications," Gavin tells us. "Our combined IP of the completed pack provides a highly durable solution which keeps temperatures below -70 degrees Celsius, vital for the transit of the Covid-19 vaccine. It was a challenge that demanded a quick turnaround, and relied upon the collaboration of teams from across both parties, many of whom were working from home, to come together and fashion a completely bespoke solution."
Tri-Wall is no stranger to innovation. In 2018, the company teamed up with Jaguar Land-Rover, 3M, UK HSE, Denchi, WMG, Potenza and Lifeline to form LIBRIS (Lithium-Ion Battery Research In Safety), a UK Government-funded research and development program focused around the safe packaging, transportation and storage of lithium-ion batteries. Through its involvement in LIBRIS, Tri-Wall is helping to advance knowledge of processing lithium-ion batteries from start to finish, and is working to optimize packing processes and solutions within relevant organizations
"We have a range of packaging solutions that are specially designed and tested for lithium-ion cylindrical, pouch and prismatic cells, modules, full vehicle battery packs, off-highway and static storage solutions," Gavin notes. "All of these are ready for the production line, tested and fully customizable."
Located at its Monmouth site, Tri-Wall's primary factory is equipped with a heavy-duty corrugator of single, double and triple-wall board, along with conventional and heavy-duty conversion facilities including stitching and print. The company also boasts a UKAS accredited dangerous goods laboratory, capable of emulating real-world transport environments including compression, burst, humidity, extreme temperatures and drop testing. Tri-Wall also manufactures bespoke pallets, crates and cases from its timber production facilities, while its location in the North East plays host to the company's heat treatment facilities, through which it's able to comply successfully with ISPM15 regulations.
Ambitious plans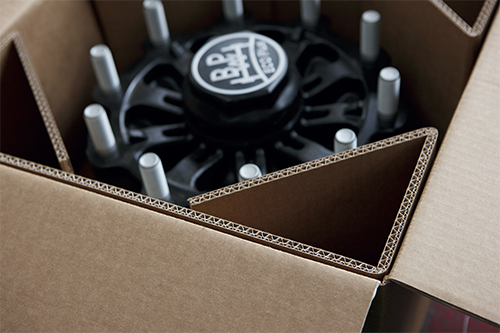 Not to be forgotten, however, are the employees whose hard work keeps production across each of Tri-Wall's sites running to schedule. "Our people are the most important assets to our business," Gavin confirms. "It's the people who understand our customers' unique needs and keep customer satisfaction high, and it's the people who have the expertise and experience to continually push our industry to new standards. In the last two years, three of our employees have celebrated their 50th anniversary with us, and we've been proud to welcome a fourth-generation employee into the company, following in his father's, grand-father's and great grand-father's footsteps. We're a family, both literally and figuratively, and we'll do everything possible to keep that culture alive and thriving."
With that in mind, the company recently conducted a refresh of its Mental Health Wellbeing program, with volunteers at each site completing training to become Mental Health First Aiders. "It should go without saying nowadays, but Tri-Wall is an equal opportunities employer," Gavin adds. "We'll be rolling out more initiatives in 2022 to further support employee engagement, including a bottom-up and top-down communications structure, and extra investment into staff training and qualifications."
Tri-Wall adheres to a similar ethos in its relationships with critical suppliers. "We see them as an extension of our business," Gavin continues. "By treating them with respect and promoting a shared vision of the future, our suppliers become more heavily integrated within our business. In return, we're rewarded with minimal disruption at times when the market encounters an issue. The latter half of 2021 is a perfect example: as our competitors ran short on paper, our suppliers kept us stocked, our machines kept on running, and we were able to support our customers in a way that others couldn't."
Buoyed by its success throughout the pandemic, Tri-Wall is targeting an exciting couple of years ahead, with scheduled investments exceeding a total of £20m. "Our plans include new premises, new machinery and new facilities to engage with our customers and provide bold and innovative services," Gavin promises. "Acquisitions will also play an important role, and we'll continue to look for and engage with businesses that can help us to achieve our larger goals.
"Our strategy over the next five years is quite simple," Gavin concludes. "Around the world, we want to be the supplier of choice for multi-material smart packaging solutions. We plan to break new markets and create new products, while staying true to our core product lines."
Tri-Wall UK
www.tri-wall.co.uk
Products: Smart packaging solutions