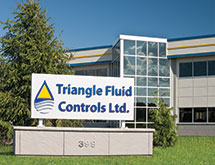 Triangle Fluid Controls Ltd.
As regulations on the allowable leakage in fluid or gas systems become more stringent around the world, Triangle Fluid Controls Ltd. is working to provide its customers with tighter sealing and gasket products to reduce emissions.
"Since 2007 we have been involved in figuring out new gasket products and sealing products to put in the marketplace where we see a need," Vice President and General Manager Mike Shorts says. "We have nearly doubled our product offering in the past six years to better serve our markets."
The Belleville, Ontario-based company began in 1922 as Durabla Canada and manufactured gasket products. The company began to develop new products over time and Triangle Fluid Controls was created from Durabla in 2007.
The company took control of the global sales, marketing, technical support and distribution for its gasket and sealing products. "We do everything out of our plant here in Belleville for our distribution network around the world," Shorts says.
Today, Triangle Fluid Controls manufactures Durlon polytetrafluoroethylene (PTFE) sheets and gaskets, water/sanitation gaskets, flexible graphite sheet and gaskets, high-temperature sheet and gaskets, low seating stress gaskets, semi-metallic gaskets and metallic gaskets. The company also distributes axial check valves for a major United States manufacturer.Leakage Protection
Triangle Fluid Controls markets to any industry that handles and processes fluid or gas, including water, steam and chemicals. The company mainly services the oil and gas, pulp and paper, chemical and petrochemical and power industries. "What our customers ask for at the end of the day are sealing solutions," Shorts explains. "Leakage regulations are becoming tighter and tighter, so they are looking for a better solution to what they already have."
Due to stricter leakage regulations, Triangle Fluid Controls is continuously working to modify its existing products and develop new ones that provide a tighter seal and meet emission regulations. "We do have some products that do that already, but we are trying to develop more products that can contain all applications, with a particular focus on methane gas emissions," Shorts says. "Triangle Fluid Controls serves a wide range of end-users whose success depends on the reliable performance of their equipment and piping systems."
Unlike its competitors, Shorts says the company does not have a vast inventory of products to offer. "Our approach to the market is to only offer what our users require to seal their applications," he explains. "Instead of 50 products to offer, for example, we have 20 products that can maybe do the same things as those 50 products."
A benefit to offering fewer products is increased safety because, Shorts says, it is less likely that the wrong material will be chosen for an application it should not be used for. "What we offer is better service or what we feel is better than our competitors in terms of our products, tech support and delivery," he adds.
Keeping Pace
One of the main focus areas for Triangle Fluid Controls is manufacturing and becoming more efficient to keep up with increased demand of tighter sealing and gasket products. "We are looking at processes in the factory to help us stay ahead of the growth game," Shorts adds.
Manufacturing sealing and gasket products is a lengthy process, Plant Manager Mike Boyd says. When manufacturing PTFE products, for example, raw materials are sourced from its business partners and then molded. That entire process can take about 19 hours. Once that is complete, the product goes through a degassing stage for 24 to 48 hours and is then cured. "The curing stage can last 24 hours to four days depending on the product and what we happen to be manufacturing in PTFE products," Boyd notes.
Triangle Fluid Controls then applies Durlon to the material through a printing process and the product is cut into sheets to the customer's specifications. "We have the ability and flexibility to provide sheets in varying lengths," Boyd says. "That is a manufacturing advantage for us and also helps our customers in terms of their yield, which is productivity and efficiency enhancements for them."
A certain amount of customization takes place during the manufacturing process. For example, Triangle Fluid Controls manufactures five varieties in its PTFE product line and each is geared for a specific application. Within those varieties, the company can manufacture in various sizes. "How we manufacture is driven by orders," Boyd explains. "There are hundreds and hundreds of combinations we can manufacture and that's driven by customer orders."
Triangle Fluid Controls does not stock a lot of inventory because it can manufacture products quickly, Boyd says. "Our service is much better than our competitors because we have the flexibility to make quick changeovers," he explains. "We don't sit on a lot of finished product and as such, we almost operate made-to-order."
To stay efficient, the company implements lean manufacturing principles that require fewer moves of product and people. One of the big changes it made was to the layout of its new plant in 2012, which now optimizes the flow of material through the facility. "It is laid out so the material flows through and we aren't doing a zigzag-type pattern," Boyd says. "By flowing from station to station, less movement of people and products is required, so we can best utilize the labor resources we have."
Better Partners
Triangle Fluid Controls prides itself on the top-notch relationships it maintains with its business partners, including AGC Fluorocompounds Group, the largest supplier of its raw materials for the PTFE line. "Our experience and resources, combined with AGC Fluorocompounds Group's experience and resources, allows us to continually do what we do and seek out new opportunities for products in the marketplace," Boyd notes.
The company recently purchased semiautomatic machines from Italy for its high-temperature spiral gasket products, which allows it to shorten turnaround times, perform quick changeovers and turn out parts overnight – if required. "The added benefit of that capital purchase was that it also allowed us to bring contract manufacturing from Asia back into our plant at better-than landed cost," Shorts notes. "It brings the manufacturing process closer to our own control."
Moving forward, Triangle Fluid Controls is forecasting significant organic growth that it plans to achieve by continually investing in its people and processes. "Year over year we are looking at 15 to 20 percent growth over the next five to 10 years," Shorts says. "In our market, that certainly outpaces the growth of the industry we serve as a whole."