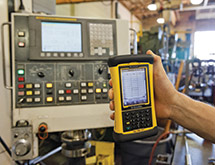 Trimble Mobile Computing Solutions
Modern manufacturing requires input of complicated data on the factory floor. But factory floor conditions sometimes are too rugged for conventional computers. Meeting the need for bar code scanning and data entry in the most harsh environments – often to meet regulatory issues – are a full line of rugged handheld computing products from Trimble Mobile Computing Solutions (MCS). They were originally developed for similar outdoor navigation applications by its parent company, Trimble Navigation Ltd.
"We would like to introduce ourselves to the manufacturing industry as a company that has been providing reliable, rugged handhelds for decades and creating products designed for the mobile outdoor worker," Trimble MCS Business Area Manager for Manufacturing Michael Anthony says. Now Trimble MCS is coming in from the outdoors to market its products in the many rugged environments that exist inside factories.
"What it boils down to is that people have almost been forced to stick with pen and paper keeping track of temperature and vibration and things like that because you need a clean environment in food processing," Anthony says. "Or you may have dust or fine flour or powders where you can't have a computer there – it's going to wreck your system. But if you need computerized assistance on the floor – as more businesses say, 'We will not do without that – we don't want pen and paper on a printed-up spreadsheet, we want it recorded accurately on the floor so it meets our auditing requirements and we can easily run up a report' – the very rugged handheld computers that Trimble makes are a no-brainer for that kind of environment."
A handheld or tablet computer that is truly rugged must be built that way through and through.
"Our devices are manufactured rugged from the inside out, from the board level out," stresses Greg Goodwin, Trimble MCS business development manager for the North American market. "They're not a consumer-grade device wrapped in a rugged case. Think of an iPhone or iPad on steroids – anyplace you're not comfortable taking an iPhone out of your pocket, in wet or extreme heat or cold, or you're afraid to drop it – that's where our products perform."
There are two primary ways handheld computers can create better productivity and a better bottom line:
1. Mobile use on the shop floor to track materials, personnel, inventory, etc.
2. As portable controllers for machinery – programmable in an office, the handhelds can be connected to older machines (including those with old RS-232 serial ports) to download instructions without having to turn off the machine and/or run the unit for a specific program.
Rated for Extremes
Trimble MCS's products can handle extremes. "You can clean it, it can withstand a heavy spray and it can go from a freezer with very cold temperatures to a high humidity area and still work," Anthony explains. "For the most part, if you need computerized records, unless you have a product that can handle those types of shocks, it's not going to work for you."
The company's products are rated for their durability. "Our devices follow a set of standards worldwide that are accepted for ruggedness," Goodwin points out. "They are called IP ratings for ingress protection, for dust and water getting into your devices. Our devices meet all the highest standards, from IP65 to IP68."
Trimble MCS's products also withstand humidity and meet worldwide 810 military specifications for drops, shock, temperatures and vibration. "There's a whole industry associated around the military specifications for devices and ruggedness levels, [with] testing houses that certify a manufacturer's devices to meet the specifications," Goodwin explains. "It's not just a manufacturer saying they do. We actually use these testing houses to certify all our products. We publish all that in data sheets and specification sheets."
Manufacturers Requested
As manufacturing became more sophisticated, manufacturers began requesting rugged handheld devices from Trimble. "One of the reasons we looked at manufacturing is that people were coming to us, saying, 'We have been using pen and paper because we have difficulties,'" Anthony says. "'Our factories have dust, there's powder, there's sparks, there's little metal shavings that keep us from having computers on the factory floor. Do you have something?' That led us to start looking at the manufacturing industry as a whole."
Anthony thinks that Trimble MCS's products are unique because they were developed originally for rugged outdoor uses. "I'm sure we have competitors, but I have the feeling that there is not a lot of other rugged computer options that folks have seen in manufacturing," she says. Trimble MCS's products are an affordable tool that already has been developed and provided in the field for decades, Anthony maintains.
"We've got an integrated computer that you can hold in your hand – it's not too heavy – that can run all the Microsoft Windows-based, Android-based software that the back office uses on the shop floor," she says. "It has a bar code reader that is capable of reading dozens of different bar code matrixes. So if you're a manufacturing firm that needs to be able to track products that come in through the manufacturing process and then back out the door that may have a wide variety of different kinds of bar codes, our reader can read those and keep track of them and organize them automatically. It can help improve worker safety and productivity, run reports and do auditing in a seamless, easy way."
Product Variety
Among Trimble MCS's products ideal for the manufacturing and processing industries are the handheld computer lines of Nomad® and Juno® T41, and the soon-to-be released rugged tablet, KenaiTM.
The Nomad® 1050 line of handhelds includes bar code reading capability in both 1D and 2D matrixes – meaning that it will read almost every bar code currently known to man, including QR codes, global codes (Chinese, for instance) – and it will read hundreds of them at a time, accurately. Any business that goes through a global inventory in its manufacturing process will find this an invaluable benefit. It also offers an optional RS 232 serial port for direct connection to older machinery, for programming or control needs.
The Juno® T41 line of computers comes in a choice of operating systems – Windows or Android – so that whatever software applications a business needs, one of these tough handhelds can run them. The Juno® T41 also includes optional smartphone capability with voice and data, for either Verizon or AT&T plans.
For those businesses who have tried an iPad and been dismayed by its inability to handle harsh conditions, the KenaiTM is a Windows 8.1 operating system with a 10-inch display screen tablet.
The key to these products is that each of them integrates important manufacturing capabilities – such as bar code reading – into a fully functioning, cloud-capable computer that can be taken around the shop with workers. And if one of them is dropped or mishandled, it will keep on working, ensuring audits, personnel management and data control will remain easy, accurate and never interrupted.
"These are sophisticated pieces of equipment," Anthony emphasizes. "The bar code capability in a Trimble handheld will read dozens of bar codes at a time instantly and accurately. Our UHF RFID reader on the Juno® T41 will read tags from a pallet above you, or to the side. You'll have that information instantly, and it will be accurate and accessible to be shared immediately through connectivity directly to your office manager. So you can track things in a way that is literally impossible otherwise."
New Products
Trimble MCS is introducing two new products. A tablet computer, the KenaiTM, has a 10-inch display screen and will be,available in late September. "It's more the iPad experience," Anthony says. "It's thicker than a regular iPad because it's rugged, and it's going to have that larger display screen. Its operating system is Windows 8.1, upgradeable to Windows 10."
Another new product, the Nomad® 1050, is being released in August. "It looks like the Nomad® that has been a tremendously popular product for years, but the inside has been updated to 2015 with a more recent operating system, more power, more memory and a bar code reader capability built-in," Anthony says.
Trimble devices can have external keyboards added to them and connect to other accessories such as docking stations, monitors or peripherals. They also have full communication capabilities and can connect with different versions of Wi-Fi. "They all have options for cellular modems inside that can be used for data transfer," Goodwin says. "The Juno® T41 can be used just like a smart phone for voice as well as everything from your standard Bluetooth all the way up to having an AT&T wireless data plan on it."
The devices use Windows or Android operating systems and can operate specialized software such as enterprise resource planning systems. "There's a wide variety of software applications that they can use that they can choose from," Anthony says. "We provide the hardware to meet their needs, and we provide a whole network of dealers and system integrators and software developers. We also provide free-of-charge software development assistance. If there is somebody who says, 'I have a big manufacturing system and I've got a program and it's got to work with Microsoft programming,' we will help them develop something that works specifically with their software."
Trimble MCS sells most of its products to automation integrators in North America. Its products are manufactured internationally. "Most of our customers who we sell to are software developers or integrators or people that are serving a particular industry; they create solutions they can then bundle onto our handhelds to provide to the rest of the industry," Goodwin says.
These functions could include ERP, personnel timekeeping, work orders, bar code scanning or RFID tag read/write for sophisticated asset- and inventory-tracking, machine calibration and control or general data collection in a machine shop. "A lot of times, it's just about being more productive and having your workers be more productive," Goodwin continues. "Rather than populating spreadsheets by hand and having somebody enter data and hopefully not make mistakes in handwriting interpretation, being able to capture all the data on the shop floor accurately and in real time has significant production benefits for manufacturers."
Productivity is a prominent concern of manufacturers. "If you read any survey on manufacturing, productivity is always No. 1 or No. 2 in terms of the highest things on a manufacturing CEO's mind," Goodwin asserts. "They've got to improve productivity and control cost. Our devices allow that to happen in conjunction with software solutions – taking a desktop or a laptop and squishing it down into rugged handheld devices you can use on the shop floor."
Real-time Information
Being able to receive real-time information from Trimble MCS products about productivity can streamline manufacturing. "You can be out there on the floor, even in a remote location," Anthony says. "With something like food processing, you've got folks who are in the field literally reporting how much corn or barley they're getting. Then this information flows through the lifecycle of what happens next to that corn and barley and whatever it will become. All that can be traced in real time and followed by managers. So it's not just a better product, it's better safety, it's better auditing, all the way across."
The company's rugged computing products are being used in vibration and thermal analysis of manufacturing equipment. "The growing trend within manufacturing is to really bring the company's ERP solutions to the shop floor – everything from time sheet manufacturing to work order management, sometimes integrated with maintenance and inspection," Goodwin reports. "That is all being tied together through the back-end ERP system." Large corporations and hundreds of new small start-up companies are focusing on bringing ERP systems to the manufacturing factory floor, and to do so, they will need rugged computing products, he maintains.
With higher levels of productivity being required to remain competitive in manufacturing, and computerization being utilized in all aspects of the business, the last frontier of computerization has been harsh manufacturing environments. But now with its line of rugged handheld computing solutions, Trimble MCS says it has tamed the wilds of manufacturing and made sophisticated data collection possible everywhere.
"These are the types of things that set us apart – battery life, performance, environmental, a lot of individual things we focus on," Goodwin concludes. "It depends on the industry and the special needs of who we're talking to, but generally speaking, we're known for having some of the most rugged devices out there, and we back that up."