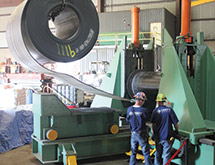 Since its founding in 1979, Missouri's Trinity Products has reinvented itself time and time again. The company began as a steel broker before opening a yard and becoming a distributor. Then, about 10 years ago, it transitioned again into becoming a full-on steel pipe manufacture.
Trinity's move into production occurred as CEO Robert Griggs watched the steel pipe industry and noticed manufacturers were squeezing distributors during market downturns. Further, longtime relationships with mills Trinity bought from would end as the contacts Trinity worked with left those suppliers for new career opportunities. Griggs saw that Trinity needed to become its own supplier out of necessity. "You almost have to be distributing what you make to have any real stability for your future," he says.
Taking on pipe fabrication has enabled Trinity to improve its customer service and control its own future. That future looks bright because the company is expecting to reach $100 million in revenue this year, up from $75 million in 2014. "Our goal is to be at $250 million in the next five years," Griggs says. "We have a plan to get there and we know how we'll get there."
Griggs credits that growth to the people who make up Trinity, including his partner of 28 years, Vince Hansen; Bryan Davis, the sales manager who has been with the company for 15 years; and Jim Nazzoli, who leads Trinity's continuous improvement effort and has been with the company for eight years.  Plus the new hire last year of Charlie Lamb, one of the premier spiral pipe and welding experts in the world to be named director of operations. Lamb has brought his 30 years of experience in pipe make to Trinity and set the course for Trinity to be a world class pipe manufacturer. Lastly, Trinity recently hired Ross Heutel as the head of IT and made it his mission to make Trinity the cutting edge company for software, hardware and systems in the steel industry.
"We have a really good group of people that understand what we're trying to accomplish," Griggs says with pride.
When Trinity was a $10 million-a-year company Griggs says it did a good job of serving customers but its reach did not touch a lot of people. Now that it handles its own production, Trinity pipes have ended up in construction and infrastructure projects, even finding their way into new scoreboards for the University of Missouri and University of Illinois football teams. Trinity outputted 50,000 tons of steel last year from its pipe mill in St. Charles, Mo., and a smaller fabrication facility in O'Fallon, Mo., creating and supporting jobs throughout the country. "It's a long journey, but we're getting at it," Griggs says.
Open Book
Around the time Trinity was shifting into pipe fabrication, the company adopted the open-book management philosophies of Jack Stack, founder of SRC Holdings Corp., an independent remanufacturer. In following those transparency guidelines, Trinity began sharing virtually all of its operational information with employees. Monthly finance meetings with workers included presentations on the company's revenue and projected incomes. Further, Trinity's leadership decided to share 10 percent of its profits with employees. "We want everybody to know what we're doing," Griggs says.
Because of that transparency, employees had a better grasp of Trinity's operations and realized the company was never struggling or profiting as much as it may seem – the reality was more middle of the road. Seeing the actual data gave workers more confidence in management and the direction of the company, Griggs adds.
Continuous Improvement
Many of the factors affecting the profitability of a business are out of the company's direct control. Steel prices will rise and currency values will fluctuate without care or consideration for a steel maker's bottom line. So Trinity has focused on those factors it can control: the workers it hires and its commitment to constant refinement. Through Vistage, a CEO peer leadership group, Griggs learned the Cycle of Success, a continuous-improvement program that has shaped how the company operates and grows for much of the past decade.
"Trinity is in a relentless pursuit of continuous improvement," Griggs says. The approach is filtered through every layer of the company, to how Trinity improves manufacturing to how its employees answer phone calls. The idea, Griggs says, is to start with what you are working on today, add goals and prioritize by identifying the large objectives and the ones that can be done in short order. In the last six years, Trinity has checked off more than 200 such continuous-improvement projects, though the to-do list keeps expanding.
Committing to continuous improvement has helped the company stay focused on the future even during lean years. "Improving doesn't mean you're always profitable," Griggs says. "But what it does mean is you'll always be open. You'll always have a company."
Griggs and his partners know they are not experts at every job in the company and don't have the answers to fix each problem. So Trinity has empowered its employees to find their own solutions. Each department has regular group meetings to discuss where improvements, large or small, can be made. A night shift worker could raise awareness of poor lighting conditions not experienced during the day, for example. Griggs says including all levels of employees in the continuous improvement process keeps the staff focused on making Trinity better.
Continuous improvement is a never-ending process Trinity looks to build on every day. There is always a new piece of equipment or new manufacturing method to discover, Griggs says. "We work on saving 30 seconds in a step," he adds. "You can always get better."
Production speed is the area where those small, but accumulative steps have seen the most significant results. Trinity has relied on its long-term partnerships from companies such as Advanced Industrial Controls, which builds control systems, to provide those improvement solutions.  Advanced Industrial Controls helped Trinity to automate the beveling process with a 75 percent success rate. Now, employees only have to cut the ends of 25 percent of pipes, allowing Trinity to allocate that staff time and energy elsewhere. "They're constant partners in helping our continuous improvement," Griggs says.
The pipe mill has gone from producing 60 inches per minute two years ago to 100 inches per minute. Likewise, coil splicing used to take 20 minutes, but minor improvements have added up and now Trinity can do coil splicing in 12-and-a-half minutes. Those types of compiling successes have brought Trinity from producing 2,000 tons of steel each month to 5,000 tons this past May. "It's a series of small wins to get into places where you have huge success," Griggs says.
Staying Hot
To keep its momentum going, Trinity is undergoing a rebranding effort and wants to build a larger presence on social media and online. "We're going to become the voice in the new-age media," Griggs boasts. "[We're] going to connect to our customers in the way they want to be connected."
Griggs says Trinity would consider acquiring other companies if an opportunity arose. Trinity already serves all of the United States but Griggs is aiming at total penetration of the steel market. Sales offices are opening up in Chicago, New Orleans, New Jersey and other areas of the country. As Trinity grows, no customer will be too small. "We're happy to sell a guy one truckload of pipe. I want them all," Griggs says of steel customers.