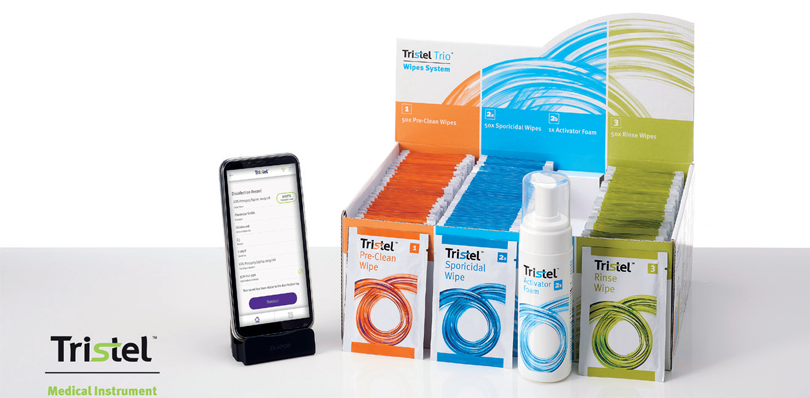 Great chemistry
As an infection prevention company, Tristel's purpose is to avert the transmission of microbes from one object or person to another. This mission is, understandably, most relevant to hospitals, where risk of infection to individuals is at its highest, and where the consequences can, on occasion, be fatal.
Tristel's secret weapon in the battle against infection is chlorine dioxide (ClO2), a powerful biocidal molecule that can be manually applied to the target environmental surface or medical instrument. Effective and efficient, the company's technology is now used to great success around the world.
"Tristel's disinfectant solution, in which ClO2 is the only active ingredient, was developed in 1993 by a chemist who was acutely aware of the rising popularity of endoscopes in hospital settings, and thus, the need for a technology with which to disinfect them," explains company CEO Paul Swinney.
"Made of plastics and polymers, endoscopes have cameras that enable doctors to see inside the body, and as a result, they cannot be sterilized with heat. Instead, they must be disinfected chemically. At the time, glutaraldehyde was being used in this area and was known to be quite toxic and unpleasant to work with. After extensive research and experimentation, our chemist discovered that ClO2 could be a safer, but equally effective, alternative."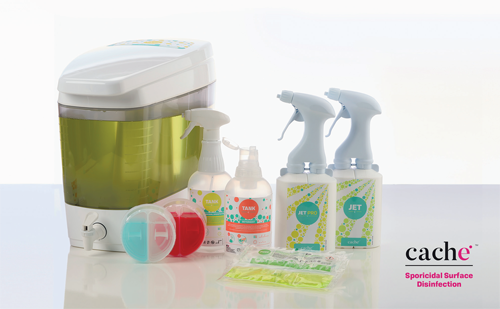 In the years that followed, after acquiring the intellectual property rights for the chemistry worldwide, Tristel took full control of the disinfectant and further developed its formula, packaging, and delivery methods. The UK hospital market was the first to benefit from the solution, transforming the way that healthcare professionals disinfected endoscopes.
After three decades of growth, Tristel now primarily operates from a 40,000-square-foot production facility in Newmarket, Cambridgeshire. Classed as a 'medical device', the company's disinfectant requires manufacturing processes and practices of the highest standard.
"Our chemistry is a disinfectant for endoscopes, and it is classified as a medical device by regulatory authorities around the world," Paul says. "You cannot use everyday products to disinfect medical instruments – they have to have a status in terms of efficiency and safety, ratified by healthcare professionals and microbiologists.
"It puts us in a rather elite position," he continues. "With that, however, comes the need to learn, to adapt, and to condition ourselves and our practices. We are proud to have acquired the status of a medical device manufacturer, as well as ISO 13485 certification, ISO 9001 certification and a variety of exacting international accreditations."
One of only a small handful of companies across the globe that can legitimately claim to be exclusively dedicated to infection prevention, Tristel focuses on two key areas of hospital disinfection: the first is the decontamination of medical instruments; the second is the sporicidal disinfection of surfaces.
"Since we launched the business, we have had two main activities regarding our ClO2 chemistry," Paul reveals. "Our original core business involves the lead brands Trio, which is a wiping process for medical instruments, and Duo, which is a handheld foam pump that delivers our chemistry for medical instruments. These products account for the majority of our sales revenue, which was announced as £31 million in June 2021.
"The second focus," Paul adds, "involves our surface disinfectants product range called Cache, which allows nurses and health care practitioners to disinfect hospital equipment, such as tables, mattresses and monitors. It is an area in which I expect us to enjoy a lot of success in the future."
Reducing waste
As Paul hints, Tristel is confident that its surface disinfection products have the potential to revolutionise the industry. Taking a vastly different approach to some of its competitors – many of whom rely on flow wrap and wet wipe items – the company's Cache range is an example of Tristel's innovative nature at work, making for better, more sustainable products that benefit both the customer, the patient, and the environment.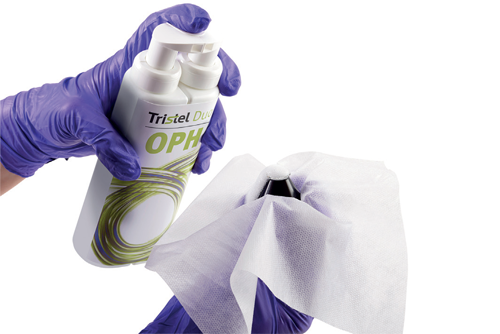 "Essentially, in hospitals, with respect to surface disinfection, you mop floors and wipe surfaces at waist height and above," Paul remarks. "However, whereas many companies can use pre-wetted wipes carrying a disinfectant, our chemistry cannot be stored in that way as the ClO2 would disappear. Instead, we must deliver a method and packaging format that enables ClO2 to be generated at the time of use.
"We have been successful at coming up with innovations for surface disinfection. More importantly, on our journey, we have discovered just how much plastic goes into pre-wetted surface wipes and that the NHS uses hundreds of millions of them a year. In response, we have developed a method and packaging format through which we dose out a specific volume of the solution and add that volume to any type of dry wipe, such as a paper towel or other sustainable material. By separating the disinfectant liquid from the wipe, hospitals can perform their wiping tasks in a more sustainable way and reduce plastic waste."
For over 20 years now, Tristel products have had a significant impact on the global market, and in 2021, that international growth continues. Having set up its first subsidiary in Germany early on in its history, the company added locations in New Zealand, Australia, China, Hong Kong, Malaysia, Belgium, the Netherlands, France, Russia, India, and most recently, Italy. Next stop? North America.
"We are deeply involved, and have been for a number of years, in the pursuit of FDA approval for our medical devices in the United States. It is a challenging and lengthy process to which I hope we are approaching the final furlong," Paul states. "If we get access to the US, we are projecting that it could represent as much as half the global market. As such, it is clearly a massive inflection point in terms of our growth prospects."
Future opportunities
Not merely interested in geographical expansion, Tristel is also actively aware of the potential for further growth in the surface disinfection market – a much larger market than the more specialist medical instrument decontamination segment.
"At present, we hold 100 per cent market share when it comes to the disinfection of small heat-sensitive medical devices because we are the only company that applies a high-level disinfectant as part of a manual process," Paul reports. "All other incumbents in that area of the market use machinery.
"The surface disinfection sector is much more fragmented and there is a plethora of disinfectants used all over the world. However, there are very few global brands and as we already have a solution for use on medical instruments that go inside the body, why not use it for surfaces? Our record and expertise single us out as a superior disinfectant provider and we think we can become a significant player worldwide, growing and maintaining our leadership position in both manual medical instrument decontamination and surface disinfection."
With more than 70 percent of its revenue derived from the medical instrument market in 2020, Paul would like to see Tristel strike a more even balance in the future, combining its original products with increased activity in surface disinfection. Furthermore, since going public in 2005, the company has enjoyed a healthy compound annual growth rate of 17 percent and Paul is confident that this too can continue in the decade ahead.
"Moving forward, I would like us to continue our overall global growth, and surface disinfectants will be a critical part of this because the opportunity is so much greater there than in medical instrument decontamination," Paul declares. "We already have substantial market penetration, and if all goes to plan, in five-to-seven years' time, the revenue of the business may well have doubled. Certainly, if we can join the US market, that would aid our ambitions no end.
"I have read market research suggesting that, globally, hospitals spend as much as $4 billion on surface disinfectants. When you add in clinics and ambulatory centers, as well as a heightened awareness of the importance of disinfection following the Covid-19 pandemic, the opportunities are endless."
Tristel Solutions
www.tristel.com
Products: Disinfectant manufacturer