Bathing in beauty
A family owned business in Yorkshire since 1975, Trojan Plastics has led the way in designing and manufacturing quality bathroom products
Since 1975, Trojan Plastics has been selling baths, panels, shower trays and other associated bathroom products for a wide range of customers. Throughout that time, the company has been proud of remaining based in Yorkshire, and for Managing Director David Mosley the connection to the county is key on a number of levels: "This is home. People here are known for being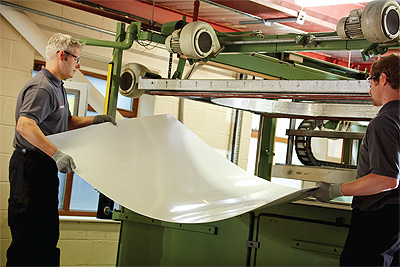 very welcoming," he proudly states. Another aspect is on a more practical basis: "Geographically, the location of the main facility is between the M1 and M62 motorways, allowing travel in any direction. There is a good spread of large towns that are in close proximity in the county, so there are a lot of places to source potential employees."
It is also no coincidence that the area's industrial history has had an effect on the overall working culture: "There are a lot of mills around here, that were very busy during the textile era. A lot of these have been converted into flats and houses. Sadly, in some instances, they have been allowed to fall into a dilapidated state. In a sense, it is fortunate as employment can continue here, allowing a historical mill to keep functioning, as well as being able to support the local community," he details.
David can sum up his role in one word – "Varied!" He then goes on to offer further insight into what a Managing Director is expected to do over the course of a day: "Essentially, it is not one single, defined role, and often ends up with you doing work that someone else should be doing, simply because it needs to be done. Of course, sales remain my main focus. Without sales you don't have a business." There is also a unifying aspect in what he does: "Cohesion is important, people need to be kept together. It's about ensuring all departments are working toward the same goal. It may seem a bit of a cliché, but in a globally competitive industry like ours, the only way it is possible to compete is if everyone turns up."
He then points out a motto that is posted on staff room boards and entrances to the factories: "The saying goes 'Your input affects our output'. It means that if you turn up and do a good job, then that will create more growth and better results. It also means if you don't turn up then that can be a negative, which is why it is best to focus on the positive in that sentence. It applies to everyone, including me!"
This commitment goes both ways, with the organisation lauded for retaining staff, and maintaining high employee satisfaction: "There are at least ten members of the team who have been here over 25 years, with a raft of others approaching the mile stone over the next few years too. It helps that staff are treated with respect and we always aim to pay the living wage, rather than just the minimum."
The working environment helps foster this sense of positivity and togetherness: "Stability is important for everyone. It helps people plan, whether it's a mortgage, a new car or anything else you need to plan for. Every employee is paid weekly, which makes for easier financial planning. In the worst-case scenario, if someone does not account for costs over the month, it could mean having to go to a payday lender, and this is something I would find personally upsetting if I found out that was happening," he insists. Indeed, worker welfare is something that is personal for David: "If there are any problems, people can discuss them with a supervisor. As a family business, there is always the desire to help where we can, something that has been done several times in the past. We are also introducing a bereavement policy in 2018 to show compassion for those going through an emotionally difficult time."
The brand is most well-known for its single-skin baths and panels. In recent times, there has been a move toward diversifying the range, something David admits has had to be done to adapt to changing circumstances and requirements: "There has to be a degree of adaptation with water regulations and house building directives. Whilst I personally believe you will struggle to sell a house without a bath, for example if a family have a young child, there is a need to look at what is being sold, and to modify what is offered where necessary." He goes on to explain that this has helped to attract a wider demographic of users: "The Ramsden & Mosley brand is a premium, high-end offering, allowing our customers to target the high end showrooms with a 'Made in Yorkshire' product range. The Bathe Easy brand is a range of walk-in baths and shower baths aimed to help those who are physically less able to live independently. When we were developing the Bathe Easy range, the design was just as important as the function, as we don't feel one should be to the detriment of the other. We also wanted to help people 'future proof ' their bathroom, so while a traditional bath can sometimes become impractical for families with small children or older generations, our baths look great, but have additional features that help as circumstances change. Moving into 2018, Trojan Trays will become a much bigger part of the product portfolio too and is an area of focus for the business."
Another development has been Trojancast. A reinforcement process that makes a standard bath substantially stronger, making it suitable for a wider, more commercial audience; hotels, bed and breakfasts or larger individuals. With additional QA checks and a 30 year guarantee the process has grown in popularity. Additionally, the Aquair hydrotherapy spa department works as a home-based relaxation treatment, providing physical benefits, as well as helping people unwind at the end of a long day. There is also the reassurance that with proper care and attention, it is possible to enjoy years of trouble free usage. There is readily accessible aftercare advice online as the company moves towards a philosophy of offering both 'price and advice' – it is already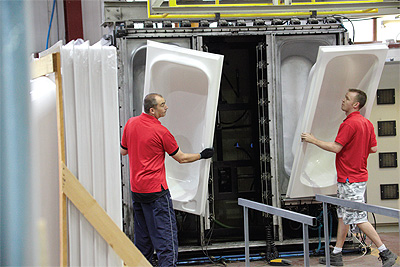 known for its consistent pricing but it wants to bring its years of experience more into the conversation, as it believes it is best placed to advise customers and help them pull together a range of brands and products for their end consumers.
Aside from increasing the options available for people to buy, there has also been a move towards increasing the potential markets to sell Trojan products: "Ninety-five per cent of current sales are in the UK. In order to grow,there has been a focus on exports. Over the last five years we have seen sales in the Middle East grow and forecast this to continue as we approach Expo 2020. We have now registered the trademark in the Middle East, due to it becoming more established and specified in Dubai and the wider United Arab Emirates by developers. This is important, as British brands are seen as a mark of quality, which is why it is vital to be out there competing against local producers and their imports from China."
The way the items are promoted is different in the area, with more of a focus on larger baths for luxury apartments and hotels. While this is potentially more lucrative, there is still a drive towards promotion in Europe: "Eighteen months ago, we appointed a European Sales Manager based in the Czech Republic, in order to increase our export opportunities. It is not easy, but there is the confidence that it is possible to compete with competitors based in Eastern Europe where costs are not only considerably lower, but often subsidised by the European Union."
Innovation is an aspect that is fundamental to the business, something David feels is a responsibility across the entire workforce: "Itis important to be open-minded and listen to people, whether you are talking to directors, workers on the shop-floor or customers, anyone could identify something that could improve efficiencies or become a top selling product. It may be that some processes can be improved through semi-automation, and local engineers are available to discuss possible process solutions," he analyses. Health and safety is another area where there is always a push towards constant improvement: "We have three sites across Huddersfield and as we have grown so have our respsonsibilities. A full-time Health and Safety Manager was brought in over a year ago, alongside a 'T card system' and other processes to better interact with the whole team on health and saftey concerns. As the number of employees grows, it is vital each one is not only looked after, but listened to."
Another concern that people have about a wide array of businesses relates to their environmental policies, something that David admits can be a challenge: "It can be difficult, because there is a certain reputation with plastic. Fortunately, a process has been developed by our R&D department, that allows fibreglass to be removed from the acrylic on production off-cuts. Thus far, this has saved 300,000 kilos of landfill a year, and with the patent protected on this method, it provides additional reassurance and shows that the company is committed to reducing its carbon footprint."
The main attributes of Trojan Plastics are service, investment, quality and honesty, something that is reflected by feedback on David's LinkedIn profile, that praises his'trustworthy and reliable nature.'
This is typified when David is asked about the plan for the next 12 months: "Survive!" he quips, before adding more seriously: "It is about investing more, but equally there will be a review process, looking at the processes that can be improved. If this involves having to move people on, then it will be considered whether it would be possible to send them to another department," he says. The process also extends to quality control: "If a certain product line is doing well, then it is important to know why and so feedback is sought from customers. Essentially, this is a regular analysis that is done on a rolling monthly or quarterly basis."
Straightforwardness is a quality that people from Yorkshire are often associated with, and it is clearly a credo that David subscribes to: "If a commitment is made, then it needs to be adhered to. If people know that promises will be delivered, then this is how trust is built up over time," he emphasises. "We offer consistent prices, so customers know we aren't making huge margins that can offer a 50 per cent reduction overnight. But likewise, we work closely with them to understand what they are trying to achieve and use our knowledge to advise what is possible and what prices are realistic."
Most entrepreneurs are ambitious, and while companies may want to commit to social responsibility, it is not necessarily at the centre of its working practices. Trojan's approach is different, and feels like a tie-in with some of the more philanthropic industrialists of its region's history, such as Colonel John Thomas North, who bought and donated Kirstall Abbey to the people of Leeds, and John Marshall provided a crèche and evening classes for his workers, as well as building the Temple Works.
These were people that believed in industry, but also in contributing to the community that created that wealth, and David seems to have inherited that perspective: "It is not just about how much you can make, but also creating and sustaining employment. A well-run business should not be about huge profits for a few people, but also about allowing for long-term consistency," he proclaims. Indeed, the invitation to maintain this fair process is extended to suppliers and customers as well: "If everyone in the chain is making money, then everything should move forward together. In a more cooperative atmosphere, growth stays consistent, jobs are sustained and there is the ability to reinvest and further develop."
It is interesting to see the vision of someone with grand ambitions, but also tempering that desire with a sense of duty, and for any increased growth to reward the people that made it happen. Whether it is possible to achieve this lofty target remains to be seen, but if it can maintain a high level of production, in conjunction with traditional values, then it is very likely that Trojan Plastics will be able to clean up, even before everyone gets home for bath-time.
Trojan Plastics
Products: Bathroom product specialists