A belief in innovation
Tronrud Engineering AS maintains its position at the forefront of the manufacturing industry through utilising the latest technology to create engineering solutions
Tronrud Engineering AS has continued on the same strong strategic path as the last time that it was featured in Manufacturing Today Europe in April 2016, however, since then, it has seen a record growth. It has built on its successful move into the food sector, while also adopting and developing the latest technology and automation across all the other sectors it serves. This
means that in many ways, the company's future course will be geared towards applying its expertise in adapting to new technology in areas such as robotics to assist its customers, right from factory cleaning to providing solutions for the various stages of the packaging. In a time that has seen many companies face uncertainty, Tronrud Engineering is a prime example of stability and innovation, making it a company to watch out for in the years to come.
Ola Tronrud founded the company in 1977, and its history demonstrates the company's commitment to manufacturing and innovation. The business started with a single workshop based in the founder's home and in those days, he was also the only employee. Since then, there have been a number of expansions and recently, the company moved into a large and well-equipped production facility that enables it to meet the needs and demands of its customers. This move has meant that Tronrud Engineering has consolidated all its operations into two brand new state-of-the-art buildings that have a total area of 12,000 cubic metres.
The passion and knowledge that Ola Tronrud displayed throughout the company's formative years is something that carries on among its current team of highly qualified, experienced and enthusiastic mechanical, electrical and software engineers. Through the expertise and abilities of Tronrud Engineering's staff, it can support customers throughout the lifecycle of the project, from the idea, through the design and construction, and to the commissioning of preinstalled machines.
Furthermore, the capability of those at the company is fully supported and enhanced through the company's investments in the latest equipment and technology. It has maintained steady investments in these areas, which has helped push the company forward and provide its customers with the most effective solutions. Sales and Marketing Director Rune Nordby discussed some new additions: "We have recently added two more 3D printers, one of which is for metals and another for plastics." 3Dprinting is just one avenue that Tronrud Engineering is pursuing for the future, and it offers increased design flexibility, functional optimisation and integration, as well as possibilities for rapid prototyping and mass customisation, plus lightweight and yet stable construction. Its dynamic approach to technology and development is a testament to the talent and attitudes of the company and its staff.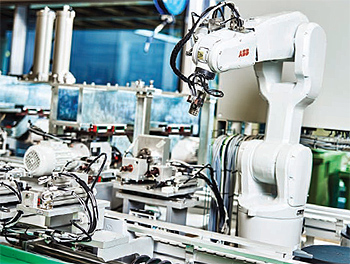 Due to the many years of investments and expertise at its disposal, Tronrud Engineering can call upon its internal and external research and development capabilities to offer customised solutions to its customers. And it is also able to leverage the strengths of manual and CNC controlled machines, programming of PLC, PC control, servo systems and databases, as well as design and assembly of a range of products. Most recently, its development work has taken the form of automation and robotics: "We are working on how to use standard equipment, standard industrial robots, and also speciallydesigned robots and equipment, which will be able to automatically wash and clean the factories, and also perform a range of duties and roles. For example, using robot vision systems to automate a lot of the manual operations in the fish and meat industries, as well as taking it much further into the production line, and helping to remove the heavy handling stress from human beings, and this will continue to be a focus for us," Rune said.
Going forward, the core of Tronrud Engineering's focus will feature three key aspects, as Rune discussed: "There are three different focal areas: the production lines of machinery, end of the line packaging machines, and then, all the consumer goods. This is not only applicable to the food industry, but is also important to everyone who produces anything for the customer on a daily basis. This will be in conjunction with our focus in the area of packaging machines, and our 3D printing capabilities, plus we will continue to provide specialised machinery for our customers. These areas will be our main goals going forward."
Due to the many strengths that it has continued to leverage on since its very inception and the yearly improvements since then, Tronrud Engineering consistently builds upon what it has achieved. This has already seen the company make great inroads into automation and robotic solutions that will help to improve speed, cost, efficiency, and of course the safety for customers. It also does not restrict its services to any one sector, and instead is a choice provider for a large number of the leading figures in the automotive, food, oil and gas industries, and many more. Therefore, with the consistent, gradual, and reliable growth that Tronrud Engineering has continued to achieve, and the level of expertise that it offers, in the coming years, it will no doubt carry on its successful growth.
Tronrud Engineering AS
Products: Engineering solutions