Production partner
A forward-thinking approach means Tronrud Engineering embraces innovative new technology
Tronrud Engineering was established in 1977 by Ola Tronrud, and today the company maintains its position as a supplier of specialist machinery and automation solutions to a wide range of industries. "We assist our customers with the development of profitable industrial products and technical solutions," begins sales and marketing director Kurt Parkstad. "Our talented staff works closely with the customer throughout the project process, from idea through to design and construction to commissioning. More than thousand projects have been completed since the company was founded," he continues.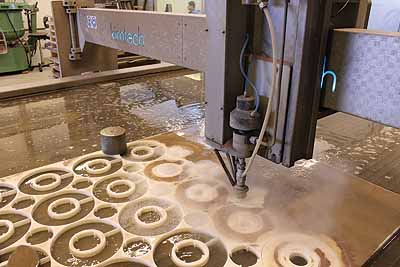 The development, production and delivery of innovative customised products and services provide its customers both increased profit and advantage, recognised for its good design and high quality. With the aim of being a co-operative partner, participating in all stages of the delivery, the company has built many years experience in prototype manufacturing engineering, ensuring its competency in various consultant assignments. Working across a range of industries, its projects have included an automatic assembly line for brake house fittings within the automotive sector, to ball welding on vanes for jet engines and trolleys for moving helicopters and large offshore equipment. Keeping all aspects of its business including R&D, M&E engineering, machining and welding in-house allows the business to effectively operate across a broad spectrum of work.
Innovation and creativity plays a more important and increasing part in today's business, and as the reforming rate increases in all industries, Tronrud has to continue to be innovative in order to keep up with the global competition, and furthermore to stay ahead. As one of the first enterprises in Norway to introduce 3D computer assisted design, its construction department has through many years acquired a special competence in 3D drawing. "The demand for effectiveness in production and the optimal utilisation of man-machine is becoming more and more important. At the same time innovation and R&D remain vitally important in the development of the company. Most of this work is done in close co-operation with customers and R&D centres in Norway. Tronrud Engineering put a lot of effort and resources in new development projects," says Kurt. Most notably it was one of the first company in Norway to begin commercial production with 3D-printer in metal.
Being at the forefront of manufacturing has also led to contracts within the sustainable industries, as Kurt points out: "We have been able to develop automatic manufacturing equipment for various sectors of the PV industry. We offer a wide range of flexible production modules which can be combined to form fully-automatic production lines within wafer or cell manufacturing, or smaller stand-alone systems. We have also worked on a Cathode ray tube cutter in co-operation with Repant developing a deposit automat for empty bottles and crates." With its welding department consisting of a full range of skilled personnel, the business is able to execute both internal and external production assignments, welding in the vast majority of materials including steel, stainless steel and aluminum in a welding hall equipped with friendly environmental suction systems and wide entrances for loading and unloading.
Other processes include water jet cutting and a machining department with 19 CNC controlled milling machines and turning tables where the company can process most kind of materials. With drawings transferred directly from its designers to the machines, high accuracy and short programming time is ensured. With quality being fundamental, the necessity of a strong supply chain and a talented workforce is great, as Kurt explains: "Our highly skilled employees, experience and good relations with the clients give us the strength to remain competitive in today's environment. And of course; good and reliable products, so our supplier's quality is very important for the quality of the final product delivered by Tronrud Engineering. A close follow up of the supply chain is of utmost importance for our success and our client success."
Tronrud's commitment to quality is highlighted by the company's ISO certification, which it successfully achieved within months of applying. The procedures for safety and quality that this certification highlights are particularly essential for the work the company carries out in its role as a supplier to the oil and gas industry. Working within that industry, Tronrud has been involved in projects such as manufacturing an automobile transport trolley for heavy equipment to be used in EX environment offshore, as well as the assembly of BoltSafe sensors; a concept ensuring that the correct residual pre-tension is applied to threaded joints in offshore cranes and bridges.
"We are very optimistic about the coming years in most part of our business segments," says Kurt. "Because we are involved in several market areas, the impact of the downsizing in the oil and gas industry has not been too negative," he adds. As the company looks ahead with the strategic vision to grow in the existing markets as well as expand into new markets and new products, the future is looking very positive. As part of Eggemoen Aviation & Technology Park – with 600 acres of land and access to an airfield and railroad, the company benefits from being part of the new cluster area for industrial development and innovation.
Tronrud Engineering AS
Products: Supplier of specialist machinery
Sites: Norway, Singapore and India
Employees: 100