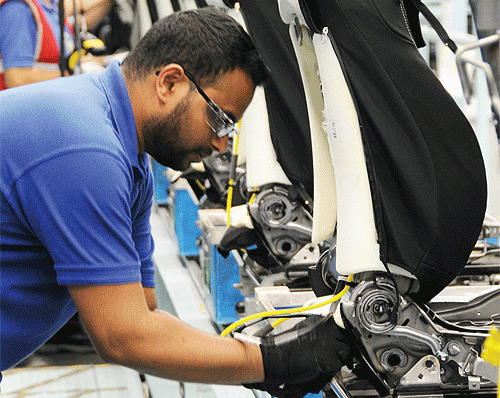 Engineering comfort
With extensive and growing operations across the globe, TS Tech's commitment to quality and close customer relationships positions it nicely to bring on board new OEM customers
Founded in Japan back in 1960 and establishing its first overseas operations in the US in 1977, TS Tech has grown to become a global manufacturer of automotive interiors, predominantly seats, with a number of high profile names present on its client list. Spread across 13 countries, 70 facilities and through 44 subsidiaries, over 15,000 employees generated revenues in excess of 4.5 billion Japanese Yen in 2014. Seat production, for both automotive, motorcycle and other applications like jet skis and medical, accounts for 89 per cent of the company's overall sales with the rest coming from other interior products like door trims.
The automotive industry is by far the largest market for TS Tech, however, with 97.5 per cent of sales in 2014 accumulated from it. "Our main customer is Honda, to whom we supply interior seat systems for around 76 per cent of their global automotive production," highlights TS Tech UK Director, David Stone. "We have also recently commenced production in Europe and South America to supply VW, as well as motorcycle seats to Harley Davison in North America."
Its relationship with Honda is highly significant for TS Tech and is a really strong foundation for its aspirations to expand its business to other automotive OEMs. "We are involved in the design and development of the complete seat assembly from concept to mass production," says David, explaining the depth of work the company provides for Honda. "Having developed this relationship with them over many years, we understand the
technical requirements and quality standards expected. Through our expertise in product development and process design, we are able to deliver a quality product that satisfies the customers' requirements, at a competitive price."
This expertise and ability to work close alongside its customers' needs is TS Tech's core strength, particularly when it comes to the many challenges posed by the design and manufacture of automotive seats. David outlines: "Automotive seating systems consist of complex safety critical features that require careful handling, preparation, installation and testing whilst maintaining 100 per cent traceability. The combination of styling challenges and use of 'natural' materials do not always lend themselves to that of mass manufacturing techniques therefore a high level of detail, skill and control is required to ensure a quality product."
Demonstrating this attention to high quality products, in 2012 TS Tech was named as number the number one supplier in a US survey, carried out by J. D. Power, for seat quality and satisfaction. With worldwide R&D, service and production sites accounting for an extensive range of expertise and competencies, the company is able to uphold its commitment to quality through cutting edge manufacturing facilities and continuous investment. "All of our production facilities are equipped with state-of-the-art automated welding systems and assembly lines, along with automated inventory control systems for the storage and sequencing of products prior to delivery," comments David. "The company has also invested in advanced technologies, such as laser welding and automated weld bead detection, demonstrating its desire to maintain a market leading competitiveness." To facilitate this approach to continuous improvement, over the coming months TS Tech UK will be moving towards achieving and implementing TS16949 automotive quality management accreditation.
However, it is not just down to the company's own operations that it is able to achieve this high level of quality and David is keen to point out the strength in its complete supply chain. "Whilst we have a number of core competencies within the group, such as cut and sew for trim cover and frame welding, our supply chain is quite diverse, supplying injection moulded and pressed parts, as well as electronic and foam products," he notes. "Suppliers are both local and global, depending on a number of factors, ensuring that quality, cost and delivery targets are consistently met."
Gaining recognition and building on its reputation for high quality and bespoke manufacturing capabilities is crucial to TS Tech carrying out and achieving its 2020 vision. As David explains: "This is to expand our non-Honda sales to 20 per cent of our total business turnover by 2020, so to this end we are actively seeking out opportunities with OEMs in all regions." As for the more immediate future, the company will be gearing up in preparation for the launch of Honda's new Civic model in 2016. "In the UK we are currently in the preparation phase for the model, which will be introduced for export to both Europe and North America," he continues." This will have class leading safety features along with new styling and weight saving technologies, and thus will be another good opportunity for us to demonstrate out leading abilities to design and manufacture, on-mass, bespoke solutions."
TS Tech UK
Products: Global manufacturer of automobile interiors
Sites: 70 facilities in 13 countries