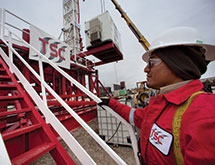 Flexibility has been key for TSC Corp. as it serves its clients, Vice President Charles Smith says. "We are truly a solutions-driven company," he says, noting that it specializes in offering custom products and services to the drilling sector. "We don't necessarily have a fixed basket of goods."
Based in Houston, TSC Corp. provides equipment and services for offshore and onshore drilling. Its parent company, TSC Group Holdings Ltd., started operations in 2001 as an electrical components company in Xi'an, China.
Over time, "We started to slowly expand and grow our product offering," Smith says, noting that TSC Group moved into drilling rig components. "We also added engineering and manufacturing out of the United Kingdom and the United States through some acquisitions."
The company formed TSC Corp. in 2008. Today, it serves an onshore client base of small- to middle-tier operations that typically have fleets of two to 10 rigs as well as offshore clients ranging from small to the largest in the industry, such as Transocean, Ensco and others, Smith says. Its customers frequently require financing assistance, which TSC Corp. is happy to provide or introduce the parties.
"[We'll] say, 'We know you want a rig, but you don't quite have the money,'" Smith describes. "'We can sell you the rigs or you can do an off-balance sheet transaction to lease these rigs for a couple years.'"
TSC Corp.'s onshore clients, he notes, typically do not have the large cash reserves of many majors, such as Nabors or Trinidad Drilling. However, "We try to give them a rig and a financing solution that can help them compete and grow their company," Smith states.
TSC Corp. also makes sure to put itself in its clients' shoes with each of its services, he adds. "That creates a customer for life," Smith says. "Those are the rewards for the company."
Going On-Land
Smith joined TSC Corp. in 2011 after working on the offshore contracting side of the business with Noble Corp. and Hercules Offshore Inc. On-land equipment and services are new for both Smith and the company, which is at work growing its land rig business.
"We have some designs of fast-moving rigs, both for conventional drilling and unconventional drilling," he describes, noting that TSC Corp. is working to have one finished sometime by the end of this year.
Although the offshore side of the business tends to be more sophisticated, "We tried to take that [same] focus and mentality and use it to enhance the land rig design," Smith describes. "We wanted to make it more lean, efficient and technologically savvy."
This will help TSC Corp. compete against the products offered by competitors such as Drillmec International Ltd. and NOV. "We think our rig is better and more efficient, and we can meet the price points that our clients are looking for," he says.
However, "The unfortunate ups and downs of the industry have slowed down what would have been a banner year in our progress," he admits. "But we are still pushing very hard to grow this year and be profitable."
"We think it's very possible and achievable to begin work on multiple land rigs this year," he says.
An Enhanced Presence
TSC Corp. recently acquired a new 53,000-square-foot facility in Houston. With the location, "We are establishing a much more robust service presence," Smith says. "We are here to stay.
"We can offer a lot of value to our clients by giving them a flexible option to fabrication, whether it's onshore or offshore products and services," Smith says, noting that the facility features 80 tons of overhead crane capacity and five acres of  stabilized backyard.
"This manufacturing facility gives us a lot of space to handle a variety of manufacturing and service-related projects," he says. "We also installed a very large transformer that allows us to do a lot of the testing right here in our facility, if the client requires.
"It provides a more comprehensive and flexible solution to our clients," Smith continues. "We can handle more of the work in-house, allowing us to manage projects more effectively, while saving our clients money."
Built Around Quality
TSC Corp.'s focus on manufacturing quality recently earned its 4F and 7K monogram certification from the American Petroleum Institute, while maintaining its Q1 and 2C monogram. "The way we maintain quality is by having well-trained people that not only care about the job, but the success of the company," Smith says. "It makes them focused and want to do their job."
The company also employs an experienced staff, including a QHSE manager who carries nearly 20 years' experience in manufacturing. "When you build your system around seasoned, quality people and you treat those people right then that system has a very hard time failing," he says.
TSC Corp. also focuses on continuous improvement. "We monitor our productive and non-productive time," Smith says. "We also do lesson-learned meetings to understand where we have failed to improve, as well as where our successes are and how we can repeat those.
"Lean manufacturing is certainly what we're striving towards," he says. "Certainly, when we get our ERP system in place in the coming months, that is going to be the basis of what we're going to use for our manufacturing process."
Getting Closer
Smith takes pride in TSC Corp. and its staff. "There's a lot of investment and time spent in growing and developing our people," he says. "Some organizations are very rigid when it comes to day-to-day dealings with their employees, but we take a much more personal and family oriented approach.
"I try to get to know the people around me," Smith says, noting that he often takes employees and their families out to dinner. "We get to know each other so we can know our own strengths and weaknesses.
"Once [a job] becomes more than just a paycheck, you begin to care more about the organization and its success," he says. "You're willing to work hard to ensure that success. That's what I'm most proud of: the people at this organization and how hard they work."
Best Year Ever
Current oil prices have impacted TSC Corp.'s client base, Smith says. "They have caused an amazing amount of conservation of cash and reduction of capital projects," he says.
"It's forced us to be flexible, which is what we're good at, and look at other parts of the industry to do work," Smith continues. "It's also opened more doors for us to get in and take some of the marketshare from some of the bigger boys that don't want to reduce their rates."
TSC Corp. will continue growing in these lean times, Smith predicts. "I truly feel we are going to have our best year ever this year in an otherwise extremely disappointing and disastrous year for some of our competition," he says.
"We're going to grow marketshare this year," he says, noting that if oil prices rise, TSC Corp. will grow. "We're hoping TSC Group Holdings will see $1 billion by 2017."