Attracting new customers
Recognised for its expertise in custom electromagnetics and electronics and electromechanical assembly, TT Electronics' customers trust it to meet and exceed their demanding requirements
The Barnstaple facility of the TT Electronics group (formerly Aero Stanrew) began operations as Aero Transformers Limited in 1948; the company was acquired by Stanrew Electronics in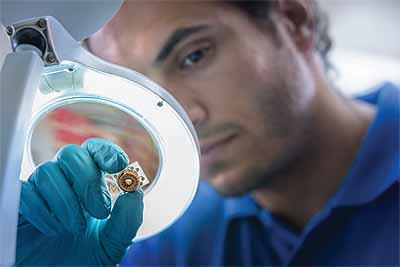 1980 and was renamed Aero Stanrew in 1992. "After the millennium, we began to design systems rather than individual components; we now supply the majority of the world's most recognised aircraft, providing solutions for new and existing platforms made by both Airbus and Boeing," says Chris Callan, Vice President at the Barnstaple site.
After Aero Stanrew's acquisition by TT Electronics in 2015, the company has gone on to achieve significant growth. This success stems from its expert team and a commitment to harnessing both leading expertise and the latest developments with the goal of engineering electronics that will put its customers at the forefront of their respective markets. "We are now part of a rapidly growing division within TT Electronics, which is focused around harsh environment solutions for aerospace and defence. The initial synergies between the accompanying brands are gradually being realized and we are relishing the opportunity of collaboration with the other expertise throughout TT Electronics," highlights Chris.
Trusted by customers to meet and exceed the most demanding and complex requirements, the company focuses on flexibility and collaboration that ensures its highly-skilled team of manufacturers and engineers respond to customer changes in a swift and efficient manner. Products within the company's portfolio can also be screened to number of industry-recognised standards; in fact, Aero Stanrew is accredited to BS EN 9100 Rev C as well as ISO 9001:2008 and also holds a range of customer accreditations from firms such as United Technologies, Rolls-Royce, Goodrich, Agusta Westland, GE and Astrium. Furthermore, the company boasts European Space Agency trained wiremen and is an internally accredited IPC A610 trainer.
"As a company, we have extensive experience in supplying safety critical and mission critical applications on some of the most recognised platforms in the world in both aerospace and military markets; it is here that our electromagnetics and electronic assembly solutions have proven their reliability and pedigree in the most demanding of environments. Currently, our customers include the likes of Rolls-Royce, GE, Thales, Eaton, UTC, and Safran, which are served by our 230 staff in our large manufacturing facility in Barnstaple, Devon, and 40 employees at another site in Tunisia," says Chris.
"We are SC:21 approved to Bronze status and also hold a AS9100 aerospace standard accreditation. We have proven expertise in developing test equipment and test interface systems, interconnect systems, aero engine telemetry systems, electronics and electro-mechanical assembly; PCB design and manufacture as well as an extensive range of custom electromagnetics such as current sensors, position sensors and current transformers," he adds.
Other products include power transformers, inductors and chokes, current transformers and sensors, solenoid and actuation; filter components and assembly sensors. Meanwhile, within electromagnetic technology, the company's portfolio continues to expand thanks to research and development and ongoing investment in the following areas: current sensing, power supply, manufacturing and reverse engineering/product development.
"We are very proud of our development of test equipment products," note Chris. "A highly skilled design and operations team is producing bespoke test equipment to support ground testing of aircraft electrical systems for civil and military aircraft. The equipment provides a highly efficient test process for our customers and considerable saving over their previous manual test methods. These products are one of the key areas for growth in our future plans."
Another area that the company sees potential growth is More Electric Aircraft, as Chris continues: "Traditionally, aircraft systems have been driven by as combination of hydraulic, pneumatic, mechanical and electrical technologies. But recent technological advances in the field of power electronics, including electro-hydrostatic actuators, high-density electric motors, and new power generation and distribution systems, means that MEA has become a reality." As part of the power electronics division within TT Electronics, which uniquely places the Barnstaple facility alongside the Micro Electronics Control and Power Component capabilities in other areas of the division, the company has the capabilities and expertise at hand to meet the challenges of MEA.
With product development on the horizon for TT Electronics, further innovative developments and a stronger presence within MEA are a certainty over the short-term. "We are focused on system, motor/drive capability, PSU and ATRUs. We are also developing and growing our engineering team over the next 12 months, increasing total spend on people development to ensure we have the capability to support our growth plans," says Chris.
Already a well- respected specialist in the design and manufacture of ruggedized electromagnetic components and electronics systems for safety critical applications in the aerospace and defence sectors, TT Electronics will remain focused on its vision of becoming the recognised market leader in the design and manufacture of sub-assembly level products within aerospace and defence over the coming years. "We have already experienced significant growth in recent years through the determination and commitment of our experienced and capable team. Our future plans build on this success and will see us introducing new products and winning new customers, which will further accelerate our growth in a very exciting time for TT Electronics," Chris concludes.
TT Electronics
Products: Develops and manufactures custom magnetics and electromagnetic systems for use in high reliability, high integrity applications