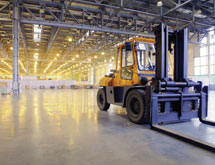 Dick Weyhrich, founder of Tube Specialties Co., (TSCO) remembers practicing lean manufacturing techniques before it became an industry buzzword. Weyhrich began his company in 1963 out of his Portland, Ore., garage, supplying brake and fuel lines to Hyster Co., a forklift manufacturer. Back then, Weyhrich would hand-bend the tubing. He used just-in-time practices to supply his customers with quality parts on an as-needed basis, allowing them to reduce inventory and save money. "I don't think there was any name for it back then," he said in a statement. "I was just getting my customers parts when they needed them."
TSCO has since grown out of its humble garage-shop beginnings. Although it's still headquartered in Troutdale, Ore., TSCO has additional manufacturing facilities in Statesville, N.C., and Saltillo, Mexico. The family owned and operated company employs 375 people and is now headed by Dick Weyhrich's sons Gary and Mark who serve as co-presidents. For all that has changed at the company, however, Gary Weyhrich maintains that its just-in-time practices have remained.
"We have expanded the business and strengthened TSCO's manufacturing capabilities," Weyhrich said. "But we still deliver products directly to our customers' production facilities as often as they need them, as we always have."
TSCO is a complete fabrication company providing high-quality, cost-effective products for the industrial sector. It supports a variety of industries including automotive, trucking, mining and agriculture equipment, medical and outdoor recreation with its bending, fabrication and finishing services. The company's diverse capabilities include tube bending, pipe bending, tube fabrication, pipe fabrication, tube punching, tube forming, powder coating and tube welding.
Offering More to Customers
The company strives to go beyond its core capabilities to provide a number of value-added services such as tube cutting, which enables TSCO to cut tubing in a variety of types, diameters and wall thicknesses. It engineers cutting methods that not only reduces the amount of scrap, but also examines if opportunities exist to bring parts in already cut to length.
The company also specializes in tube flattening, which TSCO says is becoming far more common due to the way machines are being designed today. "Today, the spaces tubes have to be routed through are getting tighter and tighter," the company explains. "Sometimes, the space requires the tubes to change shape. We have the ability to accommodate these situations."
Other services include parts numbering, pressure testing and cleanliness testing – anything to help its customers reach their end-result quicker and in a more cost-effective way. One of the key additions to the company has been its assembling capabilities.
"Over the years, we have developed key partnerships with suppliers all over the country," the company explains. "If [a customer has] a product that requires multiple subcomponents, we can have those products shipped to us and we will engineer an assembly process that has the lowest cycle time possible, delivering to [the customer] a completed assembly that is ready to install. We also can build or buy out customer assembly fixtures that can assist with the assembly process."
Reaching More Regions
No matter what the process or service, TSCO makes sure to have resources – both in people and technology – in place to efficiently handle each job. In Troutdale, it boasts a 212,000-square-foot manufacturing facility that houses the latest in tube and pipe fabrication technology.
The company's proximity to Interstate 5, Interstate 84, Portland International Airport and the Port of Portland provides TSCO with a multitude of shipping options to satisfy requirements all over the world.
Statesville is TSCO's East Coast facility that the company opened at the behest of customers in the region, the company says. The manufacturing plant is also 212,000 square feet and is situated on 34 acres.
The facility is located near the junction of Interstate 40 and Interstate 77, providing a convenient location for shipments headed anywhere in North America, with the Charlotte/Douglas International Airport just 30 miles away.
Its Saltillo facility is the newest of the family and was opened to specifically supply customers in Mexico. The manufacturing plant is 70,000 square feet with the ability to expand to 210,000 square feet as its Latin American customer base grows. Saltillo is located near the major city of Monterrey for shipments anywhere in Latin America.
The investment in state-of-the-art facilities and an expanded workforce has paid off. TSCO has been able to better serve existing customers and reach new ones. The company's portfolio includes customers such as Peterbilt, Kenworth, Monaco, Caterpillar, Mercedes Benz, AtlasCopco, Thermopol, Thomas Built Buses and Daimler.
"Since 1963, TSCO has been a leading supplier to OEM's in a variety of industries," TSCO says. "Today, we serve a customer base as diverse as our services, with clients in the automotive, trucking, medical, and outdoor recreation industries, to name a few. As a privately held company, we are able to reinvest the majority of our earnings into the latest technological advances in tube fabricating equipment.
"This results in higher volume capabilities, with greater quality, all at reduced cost to [customers]."