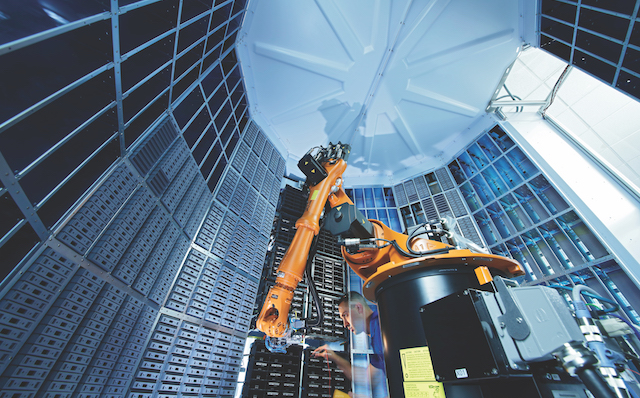 Factory employees enjoy the luxury of knowing that the machines they work with have been evaluated for safety. But equipment evaluations, Dan Posner says, should go beyond ensuring that only the people using them will be safe.
"You've got to think about the person who sweeps up at night [and] has no training," he explains. "Machines can be exposed to an unlimited amount of people with a limited amount of background and knowledge."
Posner is the Automation/Robotics, Functional Safety and Cybersecurity Program Manager in North America for TÜV Rheinland, which conducts those essential tests and product evaluations. Based in Cologne, Germany, the global independent services company started operations in 1872.
Today, TÜV Rheinland has a global presence that includes its U.S. headquarters in Littleton, Mass. In addition to testing for safety, the company evaluates for cybersecurity and EMC/wireless compatibility, and also ensures that machines are safe and meeting global requirements.
"We evaluate to the appropriate standards and we allow the manufacturer to put a mark on the product that shows compliance with either global or nationalistic requirements," Posner says. TÜV Rheinland's processes include evaluations, testing and validating quality, and safety management systems.
"If you want to deliver a product anywhere on the planet, we will partner with clients to help them navigate the requirements for those regions," he declares. "When someone says, 'I want to deliver a product to Australia,' we are well positioned to support all the facets of safety certification, as well as assist with market access service needs."
TÜV Rheinland also employs experts who train people in a wide range of careers and industries. It utilizes a global network of approved laboratories, testing and education centers, and has a staff of more than 20,000 people.
Essential Reviews
TÜV Rheinland's process can start as early as the product concept phase. "We will sit down with a customer and perform what we call a preliminary concept review," Posner describes.
During the review, both companies look at how the product will operate and what safety functions it will offer. "We'll compare that to target requirements," he says. The second phase will consist of creating a test plan and working with the customer to prepare their documentation.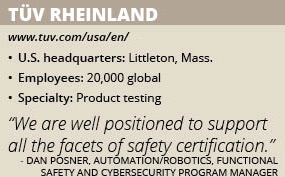 Afterwards, TÜV Rheinland will test the equipment and help to finalize the documentation before certification. It is critical that TÜV is involved as early in the product development lifecycle as possible to avoid non-compliance issues later. "That presents quite a big challenge, because some of these safety concepts need to be baked in from the design of the product," Posner explains. "It can be difficult and costly to go back and rework the product."
Setting Standards
TÜV Rheinland not only helps companies meet standards, but is involved in the development of the requirements within the standards. Through active involvement on several committees, guys like Dan Posner are helping to shape compliance standards. "We'll make suggestions based on trends we see in the marketplace," Posner says.
Posner has been involved with standards such as ANSI / RIA R15.06, ISO 10218, ANSI / UL 1740, UL 1998 and IEC / UL 61496. Having regulatory bodies like TÜV Rheinland sitting in these committees and helping to develop standards is essential. "We see firsthand how manufacturers use products," he says. "We offer a different perspective during the standards' writing process."
Changing Environments
With the evolution of Industry 4.0 and IIoT, the market is experiencing a boom. "We're seeing a lot of start-ups coming to the market," Posner says, adding that these firms require different guidance than a seasoned company.
"An experienced manufacturer knows why the requirements are what they are," he explains. "The start-ups require additional guidance as to the background of the requirements and applications. You need to explain why they need to tailor their products to these requirements."
The company also is seeing safety requirements change, especially as the collaboration between man and machine increases. "We have new challenges," says Posner. "Machines today are smarter than ever. They can detect the location of people and know how to respond when people approach them.
"These new man and machine collaborations can be challenging for manufacturers and users to correctly implement," Posner says.
A Robot Expert
Posner is a 17-year veteran of the certification industry specializing in robotics and machinery. Previously, he worked as Principal Engineer (PDE) at UL LLC, where he also performed risk assessment facilitation and worked with industrial control panels, elevator/escalator equipment, robotics, factory automation and functional safety.
His position at TÜV Rheinland gives him the chance to see new technologies before anyone else. "I see the bleeding edge of anything to do with robotics," he says. "I get to sit down with the manufacturers and they teach me how it works."
When it comes to the future of automation and robotics in the manufacturing industry, Posner predicts even more collaboration between man and machine. "I also expect to see newer types of robots," he says, noting that one example is an Autonomous Mobile Robot (AMR).
The days of robots being fixtures in the home may happen someday, but it will not be as soon as many hope, Posner predicts. "It's kind of cost-prohibitive now, and it will be for a long time," he says.
TÜV Rheinland will help create the standards when these changes occur.  "We really have to think about how things impact safety," Posner says. "It's difficult to write standards for things that haven't been thought of yet!"
TÜV Rheinland plans to continue growing with the industry, which is moving at an explosive rate. "Every morning I wake up, there are [new] companies I've never heard of trying to make these products," he says. mt