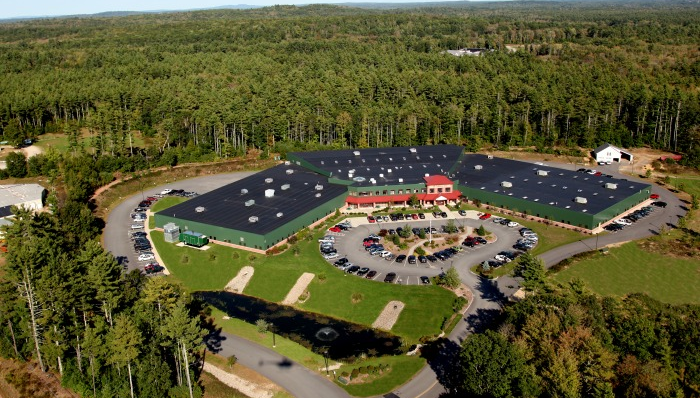 Like most companies, TURBOCAM International guides its business practices, internal culture and overall operations around a brief but powerful mission statement. The content and deeper meaning of that mission statement differentiates the company from many of its peers.
TURBOCAM's mission– to "honor God, create wealth for its employees and support Christian service to God and people" – was first committed to paper by company founder Marian Noronha in the earliest years of the company's existence. More than 30 years later, these words continue to exemplify how TURBOCAM treats its customers, suppliers and employees.
"Practically everybody would say they have a unique culture, but not many companies that I've run into have in their mission statement that their purpose is to honor God," says John Bressoud, a 26-year employee of the company and a program manager. "People that are meeting us for the first time know that we are above board and will treat them the way we want to be treated. We have gained credibility in the industry from our mission."
TURBOCAM's customers include large and small OEMs as well as aftermarket service providers. All of the company's customers can expect a high level of integrity and honesty from the company. "If we have bad news for them, we will deliver it today and not next week," Bressoud adds. "The level of service we provide to our customers and suppliers is amazing. For example, we pay our suppliers on time. Very few companies do that anymore."
Company Reach
Noronha started TURBOCAM as a software applications company, but quickly diversified it into five-axis machining, particularly for bladed parts. One early customer was NASA, for which TURBOCAM produced a component that other suppliers were unable to manufacture.
Innovation has been part of the company's DNA since its early years. In 1988, the company prototyped impellers for the smallest turbo air compressor on the market at the time, leading to an extremely efficient design. Two years later, the company contracted to make four stages of shrouded blisks for the development of Boeing 777 engines.
Today, the Barrington, N.H.-based company engineers, prototypes and produces turbomachinery parts used in the industrial, aerospace, automotive, marine and propulsion markets. The commercial aviation market in particular is a growth market for the company, Bressoud notes.
Examples of the company's work include compressor impellers and nozzle rings used in automotive turbochargers, as well as turbine blades and jet engine parts. The company is ISO 9000 as well as AS 9100 and TS 16949 certified.
TURBOCAM operates eight manufacturing and sales facilities in six countries, and partners with a software company in Canada. "TURBOCAM parts fly on the Space Station and in the engines of an advanced commercial launch vehicle builder, provide the boosts for the cleanest and most efficient diesel engines, and produce a significant amount of compressed air around the world," the company says.
Technical Expertise
In addition to its mission-driven culture, TURBOCAM's manufacturing capabilities and technical expertise are its biggest assets. "What other companies do, we can do better, and we can do things that other companies can't do," Bressoud says.
The company specializes in surface modeling and machine dynamics, which enable it to help turn a designer's intent into reality. "Our manufacturing process begins with an engineering review of our customers' designs. We think this is very important," he adds, noting the company reviews several aspects of the part design including the materials used. "We don't just make a part the way they told us to; we will review the design to make sure it's what our customers really want."
TURBOCAM typically prototypes hundreds of new product designs annually. "We've got people coming to us to make things we've never seen before, but with CNC equipment we can turn and mill just about anything," Bressoud says. "We adjust to new markets and new designs constantly."
The company also runs production lines for its most in-demand parts. This includes daily producing thousands of turbocharger impellers and nozzle rings for the automotive market. Using the knowledge gained from high production of automotive parts, TURBOCAM is now supplying high production parts for commercial aviation.
TURBOCAM performs turning, milling, , balancing and inspection process in-house. The company uses proprietary software in its metal-cutting processes. This software allows the company's processes to be so precise that parts typically do not need to be polished or deburred after machining, the company notes.
Although TURBOCAM offers extensive manufacturing capabilities in-house, it looks to vendors to provide finishing services. Vendors also provide the raw materials used in TURBOCAM's products. "We have an excellent suppliers," Bressoud says. One of those suppliers is Hitchiner Manufacturing of Milford, N.H. They understand what it means to partner together for mutual success.
The company uses Statistical Process Control (SPC), Six Sigma and lean manufacturing methods throughout its manufacturing processes. "SPC and Six Sigma are perhaps the best tools in our toolbox when it comes to maintaining and improving our quality," Bressoud says. "Lean manufacturing is standard practice here – it's a very simple set of tools but very effective. We've greatly improved our processes by using lean methods."
Lean and Six Sigma methodologies are also stressed in the company's training programs. It includes a 12-week "Machinist Boot Camp" that gives machine operators the skills they need to operate equipment. Following this session, new machine operators are paired with experienced employees who serve as mentors for a two-year period, the company says. "This and other training occurs at the TURBOCAM Education (TEd) Center, a dedicated facitlity where we continuously improve the skill base of our employees."
Automated Processes
TURBOCAM in 2001 greatly increased its production capability when it opened its TURBOCAM Automated Production Systems (TAPS) division in response to demand for turbocharger compressor impellers used in trucks and cars.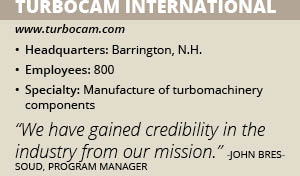 The division – which is designed to work around the clock while being fully unmanned on Sundays – uses Mikron 5-axis milling machines. TURBOCAM has partnered extensively with machine supplier Agie Charmilles to provide the machines. TAPS operates the largest installed base of Mikron 5-axis equipment worldwide, TURBOCAM notes.
Parts on the TAPS assembly line are changed robotically, and the process is continuously monitored to ensure the close tolerances and surface finishes needed for high-performance turbomachinery applications, the company says.
The TAPS division can manufacture machined-from-solid aluminum, stainless steel and titanium compressor impellers. The plant has the capacity to produce more than 600,000 impellers a year. In addition to impellers, TAPS produces a number of turbocharger turbine nozzles that require difficult operations that could lead to repetitive motion-related injuries to workers. "TAPS has developed many robot-operated systems that automate these mundane tasks," TURBOCAM says. "One such system was named 'best in class' for Six Sigma efforts by our customer Cummins Inc."
Advanced Technologies
The high-volume automated processes used in TURBOCAM's TAPS division are just one example of the advanced technologies at the company's disposal.
The company in 2008 licensed the TX1 technology, which greatly improves the wear resistance of steel. The process makes its products more durable and able to withstand high temperatures.
"The TX1 process is a unique thermal diffusion surface transformation technology, which improves the toughness of steel without creating brittleness," TURBOCAM says. "These improved characteristics transform lower-cost materials so they either match or outperform more costly exotic alloys in high-wear applications.
"TX1 is not a coating," the company adds. "Instead of traditional surface-coating methods, which are prone to brittle fractures and spalling, TX1 is a treatment that works through both diffusion and crystal lattice transformation."
Other advanced technologies used by the company include direct metal laser sintering (DMLS), an additive manufacturing technology that creates complex metal parts directly from 3-D CAD data. "The software 'slices' the model into thin layers, which the DMLS machine then builds layer by layer, fusing metal powder into a solid part by melting it locally using a focused laser beam," the company says.
Advantages of the DMLS technology include short turnaround times, high detail resolution and quality, and the ability to create features that can't be cast or machined. TURBOCAM uses the technology in prototyping as well as production. Parts produced using the technology are finished on CNC machinery.
TURBOCAM also offers electromechanical machining (ECM) and plasma spray coating services. "ECM is an unconventional machining solution for components with material requirements or features that are difficult, or even impossible, to machine by traditional methods," the company says. "[ECM] is a rapid, cost-effective machining process that eliminates heat and mechanical stress. ECM is an erosion process, unlike [electrical discharge machining] EDM vaporization, that utilizes the principle of electrolysis."
The process uses an ECM cathode tool that is positioned close to the part being machined. A low-voltage, high-amperage direct current is passed between the tool and part via an electrolyte. Material is removed by anodic dissolution and then carried away by the electrolyte, the company adds.
Plasma spray coating is a type of thermal spray application that provides wear protection to TURBOCAM's aerospace products. The process involves melting a powder within a plasma jet to create a plasma plume. "The plasma jet is an ionized region of gas formed by passing argon through a high-voltage electric arc inside the plasma torch," the company says. "Introducing a secondary gas, such as hydrogen, increases the heat transfer properties of the plasma plume.
"Temperatures can reach 5,000° C in the plasma plume, where the feedstock material melts while being propelled towards the substrate," it adds. "The molten droplets flatten and rapidly solidify forming a deposit, which remains adhered to the surface in the form of a coating."
Community Engagement
Each of TURBOCAM's locations lives out the service aspect of the company's mission by engaging in a number of community projects. The company supports a different charitable organization each month. The Barrington plant, for example, in December raised $3,000 for a street kitchen serving the homeless in the community.
The company is also involved in raising money for schools and clean water for children in India, Nepal, South Africa and west Africa. The company also made donations to assist victims of a 2015 earthquake in Nepal.
"Community service is very important to our company," Bressoud says. "We believe in engaging employees by telling them not just what we do but why we do it. We believe that TURBOCAM exists in part to engage with local communities."
Recent Achievements
TURBOCAM's community service projects and overall service to customers are regularly honored by its peers. The company's recent awards include:
* A Statement of Support for the Guard and Reserve awarded by the Employer Support of the Guard and Reserve (ESGR) in 2016 for the company's dedication to the military;
* A "Supplier of the Year" award from Cummins Inc. in 2014;
* A "Supplier of the Year" award from Pratt & Whitney and a "Supplier Excellence" award from FS Elliott, both awarded in 2012; and
* A "People's Choice Award" for best display at the 2012 American Society of Mechanical Engineers/International Gas Turbine Institute Turbo Expo in Denmark.
In addition, TURBOCAM founder Marian Noronha and Duncan Watkinson, managing director of the company's division in India, were honored with the "Karmaveer Puraskaar" award for social service. The award is India's national award for social justice and citizen action. It recognizes individuals in India and abroad who have been pivotal for leading change, the company says.