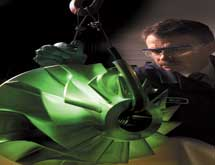 TURBOCAM International operates differently from many of its competitors, but the main difference can't be found in its processes – it's in the hearts and minds of each of its employees. John Bressoud, general manager of the company's industrial division, says the company's main differentiator is its faith in God and how that translates into the way it serves its customers.
"The way I like to explain it is that it's the Golden Rule," Bressoud says. "You treat other people the way you would like to be treated."
That philosophy has formed the backbone of the company, which was started in 1985 by Marian Noronha. After coming to the United States from his native India in the late 1970s, Noronha worked on research and development of wind turbines before gaining experience on advanced CAD/CAM applications at Computervision in the 1980s. After that, Bressoud explains, Noronha discovered that NASA was looking for a component none of its suppliers could manufacture. Using his knowledge of CAD/CAM and five-axis machining, Noronha was able to engineer a solution for NASA, and TURBOCAM was on its way.
Today, the company serves a broad cross-section of markets with five-axis machining. Bressoud says the diversity of the work TURBOCAM does makes it one of "the most interesting industries to be in," and its work ranges from centrifugal air compressors to gas turbines. Out of its hundreds of customers, some only purchase one piece of hardware a year, but others place orders that number in the thousands. The company also has become a global force, with locations in Taiwan, the Netherlands, Romania, Japan and South Africa.
Perfect Processes
In its operations, TURBOCAM has been an innovator from the beginning. In 1988, the company prototyped impellers for the smallest turbo air compressor on the market at the time, leading to an extremely efficient design. Bressoud says the company hangs its hat on its surface modeling capabilities and the skill with which TURBOCAM can turn a designer's intent into reality.
It also has an advantage in the way its tools cut into metal, which is driven by TURBOCAM's proprietary software. Other firms require parts to be polished and deburred after machining, but TURBOCAM's pro­cesses are so precise that they typically don't need polishing.
"That lets us be extremely successful," Bressoud says.
Customer Service
Although Bressoud says there are signs that the economy is improving, TURBOCAM still faces some challenges. Particularly, the increases in material prices leaves TURBOCAM with little room to maneuver, be­cause it won't pass a price increase on to its customers.
As TURBOCAM's customers' situations improve, many have added in-house machining. Although it may be cheaper for them to machine their own components, Bressoud offers added value, and because of that, it anticipates a bright future.
"We value very highly the business and personal relationships we have developed with our customers and vendors," he says. "This means we review their design and bring our industry experience to bear. If we find something that does not match best practice, we ask the customer, 'Is this what you really meant?'
"Our customers appreciate this collaboration," Bressoud adds.