Turkish Aerospace Industries
Flying high
Turkish Aerospace Industries offers products and services in the aerostructure, aircraft, helicopter, UAV system and space system segments
The centre of technology in the design, development, manufacture, integration and support of aerospace systems for military and commercial aerospace clients, Turkish Aerospace Industries (TAI) has established a respected presence in the global market since its establishment as part of a joint venture in 1984. Set up following the Turkish Government's foundation of Turkish Aircraft Industries in 1973 with the aim of building its own aircraft, TAI began operations as the co-producer of F-16 aircraft in Turkey. Following the success of this project, the company went on to begin co-production of the SF-260 Trainer and CN-235 Light Transport Aircraft in 1986.
"With the AS-532 Cougar Helicopter co-production in 1997, we started increasing our experience in rotary wing platforms. This increase in experience and competitive skills enabled us to start working with the major passenger aircraft manufacturers like Boeing and Airbus; the first commercial aerostructure projects with these companies began in 1998," comments Mr Temel Kotil, President and CEO of Turkish Aerospace Industries.
Restructured in 2005, TAI became a 100 per cent Turkish shareholding company and went on to take steps in becoming a world brand aerospace company. In 2008, the company participated in the Airbus A350 XWB Passenger Aircraft project as a risk sharing partner and also worked on the Joint Strike Fighter F-35 programme. With capabilities developed on the design and manufacturing side of the business, the first flights of the indigenous MALE (Medium Altitude Long Endurance) Class UAV ANKA and Trainer Aircraft HÜRKUS took place in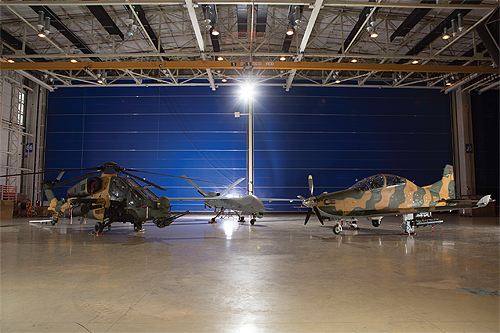 2010 and 2013 respectively.
"We have achieved very important milestones, such as the development and acceptance of the ANKA Block A-MALE Class UAV and the launch of the GOKTURK-2 LEO Satellite on December 18th 2012. We have also worked on the design, manufacture and delivery of several structural parts to AMSL as an industrial partner of the A400M Transport Aircraft," highlights Kotil.
Serving customers both in Turkey and on an international scale, TAI is well-known and respected for its technologies and commitment to delivering ultimate customer satisfaction. Having made strategic investments in recent years, the company continues to invest in new technologies and advanced composite manufacturing facilities. For example, the Satellite Assembly, Integration and Test (AIT) centre is a new business area for the firm, which it believes will be instrumental for Turkey's roadmap into the aerospace sector.
"Our main aim is to increase our presence in international markets and become one of the important players in the world with our indigenous systems. Our main export strategy is to enhance our market position through high value generated indigenous products as well as keeping constant aerostructure work streams to sustain our business. The USA and Europe are a significant part of our aerostructure business, while at the platform level our key markets are the Middle East, North Africa, Middle Asia, Asia-Pacific and South America. To expand our export market, we are establishing cooperation with the aforementioned territories with our indigenous products such as ANKA, ATAK and HÜRKUS as well as our engineering capabilities in system design, modification and/or modernisation of aircraft platforms such as F-16 and C-130," says Kotil.
Focused on R&D, TAI has more than 1000 design engineers and certified contractors within its facilities working on new and exciting innovations. For example, the company recently revealed the new T625 multi-role helicopter following airframe production in the summer of 2016. "The airframe was produced with the goal of providing better fuel consumption, which subsequently leads to longer endurance and range. Our prime example of this is the use of the retractable undercarriage, the main components of which consists of a shut-off valve, hydraulic reservoir, landing gear selector valve and filter manifold. The first flight is expected in September 2018, which will be followed by certification by both the Directorate General of Civil Aviation and the European Aviation Safety Agency. There are then plans for international export following the launch of this product to Turkish customers," explains Kotil.
Another notable project TAI has recently been involved in is the A400M programme, which was initiated to develop a transport aircraft to replace the aging C-160 transport aircraft with the participation of Turkey, Spain, Germany, France, the UK, Belgium and Luxembourg in 2003. With all participants committed to buying a number of aircraft, Turkey put down an order for ten, and, within the scope of this industrial participation, TAI took on the design and production responsibility for the forward centre fuselage, ailerons and spoilers; paratroop doors, hatch doors, tail cone, upper shell on the rear fuselage, emergency exit door, lighting and water/waste systems as well as the fuselage harness.
"Our participation has had a positive impact on the relationship we have with Airbus, with TAI becoming a reliable and cost-efficient design and production partner to Airbus, not only for the A400M but also for passenger aircraft programmes," says Kotil. "In terms of the A400M's success, we believe in the next 20 years there will be at least 200 more orders of this aircraft thanks to capabilities such as air-toair refuelling, airdrop and Medevac."
Moving forward, TAI aims to gain more engineering projects to ensure further business growth in line with its target of becoming a $5 billion company with 6000 employees by 2023 and a $6 billion, 8000 employee company by 2025. With long-term expertise, strong partnerships and an impeccable reputation in the market, there is no reason for TAI not to succeed in its goals.
Turkish Aerospace Industries
Products: Manufacturer of major components, aerostructures and indigenous systems