Two reasons why award-winner Astley is renowned for sign manufacturing in the UK
Astley is one of the leading sign makers in Britain, and proud to remain a fully UK based manufacturer. Recruiting from and supporting local communities is something to which the business is strongly committed, and the apprenticeship scheme is an initiative the team encourages. "We are nurturing the next generation of sign makers," shares James Mavi, the Sales & Marketing Director. "We work across four sites and have reach across the entirety of the UK and now into parts of Europe. Some of the work in Europe is from our creative production team based in Kettering. They work with agencies often based in London, who design amazing office environments. Our creative production team will then manufacture and install them, which is a real USP for us."
While quality has not changed since we last spoke with Astley, the size of the business' offering has. "Since our last conversation, we've been acquired by Mindelon, which is a very exciting chapter for the company. Key board members remain in place, and it is very much business as usual. However, Mindelon's investment really strengthens our offering. We are now part of a group of companies based in ten different countries, and we are already looking to collaborate with several of them to offer clients a wider set of services," he says.
New networks
The acquisition has strengthened how Astley can better support its clients. With the investment from Mindelon, and the benefit of being part of a group of like-minded businesses, James is excited to share that the team can now collaborate, share knowledge, and look to move its operation forward. "There have been no changes at the top, so to speak, apart from the appointment of a new Chairperson, Ulrica Lindunger. The insight she brings and the experience she is already sharing with us is proving to be invaluable to our overall development."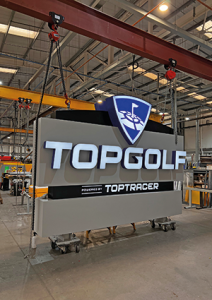 Astley continually takes pride in being a leading sign maker in the UK. According to James, the team is passionate about building a partnership with clients and spending time with them during the onboarding process to ensure the company understands their vision. "The length of relationships with some of our clients, such as Sainsbury's, which has been a 20-year partnership, really does reinforce what we're doing well. It's about being proactive and understanding the obstacles customers are facing, the trends in their sector, and how we can respond to their needs."
To make this happen, Astley's in-house design studio serves as a crucial resource for its clients. "They're often dealing with service-only based agencies who might not understand practical implementation. Our designers, however, create schemes and solutions because they understand the product. They understand fixing methodology, illumination, and the characteristics of substrates, for example, so they can take it a step further. This type of knowledge is so vital for a successful and seamless delivery.
"It's also worth noting, we are a financially stable company, and in the current climate, this proves to be additionally reassuring for clients. When we commit to a massive rollout for example, our clients know we can deliver the whole program," he explains.
In terms of memorable projects, James discusses the Leonardo Hotels rebrand, which has been such an exciting project to work on and an excellent example of Astley's concept-to-completion service. "We initially fulfilled the surveys, as planning applications would eat into the overall program. We wanted to complete these as soon as we could. Our designers created all the signage packs for the hotels, including the elevations for the planning applications, and then we were happily awarded the manufacture. This was a superb team effort and a great showcase for the company."
Big names
Top Golf is another brand the business has been happy to accommodate. "We have a lot of golf fans in our workforce; standing next to these branded totems has proved very popular on the shopfloor! Top
Golf has also really embraced what we're doing to promote our partnership with them on social media. We like to promote how we're bringing these brands to life, and our followers are interested in seeing the whole process from start to finish. There is even a TikTok in the making with this client, so watch this space!" he expresses.
Sustainable solutions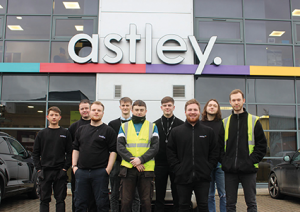 It is projects like these that have won Astley a range of awards. "Each and every member of the entire team, from the office to the shopfloor, plays a part in these winning projects, so it's a real buzz when we receive a nod from the industry. Last year, we won Gold and Silver at the UK Graphic Awards for two projects that are really a great example of our creative production capabilities. The Co-op Ecostores demonstrate how it is possible to successfully use more sustainable substrates in a scheme without sacrificing quality or hindering the brand. We've all got to improve on how we work and ensure our impact on the environment is reduced. This type of project goes a long way to demonstrating it can be done.
"The Lofts & The Hustle was an ideal showcase for our support for creative agencies. They bring us their ideas and we translate them into physical environments, which includes extensive prototyping and working closely with the agency to achieve the exact result they were hoping for."
Looking to the future, James shares that he is ambitious to see the company grow, while remaining steadfast in the commitment to support current clients, and onboard new ones across a variety of sectors. "I think in three-to-five years, we should be looking at offering sustainable signage as a standard proposition, as the range of availability is increasing, and prices are much more comparable. It's part of our job to encourage this move and work with clients on recycling assets.
"We're hopeful that there will be more collaboration within the group we are now a part of, offering a wider set of services, and potentially moving more into Europe too. I'd like to think that in the years to come, our apprentices would be playing a bigger part in the company's development, perhaps even beginning to manage teams and drive strategies forward. That would be a huge success story," James concludes.