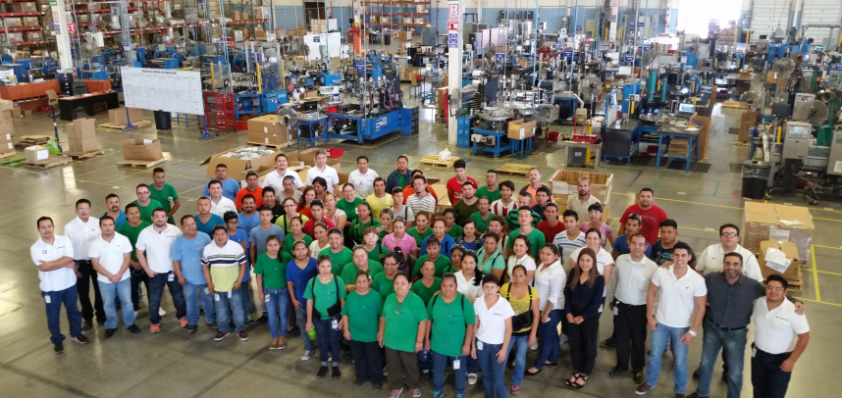 TydenBrooks sets the industry standard for high-quality, customizable security seals that provide unparalleled protection of goods during movement.
When goods move, TydenBrooks is there every step of the way providing barriers for entry that offer its customers peace of mind that product integrity has been maintained throughout the journey. "We are the No. 1 manufacturer of indicative and tamper evident security seals globally," CEO Robert Logemann says. "Last year, we shipped over one billion security seals globally and every one of those tamper evident seals is unique to make sure goods are safe and secure and the consumer is protected."
Based in Atlanta, TydenBrooks prides itself on being the market leader for security seals and products for 145 years. The company carries a rich legacy that involves not only the evolution of a great idea, but the melding of many great companies and names in security that came together to make TydenBrooks what it is today. "Our 145th anniversary showcases our deep history of providing security products across the globe and speaks to the longevity and viability of the business," Logemann adds. "
The story of TydenBrooks starts in 1870 when a 23-year-old entrepreneur named Edward Jewett Brooks purchased a small lead-toy manufacturer and renamed it E.J. Brooks & Co. Three years later, Brooks transitioned the company from lead-toy production to security seals and patented his first security seal design for the company. Over the next 100 years, the company designed and patented numerous new security seals and introduced the industry's first plastic security seals.
In 1898, Tyden was founded in the United States and quickly became a leader in transportation and freight security solutions to the railroad and shipping industries. Like E.J. Brooks & Co., Tyden prided itself on the production of quality security seals and developed an impressive catalog over the next 100 years.
Tyden merged with Brammall, a supplier of security seals and locks to the transportation industry, in 1997 and would be known as TydenBrammal. The company became the industry's oldest and most respected manufacturer of barrier and indicative cargo seals and devices. TydenBrammal later became known as Tyden Security Products.
In 2005, E.J. Brooks & Co. merged with Tyden Security Products to form TydenBrooks Security Products Group, the global leaders of security solutions with a combined experience of more than 300 years. Stoffel Seals Corp. and Canada Mayer, the industry's second-leading manufacturer of metals-based logistics security seals, merged with TydenBrooks in October 2010.
Today, TydenBrooks has grown from a family owned and operated business to the world leader in the security seal market with over 150 patents. "Innovation, high-quality products and hard work allowed all of these companies to grow and join together to form the legacy that is TydenBrooks," says Tricia Arton, senior vice president of marketing. "We continue to provide the highest-quality products in the industry and operate with the same dedication and determination E.J. Brooks had when he first started in his lead-toy factory 145 years ago."
Global Footprint
TydenBrooks serves more than 75 countries with a manufacturing footprint in North America, Mexico, China and Europe. "With factories in all those locations, we can provide our customers with high-quality security seals at the lowest possible cost because we have the footprint to optimize cost," Logemann explains. "We take orders electronically, by phone or fax and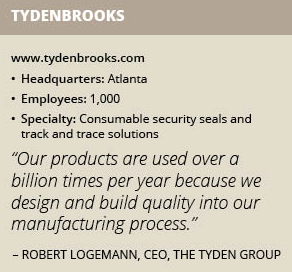 are able to electronically send those around the globe where the product is often manufactured on fully-automated equipment."
All of TydenBrooks' facilities are manufacturing Centers of Excellence and fully automated. Its plant in Tallapoosa, Ga., manufactures plastic security seals and its facility in Asia specializes in metal products. The company also operates a plant in Monterrey, Mexico that specializes in metal products, as well as its facility in the UK that focuses predominately on plastics for the European market. TydenBrooks added 20 new fully automated production lines to its facilities in 2018 and plans to invest in additional lines this year. "We have tried to set the bar for the industry in terms of lead times and customer responsiveness," Logemann says. "We now ship custom orders in less than two weeks."
TydenBrooks' portfolio of products includes plastic and metal security seals. Plastic security seals fall into one of three categories: adjustable length, fixed length or plastic padlock. Plastic seals are referred to as indicative seals as they do not prevent theft, but rather provide a visual indicator of tampering and theft deterrent. Typical applications include truck doors, trailer doors, totes, airline catering carts, coin bags, inner drum bags, storage bags and any container with a hasp or loops.
Metal security seals are used to mechanically secure a variety of applications and usually fall within the categories of cable seals, bolt seals and wire hasp seals. These seals are referred to as barrier seals as they are designed to provide a barrier for entry, providing both security features and the ability to display evidence of tampering. Typical applications include shipping containers, trucks, trailers, tankers, railcars, drums, valves and transporting valuable products.
Custom Markings
"When people think of security seals, they think of something with a number on it," Logemann says. "I wish it was that simple. Those numbers are dictated by the customer and can be alphanumeric, numeric or different number of sequences with bar or QR codes, as well. Some customers want their logos with custom colors to make it harder to counterfeit."
TydenBrooks also provides security seals to customers that don't need custom markings. For example, a small trucking company may purchase 1,000 seals that will last them six months to one year, but they aren't interested in custom while larger companies like UPS, FedEx, Cargill, Nestlé or Monsanto need specific markings to meet their requirements.
TydenBrooks works closely with the heads of security of each company it partners with. "They are the ones who define their requirements. We consider ourselves consultants or solution providers, offering suggestions and guidance to determine the best approach to ensure something can't be tampered with and the level of security necessary," Logemann explains.
The company prides itself on having the largest salesforce, customer service and product development departments of all its competitors to meet each unique need. The departments work together to understand customers' requirements. "While the majority of customization we do is around marking, when appropriate, we also adapt products and create custom products to meet our customers' needs. This is what truly differentiates us from the competition," Logemann says. "Examples of this include developing a stainless-steel versus traditional galvanized steel cable seal for the chemical industry that is more resistant to corrosion, as well as developing a uniquely colored and marked bolt seals to meet a unique tracking situation and railroad industry initiative."
Although the total number of SKUs TydenBrooks ships is more than 15,000 – which is due to length, color and custom markings on the security seals – its core product line is about 150 different items. "However, like any business that grows, new product is the lifeline of the business so we have a constant effort underway to come up with new and improved security products depending on our customers' needs," Logemann says.
TydenBrooks' customers' needs do evolve. "For example, one customer uses our security seal on surgical instrument boxes and when they develop a new line of boxes they need to have a new security seal on it to ensure the product is sterile," Logemann explains. "We're working with another customer who is a shoe manufacturer that is exploring the use of our security seals on their shoes to ensure authenticity; so that when the consumers buy these expensive shoes, they know they are not getting a cheap counterfeit. Customers have very specific requirements and we work with them to develop a product that meets their needs."
As security regulations in the United States and internationally change, TydenBrooks sees opportunity for growth. The company plans to remain the No. 1 manufacturer of consumable security seals globally by continuing to manufacture high-quality products its customers can trust to perform and innovating around the need of customers. "We have a low return rate on our products, which is extremely important to our customers given the cost of failure is very high," Logemann says. "Our products are used over a billion times per year because we design and build quality into our manufacturing process, products and everything we do. As the leading manufacturer of security seals, if it's a physical good that moves, we somehow touch it."