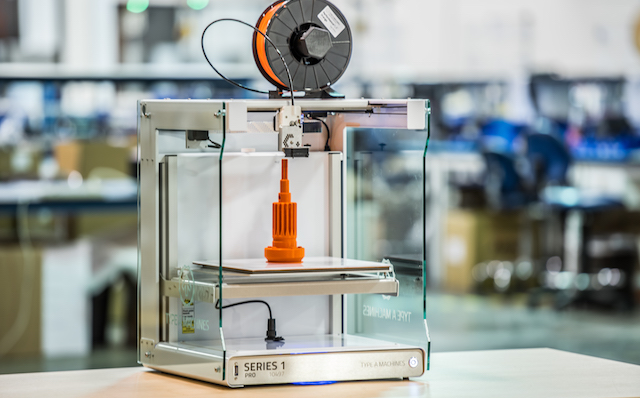 Unsatisfied with early 3D printers, Andrew Rutter set out in 2010 to build a machine that engineering professionals could update and improve themselves. Rutter, co-founder of Type A Machines, is British and immigrated to the United States that year, bringing along a 3D printer with him. He couldn't formerly work until he finalized his immigration paperwork, so he started tinkering with the machine in his spare time.
Rutter thought the conventional machines were designed without consideration for the person actually using the printer, so he started working on his own design.
"I thought, 'I could clearly do better than this,'" Rutter recalls. "It wasn't long before people started offering me money for my design and after a while I eventually agreed."
In 2012, Rutter co-founded Type A Machines. Though the Oakland, Calif.-based company is only five-years-old, Type A Machines is now the San Francisco Bay area's largest 3D printer manufacturer.
Continuous Improvement
Type A Machines makes the award-winning Series 1 line of 3D printers. Featuring a 12-inch build volume, browser connectivity and the ability to print hundreds of materials from tough polycarbonates to flexible nylons. The company's customers vary from Apple to Google, to Lawrence-Livermore Labs, who use their printers for both prototyping and production.
Rutter's vision of 3D printing as a production tool, rather than a consumer product that sits on a store shelf, became the foundation of not only the Series 1, but of all the company's products.
"The biggest limitation at the time was getting something that didn't cost $20,000, but still had a decent build volume," Rutter says. "In addition, I have a background as a technician, so one of the things we focused on early was how to build a machine that allowed customers to upgrade or fix something if they wanted to, without needing any special tools. So, the goal was always to have a product that people could easily fix or alter to meet their needs, without dismantling half the machine to reach components."
Ultimately, Rutter and his team came up with an open modular design. "That was the biggest thing that frustrated me about other people's machines," Rutter says. "The design had not been taken into consideration of how you actually assemble this product, and once you have done that, how do you un-assemble it if need be? That philosophy became stronger as we tried to build a machine intended for people that would be running it, who are the engineers and not designers."
Rutter adds that the company's engineering customers have pushed Type A Machines to think about throughput and yields, leading to increased ease of use and reliability. Additionally, it got the company thinking about parallelizing the printing process leading them to the Print Pod: the industry's first parallel-production printing solution scalable up to 60 networked printers.
Centrally managed via touch-screen, each printer can be allocated specific print jobs or all printers can be allocated to one job to increase turnaround. In addition, each printer can produce several objects simultaneously on the same platform.
"The Print Pod is a scalable system that holds six machines per rack," Rutter explains. "It focuses on increasing operator efficiency in managing print jobs across many printers. We believe this is the future of production because it's not just one fast machine, but many fast machines working simultaneously."
Type A Machines has "never been interested" in doing things the way that the rest of the industry does, Rutter claims.
"We have always believed that there has to be a better way," he says. "It's not about reinventing the wheel, but finding an eloquent solution to things. For example, from an economic point of view, if you make cheap machines you can have more of them but their reliability becomes garbage. Or if the machines are too expensive, then you can't buy enough of them to do what you need."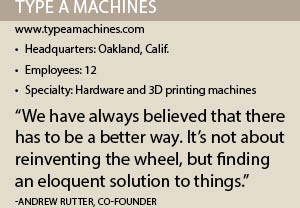 As an example, Rutter cites an aerospace customer that, after trying and failing with a number of popular brands, was referred to Type A Machines by a materials manufacturer.
"The customer is now working toward manufacturing certification with the Federal Aviation Administration, or FAA," he says. "Once they are up and running, they estimate they will buy 20 Print Pods to make one million parts per year. In the world of 3D printing, that kind of production is unheard of."
Reacting To Needs
The very first three machines Type A Machines sold went to education institutions. Today, the largest industry segment that buys its products is education.
"Of our first three machines, one of them went to the San Francisco Library and the other two were sold to the School of Environmental Design at UC Berkeley," Rutter says. "Today, UC Berkeley has three of our Print Pods. We have sold machines to all sorts of high schools and universities, and we have even worked with local schools hosting education pilot programs.
"Education is adopting 3D printing really fast because it gives students easy access to manufacturing tools," Rutter adds. "It's also a great way to teach students computer design skills."
But Type A Machines sees another market blossoming in the long-term: manufacturing.
"We have a fast growing list of manufacturing customers," Rutter explains. "They are all going into spaces where 3D printers are rarely used, if ever. The challenge with manufacturing is finding the classic product market fit. It's not whether or not our product fits; it's about the product that they want to make. It's about finding the application for it because a 3D printer can't just make whatever you give it.
"So the customers we have are pioneers, and they understand how to exploit the process and technology to deliver something that is genuinely different," Rutter notes. "For example, if you're comparing it to injection molding, we can't compete in terms of costs. However, if we can be price competitive by bringing the weight down by a significant percentage, that suddenly becomes a valuable thing."
Rutter adds that although many of its suppliers are conventional manufacturers of components, many of the materials the company prints with are fairly new.
"Historically, there were not many filament materials available that you could print with," he says. "So it's interesting to see how many companies are now getting into that market. For example, in 2013 there were probably more different types of filament on the market than had been put out in the past 20 years."
For that reason, Type A Machines wants to partner and work closely with companies that use various types of filament.
"It's not just a matter of if someone can produce a good, quality material and print with it," Rutter explains. "Part of our focus is understanding the material itself, as we have often found this lack of understanding as the fundamental barrier for our manufacturing customers.
"So it's not only about being able to support an off the shelf material, but also coming up with a suitable material if customers don't already have it," he adds. "We literally have customers come to us and say they need something that will do something in particular. So if we partner with the right filament suppliers, we can go to them and they can figure out how to make that happen."
Dedicated Employees
According to Rutter, Type A Machines is still a start-up, and they take advantage of the proactive and agile qualities that lean organizations like theirs have.
"We're very much still a start-up and you have to play to the strengths of it," he says. "If you're a start-up and you're not able to move quickly and be flexible, you have missed out on the greatest advantage you have. However, because we move quickly, it does come with some downsizes.
"For example, it often means we work unreasonable hours," he continues. "As a start-up, the level of commitment it takes for people to really be able to succeed is higher than a regular company. However, the people that work for us do not want to work for a regular company – myself included."
Rutter adds that all of Type A Machines' employees are dedicated. "That is our reality," he says. "I'm heavily influenced by western Europe because it's where I'm from. I also have a background in theater where the level of dedication is huge, as well as the understanding to rely heavily on those around you, which is ingrained in you. So we are very fortunate in that we have a great team. Even though we are a small team, we always get things done and it's worth it."
Once, the head of sales for the company's biggest competitor asked Rutter about his long-term vision for Type A Machines.
"I made a Star Trek reference, noting the logo on top of the machines, where they ask for things and it's made instantly, would be a 'Type A Machines' logo," he recalls. "The guy looked at me and told me I was insane."
Rutter's long-term goal is that Type A Machines should be building machines that can literally make anything, he concludes.
"Imagine what we will do as a society when we reach the level of creativity that produces anything," Rutter says. That is what I look forward to. However, there is so much undiscovered science that we have to figure out before we get there. So, I think Type A Machines will have a long period of selling machines and figuring out how to do very complicated things in very simple ways."