Reinvention to success
UBH International Ltd harnessed its imagination and historical expertise to tackle changes in the tank container sector, and emerge stronger in the market
Smart responses to temporarily worsened business conditions, together with the intelligence to accept and learn from your mistakes, are characteristics of long-running and successful businesses. Such is the story of UBH International. The tank container manufacturer faced a threat some years ago, when the tank container industry, in which it had long been specialised,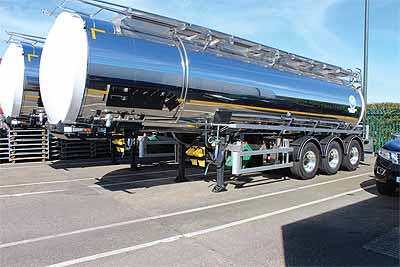 became commoditised and dominated by low-cost far-eastern manufacturers. Not discouraged by the impediment, the company combined reliance on its past history and a degree of creativity and bravery, to develop more relevant products, in order to find itself back on the right track.
Manufacturing Today Europe interviewed UBH International's Sales and Marketing Director Tom Harding, who talked us through the ways in which the company reacted to recent challenges, and the decisions it took to reinvent itself, so that it could restore its position in the market.
"There was a time when we were forced to look for different areas into which we could diversify our main product. We are specialised in building pressure vessels for containing mainly hazardous products. However, when the oil and gas industry, one niche area into which we had very successfully diversified, was hit hard in the past few years, we suffered a further blow, and had to seek new ways to apply these vessels to other industries outside of oil and gas," Tom begins. "We turned our focus to the production environment, directing our attention specifically to pressure vessels for petrochemical and pharmaceutical plants.
"We were quick to grasp that the world was changing, so we also moved into producing non-standard and more sophisticated tank containers that involve more equipment and technical attributes. It was no longer an option for us simply to build standard tanks, due to the pressure from the competition. This led us to develop the capability to manufacture cryogenic tanks. It was a significant jump in technology for us, as these tanks are vacuum-insulated, large vacuum flasks, rather than the basic 'big tin cans' we used to build. Thanks to our team possessing the necessary skill set, we were able to make the leap."
Exploring previously uncharted territories was not the only means by which UBH International addressed its issues. The company was also sagacious enough to draw on its past experience as a road tanker manufacturer, and this proved a successful venture, as Tom points out: "We had been a road tanker manufacturer in the 60s and 70s, so we decided to go back to our origins, and think about how we might apply our existing expertise in today's conditions. We returned to road tankers, because we had an idea of targeting the higher end of the market. Upon further investigation, we found out that there was a niche in the market for a quality UK road manufacturer of tankers, and we aimed to fill it."
As the company went back to tracing its roots, new opportunities arose along the road. Tom gives an account of the latest product developments: "The latest new products that we have been working on and introducing to our clients, are waste and vacuum tankers. These came as an outgrowth of the road tanker manufacturing activities, and we are determined to develop them further, as they represent a buoyant market at the moment, sharing in the growth in the recycling industry. We also aim to produce a wider range of these vacuum tankers," Tom continues.
Underlying the visible external development, significant events have underpinned the internal structure of the company, as UBH International succeeded in buying its factory and the land on which it stands, having previously leased it. "It was because we were able to revive the fortunes of the company, that we bought the premises, and being actual owners has given us confidence for the future." Tom also draws our attention to the fact that UBH International is, most significantly, an employee-owned company: "All of the employees are shareholders, and this provides additional motivation for us all, which sharpens our focus on customer service and quality and helps boost our productivity. It is a vital part of our identity."
He then goes on to detail some of the traits of the company's onsite activities. "We benefit greatly from the fact that most of our key processes are automated. For example, the longitudinal and circumferential weld seams on our vessels are automated, which gives us an advantage over much of the competition. By using this process, we can ensure the consistency of the welding and the integrity of the vessel, its safety, and its strength, which effectively means that we are able to offer a better-quality product.
"We have also undergone significant changes in terms of output, in comparison with 1999 when we were predominantly engaged with manufacturing ISO tanks. Back then, we hit a high point in output of 2000 tank containers a year. However, because nowadays the tanks we build are more specialised and slower to produce, we are able to manufacture between 400 and 500 every year."
Turning his sights to 2018, he stresses that the company has learned its lessons the hard way, and will be paying close attention to its various target markets in the coming months: "Aside from the vacuum tankers, we will keep developing in the mainstream road tanker market. We are also looking to focus more on building more sophisticated cryogenic tanks, which has turned into another speciality of ours. It would be of interest to us to get involved with the liquefied natural gas (LNG) market, too. We have been monitoring it, and it shows great signs of potential, but the predicted boom has not materialised yet. Our hope is that when the market breaks, we will be well-positioned to take advantage."
UBH International
Product: Production of ISO tanks, cryogenic tanks, road tankers, gas tanks and pressure vessels