UCIMU – Sistemi Per Produrre
Success by association
The world ambassador of the most advanced technology manufactured in Italy, UCIMU – Sistemi Per Produrre supports and increases the visibility of its members, safeguards the interests of the sector and enables ongoing growth
Operating as the Italian machine tool, robots, automation systems and ancillary products manufacturers' association, UCIMU – Sistemi Per Produrre (UCIMU) is one of the most influential representatives of Sistema Confindustria (the General Confederation of Italian Industry System). As the official representative of the sector, the association today has more than 200 associate member companies; accounting for more than 70 per cent of the Made in Italy sector, members are provided with expert support for all aspects of their corporate activities and, in turn, benefit from promoted growth and an entrepreneurial culture.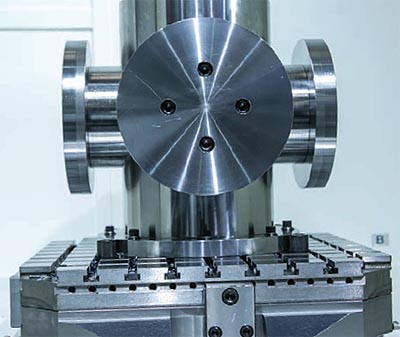 "With 400 companies, 30,000 employees and an eight billion annual turnover, the Italian machine tool industry plays a leading role in the international scenario. It is the fourth biggest production industry in the country and Italy's third largest export," says Massimo Carboniero, President of UCIMU – Sistemi Per Produrre.
Originally founded in 1945 with the goal of advancing the interests of the Italian industry, UCIMU's long-term expertise within the manufacturing industry has since grown to become a worldwide ambassador for some of the most state-of-the-art technologies to be developed in Italy. A reliable association that Italian manufacturers can trust, UCIMU is consistently there to foster co-operation between its members and help them to offer products in response to rapid adaptation to changes in demand.
Indeed, UCIMU is involved in many activities and initiatives, also in collaboration with CONFINDUSTRIA , that are connected to research and development with the goal of supporting associate member firms during their innovation activities. Focused on ensuring a constant competitive advantage, the activities of the association contribute to defining and spreading new paradigms for the Italian manufacturing industry and ensure the machine tool sector stays ahead of the game against competitors. Other activities include monitoring research activities and topics that are of interest to the sector, both in technical and economic-management terms, informing associate member firms of any tenders and initiatives and the maintenance and improvement of relationships at a national and European level.
Additionally UCIMU promotes the needs of the Italian machine tool sector and identifies topics that are of interest for all companies within the sector and facilitates the involvement of associate member companies in research related initiatives that are followed and managed by the association. Most notably, the fields of intervention when it comes to research and innovation that are carried out by UCIMU include institutional activity, direct participation in research activities and dissemination activities.
By remaining flexible through commitment to research, marketing and the optimisation of its after-sales service, members of UCIMU can maintain their leading position at the forefront of technological development.
Further strengthening this competitive edge is each manufacturer's focus on combining technological expertise, creativity, quality, flexibility reliability and a customer-centric approach to business.
Thanks to these exceptional skills within the Italian machine tools sector, UCIMU's members have earned a place among the international sector leaders for machine tools, robots, automation and auxiliary products.
Alongside a focus on innovation and research, the association also follows stringent legislative, regulatory and certification developments that relate to mechanical construction, testing,
safety, quality and electromagnetic compatibility. Following this, UCIMU provides associate member companies with the results of activities carried out via meetings and training courses as well as other support material. This commitment to following legislative and regulatory trends expands into other beneficial market segments such as economics and competition as well demand and internationalisation. By paying attention to sector trends in all variables at both a national and international level, the association ensures its members remain abreast of such developments and can respond accordingly.
For example, the economic statistic tool of reference, which was devised by UCIMU, aims to provide associate member companies with useful information to correctly devise their own production strategies while also optimising the industrial policies that are associated with relevant sectors. To make this possible, intense monitoring activity is carried out to assess general economic and sector trends and how this translates into products, dealing with the many variables of the topic this includes an annual sector report, quarterly analysis of orders received from manufacturers in Italy and export analysis, which is carried out at regular intervals; annual consumption and production of machine tools, robots, numeric control systems, tools and machine tool auxiliary technologies.
Meanwhile, through the competition analysis project, UCIMU aims to analyse the product, strategy and organisation of foreign competitors, not only to assess the competition but also to potentially identify partners for strategic agreements and alliances. In comparison, the demand analysis composed by UCIMU aims to understand the technological requirements of the operators working in the main outlet sectors in order to be able to offer associate member companies useful indications to better present their range; this includes organising meetings between associate member firms and potential customers.
Moreover, because Italian firms are deeply involved in international activities, the Italian machine tool manufacturers work abroad and export most aspects of their production. Not only aiding Italian companies with export operations, UCIMU also provides support to Italian companies that want to increase their presence in the global market by providing up-to-date studies, analysis and specific services such as working with members during exhibitions and events.
Preliminary data collected indicate that 2016 was a great year for the industry further highlighted by the collection exhibiting at the Lamiera tradeshow in Milan in May 2017. "The market is actually flourishing and the government has made provisions for the industry in the 2017 budget plan, which includes Super-Depreciation at 140 per cent for purchases of machinery, and 250 per cent Hyper-Depreciation for investments in innovative technologies," explains Massimo. The future looks positive for the Italian machine tool, robot and automation manufacturing industry, with growth forecast for all of the main economic indicators. Production is anticipated to rise to 5700 million euros, an increase of four per cent, while export is expected to grow by 1.7 per cent, with 3300 million euros attained. With market statistics looking strong for the upcoming years, UCIMU's strengths are certain to be required by its members as they continue to benefit from valuable information and support.
"For 2017 UCIMU will concentrate on its activity on digitalisation in machine tools and on all the innovations connected with this new manufacturing approach," concludes Massimo.
Services: Influential representative of Italy's machine tool robots, automation systems and products sector