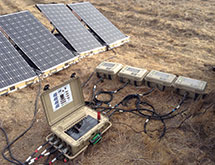 When it was founded in 1995 as an entrepreneurial start-up, UEC Electronics focused on providing engineering and electronic manufacturing solutions for a diverse set of customers and industries. Today, UEC has approximately 200 employees with four facilities located in Charleston, S.C. It is a Tier 1 and Tier 2 supplier of mission-critical electronic components and subsystems to major OEMs and government agencies, primarily in the aerospace and defense markets.
"We design and manufacture subsystems and complex components for missiles, torpedoes, munitions, airplanes, communication systems, ground vehicles, test systems and various industrial and medical applications," CEO Mark Matthews says.
Serving the Market
UEC has developed a large customer base over the past 20 years, and more than 90 percent of growth last year was with existing customers. However, UEC always looks to add additional customers each year.
Projects range from engineering activities through the production lifecycle, or sometimes only the production piece, for specific systems and subsystems, ranging from small electronic modules up through complex integrated assemblies and test systems. Program managers and customer representatives maintain dynamic relationships with each customer to ensure UEC is meeting or exceeding expectations while proactively helping to develop solutions for customers. UEC's abilities to develop or enhance customer products, provide rapid prototypes and quickly transition to production have been its strengths as a contract manufacturer.
"Our manufacturing and design capabilities along with lean processes allow us to deliver sophisticated, cost-effective solutions and products," Matthews says. "These core manufacturing and design principles, when applied to new product design and development, result in not only a product that hits the mark in terms of performance but a product that is designed for manufacturability from the conceptual phase forward."
A number of investments and initiatives have impacted UEC's approach to growth over the last few years. UEC has focused on developing its own intellectual property and product lines, diversifying into more of a product-based company. A solution provider of energy collection, energy storage and power management systems for off-grid power and mobile applications, UEC is delivering its hybrid power and vehicle power management solutions through products that include primary and secondary battery packs, renewable and hybrid energy systems, and combat vehicle electrical systems.
The company has invested in environmental testing capabilities and is developing a sales team with defined channels into target markets including the Department of Defense, disaster relief and emergency responders, remote industrial applications and international users seeking off-grid, clean and continuous power.
New Direction
Another major change for UEC was its acquisition by Arotech Corp. in 2014. By partnering with a parent company like Arotech, UEC has been able to invest needed capital into both product development activities and business development resources.
"Our plan is to grow organically through our new products as well as through key strategic acquisitions that are complementary to our core strengths," Matthews says.
In the years ahead, UEC will continue working to build strong ties with suppliers and vendors such as PEI Genesis. External suppliers provide critical resources, allowing UEC to achieve results for customers.
"UEC builds trust by fostering lasting relationships based on mutual respect," Matthews says. "We hold ourselves and our suppliers to high standards of fairness, honesty and professionalism. We focus on understanding our supplier's technical capabilities and capacity to accurately match them to our requirements. Our relationship with PEI Genesis demonstrates each of these elements, as we have built a trusting relationship over more than a decade of teaming."
In what is a very competitive and fiscally constrained environment, UEC's customers are looking for high-end solutions and aggressive delivery schedules, all at the lowest cost. UEC's current capabilities, infrastructure and strategies consistently help meet these challenges.
"We continuously strive to take costs out of our products and services while investing in new capabilities to meet our customers' evolving needs," Matthews says.
UEC believes a large percentage of growth will result from managing and storing power in a variety of applications ranging from a few hundred watts to 50kW. UEC's renewable and hybrid power collection, storage and power management products have defense, industrial and commercial applications both domestically as well as in the international market. In addition to providing clean and continuous power to off-grid applications, these products reduce fuel costs with respect to both fuel consumption as well as the cost of transporting the fuel. To reach these new markets, UEC must develop global sales channels to ensure it is effectively reaching the customers that need reliable, inexpensive remote power.
"Our challenge will be to maintain a culture that is flexible and focused on continuous improvement in all aspects of our organization," Matthews says.