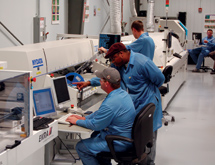 UEC Electronics' ability to develop and produce electronic and electro-mechanical systems in a rapid and affordable manner for clients across multiple market segments is ensuring its current success and future growth.
"We have a niche for coming up with very robust and affordable solutions," says Rebecca Ufkes, president of the Hanahan, S.C.-based company. "We really focus on what our customers are looking for as well as their respective cost targets, and will work from their specifications to produce the most high-performing solution that meets their needs."
Founded in 1995 by Ufkes and her husband, Philip Ufkes, as a full service electronics system manufacturer serving the industrial market, UEC Electronics has since widened its client base to include the aerospace, defense and medical sectors. "Diversifying across market segments provides insight and exposure to additional technologies and manufacturing processes that we might not see working in a single market. This exposure allows us to leverage best practices across our programs to offer innovative solutions," Ufkes says.
UEC specializes in producing electronic and electro-mechanical systems, subsystems and components. UEC's products include renewable power management systems, distributed power management and control systems and other niche products.
"We have a diverse customer base, but everything we do here comes back to solid engineering and internal production capabilities," Ufkes says. "We also prototype and manufacture in house. It is our ability to deliver turnkey solutions while meeting aggressive schedule targets that sets us apart from our competition."
UEC's services include product design and development, rapid prototyping, systems engineering, program management, complex assembly and volume production. Clients include the Department of Defense, Raytheon, Lockheed Martin and Boeing. "We are a very complex organization in that we're not just a contract manufacturer," she adds. "Half of the work we do is developed specifically for a customer and then taken through testing, prototyping and production."
The company also offers prototyping and design services to entrepreneurs and patent attorneys with clients wishing to launch a new product. "This is an exciting and fun service of ours that often leads to manufacturing opportunities down the road," Ufkes says.
'Agile and Responsive'
UEC has grown significantly from its beginnings as a company with five employees and 5,000 square feet of manufacturing space. Today, the company's manufacturing space includes more than 75,000 square feet of engineering, integration, production and testing space in four facilities on two campuses near Charleston, S.C.
The company in recent years has invested heavily in its manufacturing operations. This includes the recent installation of an ERP system upgrade as well as a fully automated, aerospace compliant circuit assembly line.
UEC is vertically integrated within its manufacturing operations. "We can build our own components, fabricate wire harnesses and perform rack integration up through vehicle integration," Ufkes says. "Our in-house capabilites give us the ability to go to market swiftly while remaining agile and responsive to our customers."
Lean methodologies also play a role in the company's manufacturing success. UEC's lean program, based on a model originated by Raytheon, includes the use of manufacturing cells as well as regular lean events conducted both internally as well as in conjunction with clients.
The company is ISO 9001 and AS9100C registered. In addition, UEC is a graduate of the Navy's Manufacturing Technical Assistance Production Program and Defense Small Business Technology Readiness Resource program.
Growth and Opportunity
UEC's market diversity is one of the main reasons the company has experienced growth every year for the 18 years it has been in business. The company's growth was recently noted by Inc. magazine, which included UEC on its 2013 Inc. 5000 list of the nation's fastest-growing companies. UEC has been included in this list for the last three consecutive years.
Most of UEC's annual growth can be attributed to additional work from existing customers and receiving referrals to new clients from its existing customer base, Ufkes notes. UEC also adds a few new customers each year.
UEC builds on its existing work with clients in part by leveraging its existing products and offerings into new programs and markets.
For example, the company in recent years introduced the Ground Renewable Expeditionary Energy Network (GREEN), a power storage and distribution system used in military and defense applications. The company is building more than $40 million in GREEN systems for the Marine Corps as a result of a contract issued in 2011.
The GREEN system is used to convert solar and other alternative energy sources into power that is used by Marines in the field. Excess energy is stored in specially designed high-density batteries that can be used when renewable sources are unavailable, the company says.
The Army and other agencies are currently evaluating this technology.
Future growth opportunities include commercial and global expansion of its products and services. "Our projections moving forward are strong," Ufkes says. "We've just hired an additional business developer who will help us enter into the international marketplace, so we see great potential moving forward."