UK leader, Helipebs, has adopted the theory of constraints, and the results are exceptional
With a century-old history, British-owned Helipebs has become one of the market leaders in design and manufacturing of pneumatic and hydraulic cylinders. "We can trace our history back to the 1800s, when we manufactured agricultural machines," shares Managing Director, Victoria Hayward. "Over the years, our product evolved into grinding balls for the cement industry and today we produce hydraulic cylinders to support all sorts of markets, such as the oil and gas industry and fatigue testing in Formula 1 and aerospace."
The organization comprises two companies: Helipebs Metal Finishing, which was established to bring services inhouse, and Helipebs Controls, which manufactures and tests the cylinders. Victoria shares how the synergy between these two divisions is what continues to separate the business from its competition. Now, the company is taking this one step further, and soaring to new frontiers by focusing on renewable technologies. "We are doing a lot in our R&D department to investigate how our products can support the renewable energy market. It is driving us to develop our systems capabilities as we go forward. It is a very exciting time for us," she says.
Sustainability strategy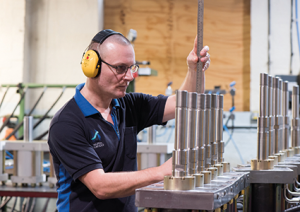 Helipebs is a bespoke manufacturer and works fastidiously to improve its practices. One way it does this is through incorporating the theory of constraints. "I come from a manufacturing and aerospace background, where Lean practices are commonplace. However, one order going through the factory is completely different to the next, so, for us, there are limitations with Lean. This is why we went with the theory of constraints because it lends itself to manufacturing a bespoke product range. Its purpose is to create a faster flow through the factory and offers a secure forecast. It also compliments the use of Lean tools and technologies exceptionally.
Victoria highlights that the benefit of Lean tools is that they help identify core problems, which is an essential part of the theory of constraints. "Their purpose is understanding flow disruptions in order to fix them. Honestly, we have seen some incredible results and quickly as well, which is outstanding."
Tying in with its latest technological updates, Helipebs is taking on two additional initiatives to improve overall culture and working environment: sustainability and women in the industry. Regarding the former, the business has adopted electric vehicles into their company fleet. Furthermore, it is has taken on the responsibility of consulting other companies on how to optimize their own technology platforms for a greener approach. "We recycle everything we can, right the way down to our coffee pods, and are working closely with the local growth hub to push our sustainability plan going forward," she shares.
Championing women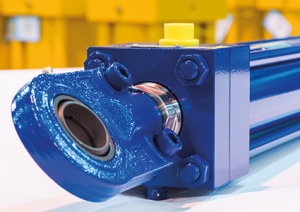 Regarding women in the industry, Victoria is proud of the progress being made on this front and hopes to see businesses continue to advocate providing women the opportunity to succeed in engineering. "Although they are not yet the numbers we'd like, we are seeing women on the Board of Directors, for instance. I'm always ecstatic to see women in the industry. I've had a love for mechanics since I was young, and I remember as a small girl sitting on the freezing cold garage floor, while my dad worked on the car and handing him spanners. I believe this passion starts from when you are much younger. There are an increasing number of great STEM initiatives for girls in school, and I think that needs to continue. We need to capture the imagination of as many students as possible.
"Helipebs has championed women in industry for quite some time. As a result, we have two ladies in our engineering design office, Lucy and Beth, and one of our highly skilled machinists is a lady named Poppy. She started with us as an apprentice and is one of our most talented in the machine shop. I am looking to employ apprentices at the moment for next September and was overjoyed at one of our recent open
evenings. A young lady who came to talk to us is coming into the business next week to understand a little bit more about what we do. Hopefully, it is something that will capture her imagination."
Improving operations
The United Kingdom has always had a long and proud engineering history, and although it is currently facing a labor shortage, Victoria is optimistic about the increasing enthusiasm regarding apprenticeships. "I'm seeing businesses make a concerted effort to improve their training schemes, and as a result, new starters are jumping onboard, which is excellent. We have this gulf in terms of demographics, where folks are coming to the end of their careers, and seeing the younger ones pick things up is encouraging," she shares.
In summary, for more than 100 years, Helipebs has been honing its technical expertise, and delivering the highest quality engineered solutions for industries across the world. These practices have led the award-winning business to be internationally recognized as a sector leader. For Victoria, this continued success would not be possible without its exceptionally hard-working team and determination to improve its operation