Kitchens to your liking
Ongoing investment in its production capabilities coupled with talented and creative kitchen manufacturing has helped Ultima Furniture Systems establish an exhaustive range of units, turning it into a recognised player in the industry
Ultima Furniture Systems clearly proves that if you are really good at what you are doing, success will come your way sooner or later. In the cast of the kitchen manufacturer, it did not take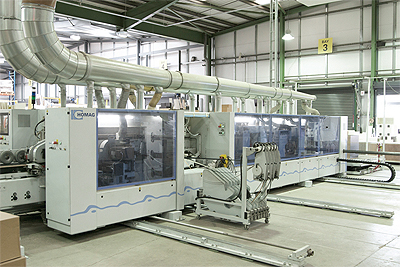 customers too long to notice its excellent capabilities."In 1982, my husband Alf and I moved to our first-ever business premises – a 1490 square feet showroom and factory in Barnsley town centre.Two local kitchen studios from Barnsley and Huddersfield approached us to start producing kitchens for them and, as a result, we began to attract trade customers. This led Ultima Furniture Systems to become a limited company in 1985 and enabled its growth," Claire Ellis, co-owner of the company briefly refers to its beginnings.
She places emphasis on what is a USP for the business – namely that all of Ultima Furniture Systems' high-specification kitchen units are supplied fully rigid with all components factoryfitted." It is both cost-saving and time-saving for the customer when it comes to the final installation of the kitchen," Clare points out.
The company's ability to manufacture every single unit it delivers, has defined it for over three decades."In 1986, we began to manufacture our first fully rigid glue and dowel cabinets, as well as our veneered panels and accessories," she continues.Today, Ultima Furniture Systems produces its signature items via the application of considerably more complex production processes from two purpose-built manufacturing facilities in South Kirkby, Pontefract, spanning a combined area of 80,000 square feet, and one in Leeds.
"We acquired the second South Kirkby site in 2009 and we hastened to equip it with various pieces of hi-tech manufacturing machinery, such as a Burkle membrane press, a number of Biesse machines, including a saw, a CNC router, and an SAE automated board storage and retrieval system. In 2013, we had to expand the factory with another 6500 square feet to house three new robotic paint spraying lines that were bought to improve the quality of our door finishes," Clare explains.
Ultima Furniture Systems made a huge leap forward in 2016, when it invested in excess of £12 million in its latest manufacturing facility near Leeds."It is a 152,000 square feet plant and much of the machinery there is bespoke to us, having been designed by us specifically for our operations. Our new cabinet assembly line has eight robots and the longest line that Ligmatech has ever produced. It is almost 500 metres long and is capable of producing a rigid cabinet every 20 seconds," Clare marvels.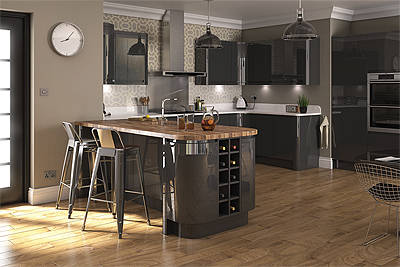 Nowadays, the company shows no signs of discontinuing its proactive investment strategy. Clare reports the most recent infrastructural developments the business has undergone. "We purchased two plots of land in the vicinity of the two South Kirkby facilities and plans are now underway to construct new manufacturing and showroom facilities. Additionally, we bought a logistics centre on Stadium Way, set up as a warehouse & supply for our two cabinet production sites.We constantly upgrade our fleet of vehicles, as well. On the machinery side, we installed a bespoke packaging machine, a Schelling beam saw, and a few CNC machines. Furthermore, we have recently invested £3.5 million in new automatic spray lines due to be delivered and installed by the end of 2018, which will double our output capacity. This investment takes the number of spray lines we have to six, more than any other kitchen manufacturing company in the UK."
The ever-extending capabilities of Ultima Furniture Systems have made it possible for the business to offer a whopping 940 kitchen units – an array wide enough for customers to find the right unit for their kitchen every time."Nobody else can match the amount of units that we can produce.We also give clients the option to choose from 18 different colour co-ordinated cabinets to blend with their door style.The variety of products we provide allows our customers to create a fully bespoke kitchen and by letting them organise the design and fitting aspects to the kitchen themselves, we ensure that they can make significant savings against like-for-like high-specification kitchens that can normally be found in high streets showrooms, and even against some of the DIY large chains," Clare reasons.
Speaking of DIY, Ultima Furniture Systems has made strides in this field via its sister company – DIY Kitchens."It was born in 2003 and started selling full kitchens online in 2004. Anyone can buy a kitchen from DIY Kitchens, but it is a supply-only company. All the planning and design are left to the customer," Clare notes.The benefit for the clients can be spotted in the fact that when ordering from DIY Kitchens, they deal directly with the manufacturer, which leads to them paying DIY store prices, while receiving the quality and specification of a kitchen they will otherwise find in a premium high street studio.
A major recognition for DIY Kitchens, and thus for Ultima Furniture Systems, came when the former was presented with the Which award for 'Best Value Kitchen' earlier in 2018. The achievement was remarkable in itself, because it signified the end of IKEA's reign as a preferred brand in the area."Winning the award meant a lot to us, as the winner was determined by an independent survey of home owners who had recently made kitchen purchases," Clare remarks."The results that came back are a testament to the effort that we put into our business, the quality of the kitchens we produce, and the dedication of our staff members who make our success possible," she concludes enthusiastically
Ultima Furniture Systems
Services: Design and manufacturing of kitchens