Ultimate 3D provides its clients the opportunity to manufacture without limits. "One of the great things about 3-D printing is that there's a lot of room for experimentation," co-founder Mike Larkin says. "Our machines are dynamic tools that can print with a variety of materials. With new materials come new design possibilities and we can adopt new techniques quickly."
Co-founders Larkin and Robin Oeffner each had 30 years of manufacturing and design experience when they started Ultimate 3D in 2014. Larkin has been 3-D printing prototypes since the mid-1990s and has spent his entire career inventing and designing. Oeffner has years of experience running machine shops and designing real-world solutions for manufacturing companies in the Northwest.
"Robin and I worked together at a machine shop and tried to get the owner to get in 3-D printing machines," Larkin remembers. "We were designing parts and having them 3-D printed in California. The owner of the machine shop couldn't get his mind around 3-D printing, so Robin and I went to a company in the Northwest that was starting out with 3-D printing and got hands-on with the equipment. We learned the process and decided to branch out and start our own 3-D printing company."
Ultimate 3D, based in Hillsboro, Ore., specializes in selective laser sintering (SLS of functional parts as well as prototypes. "SLS is a form of 3-D printing that is best suited for industrial applications because you can use high-quality materials in the machine," Larkin explains. "A laser is what's actually making the parts, so there is a lot of detail, tweaking and customization that goes into the CAD file before printing in the machine."
The company services customers primarily in the aerospace, aviation, motorsports, prosthetics, animatronics, automation, design and engineering markets. "As the need for 3-D-printed parts grows, we apply our strengths in production by maintaining high-precision durable parts, fast turnaround on orders and excellent customer service," Larkin says. "We enjoy educating potential customers on the opportunities for 3-D printing to serve their businesses and fuel their creativity."
SLS 3D Printing
Ultimate 3D prides itself on its attention to detail. "The manufacturers of the machines we own are telling us we are the only ones going to such depths in how we set up and utilize the machines for quality and accuracy," Larkin notes. "We are pushing the technology to the limit and beyond."
SLS is unique in that it allows Ultimate 3D to manufacture complex 3-D parts for use in real-world applications. As an additive manufacturing process, SLS uses a laser to sinter, or fuse, powder-based materials layer by layer to form a solid object based on a digital 3-D model. "We can do a lot of parts in one build. Where some of the other technologies can only done layer at a time, we are able to stack parts on top of parts," Larkin explains. "We get more product out in one day and our parts are more robust."
Ultimate 3D has manufactured parts for drone airframes and medical prosthetics for everyday use, and its parts are used in six NASCAR cars. "They withstand the abuse," Larkin says. "We have sponsored multiple vehicles by making custom parts for them, including parts for a motorcycle that won second place in its class on the Isle of Man and a car that won its class at Pikes Peak."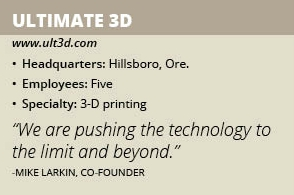 Quality Production
Ultimate 3D prints with nylon 12 as well as filled nylon 12, which is composed of carbon fiber, mineral, glass and aluminum. The material is also fire retardant. "Nylon 12 used in our machines comes out as an extremely durable but also flexible plastic, which can bend without breaking unlike the brittle parts formed by 3-D printers built mainly for prototypes," Larkin notes.
To start production on a part, Ultimate 3D's customers send a CAD file to be reviewed. The company will ensure the features of the product are printable and provide feedback or suggested modifications that will make a better product. "Our customers can trust that we will go above and beyond to make sure they get what they are expecting," Larkin says. "We truly enjoy what we do – not just on the technology side, but also when it comes to working with our customers to create great products together. We excel in production and consistent quality, getting hundred and even thousands of uniform parts out the door in short order."
Once the CAD file is approved, Ultimate 3D prints the product and tests the material properties with each build to ensure the parts are up to standard. "Some of our customers send drawings with the parts that have GDT, flatness callouts and tight tolerances and require 'first article inspection' prior to receiving the bulk of the order," Larkin explains. "We have a company in Portland scan the parts to check against the drawings."
Parts move through the 4,000-square-foot shop quickly, averaging about one week or less to ship to the customer. In the final machining stage, "the entire build chamber in which the parts are encapsulated fills with powder layer by layer," Larkin explains. "Once the part is done we have to remove that build from the machine and let it cool because it comes out hot. Then we have to blast the powder with a high-pressure air hose until the solid part appears. We then measure them and perform quality control measures like analyzing the temperature and consistency or applying special finishes like hand sanding or dying parts. Sometimes there is a lot of work that happens after it comes out of the machine."
Many variables affect the outcome of a part using SLS, including material quality, the geometry of the part, part orientation, scale factors, heat management and personal handling of the parts after printing. "Many think of 3-D printing and have the misconception that it is a plug-and-play technology where you can feed the CAD file into the machine and watch the product magically appear," Larkin says. "This is not the case with SLS. We constantly test our material before it goes into the machine, test material properties after a print and measure parts for scaling to ensure precision and the best possible product."
Ultimate 3D stays in the loop on new materials and how they can be used in the market to make better products and serve unique needs. The company also watches new technologies and their effectiveness to make useful robust parts. "While we appreciate new technology, we are careful not to be on the bleeding edge and adopting too quickly," Larkin says. "We do a lot of vetting of what's out there by looking at technology and talking to people who are involved with that technology. It just takes time and research, and we want to stay accessible and reliable to our customers and partners."
Continuous Education
3D printing has been around for about 30 years, but people still consider it a new technology because it has recently become more accessible.  "Everyone is talking about it now is because of the fused deposition modeling printers you can get at Office Depot that make little trinkets," Larkin says. "There is a lot of education still taking place."
The world of 3-D printing will continue to change rapidly as the technology advances. Ultimate 3D says the biggest things to watch for are an increase in material choices and the machines' ability to process those materials, which will open up 3D printing to more industries. Material choices are still limited, Larkin says, but he is hoping to see more opportunities in the near future such as nylon 6, which has a higher operating temperature and is even stronger than nylon 12.
"Some manufacturers are making machines that will print a wider range of materials, but it needs to be proven," Larkin says. "Right now, SLS is the industry standard for robust parts. It's been proven out for years and the technology has made great advancements. We will be sticking with that for now so we can offer our customers a solid product."
Moving forward, Ultimate 3D plans to continue to be the ultimate printing company for its customers to work with. "We're proud of our determination and the great attention we put into every part that we build," Larkin says. "We're committed to delivering only top-quality products that meet or exceed our customers' expectations. Enjoying what we do and having a deep sense of integrity about our business allows us to hold fast to the qualities that make Ultimate 3D unique."