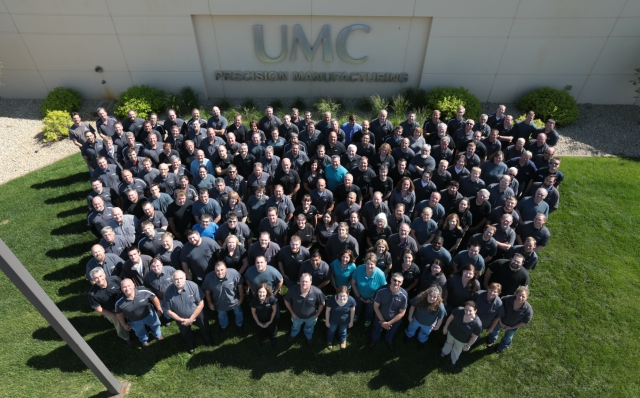 Terry Tomann founded Ultra Machining Co. (UMC) in 1968 in his family garage with the goal of growing his business into a premier manufacturing operation. He chose the name "Ultra" because it means "going beyond others." Coming up on its 50th anniversary next year, the company takes pride in never wavering from that philosophy.
"My dad wanted to create something different than what he'd seen at other shops," second-generation owner and CEO Don Tomann says. "He was a skilled machinist and a visionary with the ability to take risk. To me, his legacy is about seeing the opportunity in situations where others don't, and manifesting t he courage and determination to keep pushing things forward."
Don Tomann joined his father at UMC 26 years ago when the company was producing $3 million to $6 million in revenue. "I had no desire to work in the family business and didn't see that coming," he remembers. "My dad asked me if I'd like to get involved and I said, 'We are going to grow if I come aboard permanently.' We made the decision to grow over 20 years ago and today we do $45 million in revenue."
In 1972, UMC production was expanded to a 33,000-square-foot facility in Hamel, Minn. In 2003, the company designed a state-of-the-art facility in Monticello, Minn., and moved all operations to the 72,000-square-foot building where it is still headquartered today.
UMC has steadily grown into a premier manufacturer of precision machined parts and assemblies. "The normal part we like to manufacture is one you can hold in your hand," President Eric Gibson says. "That's our sweet spot. For us it's all about the highly regulated industries and providing them with the highest quality and greatest precision in complex parts."
UMC's end-to-end processes use ISO-9001: 2000, ISO-13485: 2003 and AS 9100:2004-01 certified systems. It is an FDA-registered facility, compliant with Quality Systems Regulation 21 CFR Part 820, as well as ITAR compliant.
Surviving Change
Gibson joined the company in 2012 to focus on the company's operations while Tomann remains the visionary. In an ever-changing industry with increasing customer demands, UMC made the decision years ago to manufacture what its customers need. "We created the culture and momentum, but there were a lot of obstacles and barriers to deal with at every stage in our growth," Tomann says.
The downfall of many companies, Gibson says, is that they get stuck in the same routine and produce the same things over and over without evolving. "UMC has been able to meet customer demands while being out on the edge of the next big thing customers are looking for," he adds. "We always need to be ready to bring proactive solutions to our customers' current and future challenges. We are now firmly into the second generation and are very successful because of Don's vision and UMC's ability to take the calculated risk we need to take to meet customer demand."
When UMC began almost 50 years ago, for example, it started with a simple turning machine, but it was evident to Terry Tomann that his customers' needs were to be more precise and the quality levels were going up. "The company invested in multi-axis machines and we could now do what three machines were doing with one," Gibson says. "We figured out how to invest in the future without compromising the current customer base. That relentless focus on anticipating what our customers will need next is what has kept us going for the past 50 years."
Today, UMC's machining capabilities include five, seven, nine and 12 axis machining, CNC turning, EDM, Swiss and tool grinding. The company has extensive expertise in designing for manufacturability, experiments, process characterizations, gage repeatability and reproducibility.
Observable Actions
UMC believes its people and forward-thinking culture are the main reasons it has stayed successful over the past five decades. "The best way I've heard culture described is consistent, observable actions," Tomann says. "Looking way back to the late '70s, manual and NC machines were predominately how you produced parts and my dad was one of the first to bring in a CNC machine. He was a visionary and a problem solver. That history has become a big part of who we are and what we do."
The company expects its employees to participate in the company and work together to serve its customers because people always make the difference, Tomann believes. "Anyone can build a shop and purchase machines, so the real difference comes down to the people," he adds. "We have spent an enormous amount of time cultivating a positive and productive culture, and we continue to build on that foundation as we move the company forward."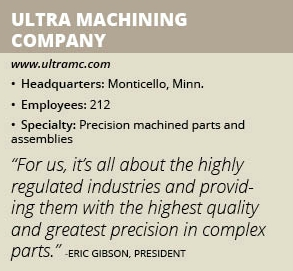 Collaboration and communication with its customers are vital to UMC's success and ability to stay at the forefront of precision manufacturing. The company starts a project by working directly with the customer to determine what they are trying to do with a part and where it is going to meet their demand. "It's all about that relationship," Gibson notes. "We establish long-term relationships and they find value in what we provide. That's what separates us, I think. We have long-standing customers and have established a level of trust in that they know what they are getting when they come to us."
High-quality products are a direct result of communication. When UMC receives a print, the company rarely just provides the cost and lead-time. "We make a phone call to the customer and explain that if they can change this dimension or loosen up the tolerance in this area, for example, we can use this equipment and cut cost," Gibson says. "That conversation back-and-forth makes the difference."
"I don't refer to UMC as a job shop," Tomann adds. "UMC is a contract manufacturer. The distinction is that we're not just trying to maximize our machines, we are focused on building relationships with our customers."
Investing in Automation
UMC invests heavily in technology and two years ago received the National Tooling and Machining Association's Technology Award for developing a software program that allowed its CMM machines to talk to the CNC machines. "This decreased scrap, improved our production process and made us much more effective," Gibson says. "Those are the kinds of investments we make. We're looking for any opportunity to increase speed and accuracy."
Over the past five years, UMC has invested 10 percent of its total revenue into capital improvements, including purchasing and upgrading its CNC machines, adding laser marking, and integrating new software and technology into many of its processes. "Every new piece of equipment has to have some form of automation on it," Gibson says. "We look to automate every process and machine that comes into the business. We now have a universal robot that loads and unloads our machines and a robot attached to a machine that runs 24/7, giving us 168 hours of production a week out of one cell because it's completely automated."
UMC has even automated its reception desk, allowing visitors to check-in and print their visitor badge from an iPad. "We have not stopped automating nor will we, and we know that automation is the key that will allow us to reach higher revenue without need to add employees," Gibson adds.
But automation is not taking away jobs at UMC. For example, the company still has a receptionist at the front desk in addition to its iPad because it wants to maintain a personal connection with its visitors. "The statistics show we don't have enough people in the pipeline to fill the labor needs in manufacturing in the short-term, let alone in the next five to 10 years," Tomann says. "We can't react fast enough. If we want to continue to participate in the current environment, we need to embrace automation. It's no longer a choice. The statistics are startling in terms of the number of open positions across the country as the baby boomers start to retire. Fewer millennials are going into manufacturing."
For employees at UMC, automation improves their technical abilities and increases wages. "Automation allows us to get by with fewer people and allows those individuals to advance their careers," Tomann explains. "We offer training on robotics and automation."
UMC works closely with local high schools and technical colleges to help students understand manufacturing today. "We have given several hundred tours to students and their parents to help them understand what modern manufacturing looks like and we have representatives from UMC sitting on the boards of the tech schools to increase that exposure as well," Tomann adds. "We have had an apprenticeship program for 20 years and seven years ago we started a youth apprenticeship for high school students to expose them to manufacturing to help them make a post-secondary decision."
Strategic Planning
UMC sets an annual goal in addition to three- and 10-year outlooks. The company's long-term goal is to double in size by 2023 and reach $70 million in revenue. "We have done a lot of strategic planning," Gibson says. "We will double in size by setting one- and three-year goals to steer the business towards that ultimate goal. We have been on track, averaging 10 to 12 percent top line growth and we are focused on that because we want to make sure we are going at a reasonable rate."
Being privately held and funding everything internally, UMC must be fiscally responsible to breed the next level of success. The company will work to grow by expanding with its current customer base, developing new customer relationships, investing in new technology and acquiring companies to add to its portfolio.
Although UMC is a second-generation family owned company today, Tomann says the main goal is to ensure the company is professionally managed. "If we continue to stay family owned that will be a bonus," he adds. "I want to see UMC be in existence 50 years from now. We can ensure that now by focusing on building the company, maintaining the values it was built on and serving our customers.