Although commercial fryer manufacturer Ultrafryer Systems Inc. offers customizable fryers to ensure customers can easily produce their desired food, some features remain constant. The company's products are known for superior shortening management, fuel savings and quick recovery times.
Its systems are so energy efficient that many of them are 30 percent more efficient than Energy Star-certified fryers. The San Antonio-based company got its start as a division of Church's Chicken. At the time, it was mostly making electric fryers.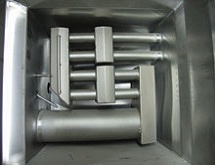 "After Popeye's acquired Church's, they had an idea for a gas fryer," says A.C. McNamara, vice president of engineering and manufacturing. "Our engineers took over and introduced that fryer in 1991, and that's how long we've been the most efficient gas fryer around."
Sustainability is an ever-growing area of focus in the restaurant industry, and McNamara says Ultrafryer Systems stands to benefit from that focus, as it has offered sustainable services for years. "The market now is considering green as part of restaurant needs," he notes. "One aspect of green is energy efficiency, and we've been the leader there for some time. When green is further analyzed to include sustainability, our integrated ability to prolong shortening life, our efficient cooking power to avoid poorly cooked food, and our robust product designs and quality materials to minimize equipment replacement fits that need superbly."
Ultrafryer Systems' restaurant clients also include Grandy's, Hooters, Pappadeaux, In-N-Out Burger, Shakeys and Bubba Gump Shrimp Co. The company also retains institutional clients, such as colleges like University of Notre Dame, hospitals, hotels and prisons. The company plans to keep expanding its presence in the industry, focusing on chains that reap the most benefits from efficient fryers because they're constantly churning out food.
"They expect properly fried food in whatever volume and mixture their hour-to-hour customer flow requires," McNamara states. "They expect minimum maintenance and good shortening life. They expect low energy bills. They do not expect greasy, soggy food even when the loading gets heavy. They expect user-friendly filtering and cleanup.
"They define quality as all the expectations above being worry free and that doors, valves, connectors, latches, and filters are tight and well-finished and held neatly in place for whatever function is being performed."
Although Ultrafryer Systems' fryers offer great-tasting food for all clients, McNamara notes that fast-food operators and customers who don't have periods of down time would benefit most from its products. "Generally, the heavier users get quicker payback for buying a heavy-duty, high-efficiency fryer," he explains. "Also getting benefits from a heavy-duty unit are some institutions that serve only one meal a day but need the no critical-downtime confidence that robust equipment brings."
Crisp Customization
A major feature that sets Ultrafryer Systems apart from competitors is its ability to work with customers to customize fryers. Vat sizes, work or dump stations, basket lifts, field joints and shortening filtration all can be altered to fit various needs. Customers also can choose the size and power levels to produce the best-tasting food.
McNamara notes that Ultrafryer Systems has produced some models made just for frying bone-in chicken and other systems designed to handle heavy French fry loads.
The company utilizes its test kitchen to design and test the systems for customers. "We have cooked a ton or so of chicken in our kitchen over the years to help our customers find the best program parameters and menu variations on their cooking computerized controllers installed on each vat," McNamara says. "[Our clients] care enough about their customer to make the chicken or sides the best they can be and we still remember how important that is."
To that end, Ultrafryer teams up with its clients to pinpoint exact fryer specifications to meet their needs. "We can tweak the design, settings and filtering of the fryer to let the chain satisfy its most critical customer and let it be repeated for every customer," McNamara explains. "We're the best at that, and it takes our people and our product working with their people and their raw food to do it."
Finely Filtered
Efficient shortening filtering is key when frying food because it has a great impact not only on food taste, but a restaurant's pocketbook. So ensuring best taste and cutting down on shortening costs is an important area of focus for Ultrafryer Systems.
"Cost of customer dissatisfaction with food quality caused by poorly maintained shortening is poorly recorded or accounted for," McNamara notes. "The importance of filtering has been integrated into our fryers and related restaurant operations since the early founding days. Our ability to design effective, safe and optimized filter integration is preserved by the satisfied customer mindset, viewpoint and experience that has led to energy efficiency, control and power optimization."
Beyond the Fryers
In addition to fryers, Ultrafryer Systems offers food warmers and batter tables. Its UltraWarmer directs heated air over, under and through fried foods to preserve temperature. The company's batter tables ensure batter remains at a usable temperature for extended periods of time. The tables have baskets, sifters and other easy-to-clean features.