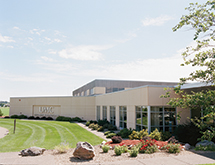 Ultra Machining Company (UMC), Monticello, Minn., has prided itself on taking on its clients' more difficult projects for more than 45 years. "We make precision-machined components and assemblies primarily for the medical and aerospace industries," UMC Chairman and CEO Don Tomann says. "Our core competency is machining highly complex products in regulated industries, which challenges our creativity, processes and technologies. When the customer's challenge seems the most puzzling, that's when we get really excited to the find the solution."
Founded in 1968 by Terry Tomann, Don Tomann's father, the company's capabilities include prototyping, engineering, design for manufacturability, precision machining, finishing and complex assemblies. It also offers value-add support including supply chain, quality management and continuous improvement processes.
UMC  primarily manufactures with alloys, but also produces parts made with plastics. The firm has invested heavily in state-of-the-art production and inspection equipment to ensure high quality and reliability in its  manufacturing. In addition to CNC turning, electrical discharge machining (EDM), Swiss and tool grinding capabilities, UMC's facilities include 5-, 7-, 9- and 11-axes milling-turning (MT) centers.
"Technology has played an important role in meeting the quality expectations of our customers," UMC President Eric Gibson says. "UMC has found that our quality management system and all of its components – including people, process and technology – is a competitive advantage for us in our markets."
"We continually ask ourselves what we can do better," Tomann adds.
A Lean Mindset
One UMC client is a global supplier of titanium casting parts for aircraft. Because aircraft safety is a critical element of its clients' products, it needed to ensure that zero-defect aircraft parts were produced. "[The client] selected UMC because of our demonstrated ability to offer production processes and quality improvement programs that produced zero-defect parts," Gibson says.  Additionally, the client "needed to manage costs associated with expensive production of titanium casting parts as well as costs associated with assembly downtime caused by defective parts."
To address cost issues, UMC used machines with technology that allowed for quicker and more efficient inspection processes. Adjusting its technology, equipment and continuous improvement processes enabled UMC to reduce lead-time. With the client's permission, the part was digitized to allow UMC to program a model to use in production. To ensure zero defects, UMC created new fixtures using technology that eliminated manual involvement.
"Our capabilities include tolerances ranging from millionths to thousandths and low micro surface finishes to exacting standards,"  Tomann states. "For medical applications, we may produce a spinal column implant that must be manufactured to very tight specifications. A large percentage of the parts we make are very small – ranging from the size of a human hand to the tip of a pen. Therefore, accurate and repeatable results are critical."
Coordinate measuring machines (CMM) are connected to CNC equipment to achieve the precise physical characteristics needed for these applications. "Using automated inspection processes has allowed us to produce more accurate parts," Tomann says. He adds that automating its processes has also allowed UMC to increase its manufacturing speed as well as reduce the amount of scrap. This savings can be especially significant when dealing with exotic alloys such as cobalt, elgiloy, stellite or titanium.
"Through the years, we've developed a highly skilled expertise as far as complex machining," Tomann says.
It is this extensive knowledge as well as the company's stringent quality control measures that has maintained the loyalty of many long-standing customers, some of which have been working with UMC for 40 years.
"We continue to invest in the latest technology," Tomann says. "We back up our highly skilled machinists, engineers and quality individuals with the right technology. Using SPC, real-time data is instantly available to operators to help them make better decisions. This capability helps us to support our customers' goals of speed to market and total cost of quality."
Rigorous Training
New employees are exposed to a rigorous training schedule. "UMC utilizes mentors in our onboarding process for machinists," Human Resources Manager Jaci Dukowitz says. The mentor conducts weekly written assessments of the new employee's performance. "The assessment includes broad observations on the company culture or fit, safe work practices and contributions to lean and continuous improvement initiatives," Dukowitz explains. "[Mentors] also rate the new machinists on job-specific competencies within their machine area and report those findings to the production manager." At the end of the orientation, a formal 90-day performance appraisal is conducted.
"We have found that through this formalized orientation process, our mentors are quite successful in identifying both the areas for improvement and the strengths of a new machinist," Dukowitz says.
"In addition to developing a specific plan and expectations for that employee, ongoing training is scheduled periodically," Tomann notes. UMC also looks to make a difference in the surrounding community. "We have a strong outreach to local high schools and technical schools," Tomann says. "We conduct tours, donate materials and equipment, serve as advisory board members and even offer an apprenticeship program."
Tomann claims that it is UMC's employees who drive the company's success. "We instill in our employees to always do the right thing – even when nobody's looking," he says. "Our company culture is supremely focused on our customer." He calls it the "SPIRIT" of UMC – Service, Passion, Ingenuity, Remarkable, Integrity, Team – and it provides a mindset for every UMC employee.