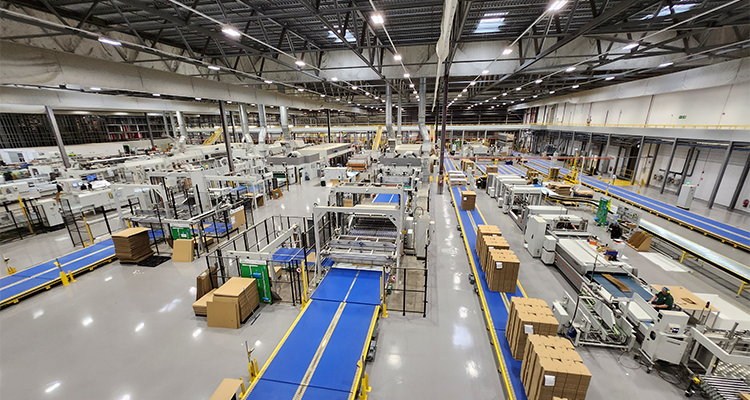 Uncover Saica Pack's remarkable growth in environmentally conscious packaging 
As one of Europe's largest producers of recycled paper and corrugated cardboard, Saica Pack Ltd, the packaging division of Saica Group, has experienced remarkable growth in recent years. This surge in demand can be attributed to the global shift towards environmentally sustainable packaging solutions, as the industry increasingly calls for recycled and recyclable products to support the circular economy. With an impressive annual production capacity of almost 3.5 million tons of paper, Saica Pack plays a pivotal role in the manufacture of corrugated packaging solutions. By prioritizing sustainability and leveraging its expertise in the recycling sector, Saica Pack strives to meet the evolving needs of customers while contributing to a more environmentally friendly packaging landscape. Brian Lister, UK&I Country Manager of Saica Group, provides a brief account of the group's history.
"With a rich history spanning over 80 years, Saica Group has firmly established itself as a family-run business that continues to thrive. It was in 1975 that Saica Group first ventured into the packaging industry, acquiring valuable capabilities in this sector. Today, Saica Pack operates across nine UK facilities and a further two in the Republic of Ireland. In addition to Saica Pack, the group encompasses three other business areas: Saica Paper, which produces recycled containerboard paper; Saica Natur, offering waste management and environmental services; and Saica Flex, which is dedicated to manufacturing flexible packaging. The group currently employs over 10,000 people across 11 countries and generates annual consolidated sales exceeding 4.3 billion euros," he informs.
Seamless supply
Brian discusses the diverse range of products and services offered by Saica Pack. "Our packaging division specializes in developing comprehensive corrugated packaging solutions. This includes attractive packaging for various sectors such as food, beverages, detergents, as well as e-commerce and distribution.
Additionally, we operate a Dublin manufacturing facility where we produce high quality folding cartons. Our cartons come in a diverse range of styles and incorporate features such as embossing, foiling, and reverse print. These cartons are sold throughout Ireland and the UK. Moreover, we offer a wide array of value-added services to our clients. These encompass inbound logistics, including vendor management inventory, e-invoicing, and contingency plans. Our operations services comprise value chain consultancy, range harmonization, and food safety management. We also provide outbound logistics services, such as pallet optimization, transport tests, finite element analysis and retailer logistics. Lastly, as part of our commitment to enhancing customer experience, we have developed a unique B2B app. This app grants our customers complete visibility and unparalleled access to their information at their convenience, thereby facilitating smoother interactions with Saica as a supplier," he explains.
An integrated approach
Over the past 18 months, Saica Pack has been actively involved in the construction of a new manufacturing facility in Livingston, Scotland, which has now been successfully completed. "Our state-of-the-art manufacturing facility in Livingston is fully operational and exceeding our expectations. This substantial investment underscores our long-term commitment to production in the Scottish market. The facility not only offers increased capacity and advanced technologies for our customers but also enables the introduction of sustainable packaging solutions in Scotland, aligning with our environmental commitments. Indeed, we have implemented significant improvements across various areas to maximize the sustainability of the plant. For instance, water recycling allows us to produce starch-based glue for the corrugator. Additionally, the installation of a new effluent treatment plant enhances metal removal from liquids and boasts the lowest biological oxygen demand of any corrugated sites in the UK and Ireland. Our new printing equipment combined with water-based inks has also resulted in more efficient wash-ups that consume less water. In terms of waste management, we have successfully eliminated the need for landfill. Lastly, our HVAC system captures, cleans, and recirculates process heat emitted by machines," he explains.
Furthermore, Saica Pack has also made a £25 million investment into its Wigan site, to ensure the business stays at the forefront of the industry. "We have a wide range of top-quality machinery at Wigan now, including two case makers, both with up to four color print including varnish with glue detection; as well as a two rotary die cutters to provide up to six color print with state-of-the-art in line shrinkwrapping capability for direct food contact products. We've also invested heavily in reducing our energy consumption.
"The investments we have made have put us in a great place to be as operationally efficient as possible, give our customers top quality and service, and satisfy the high demand for environmentally friendly packaging."
Saica Pack places a strong emphasis on sustainability, striving to ensure that every aspect of its operations aligns with eco-friendly practices. "The circular economy forms the foundation of Saica's operations throughout the entire group.
Recyclability and sustainability take precedence in all our decision-making processes and operations – it is not merely an option but a clear mandate. Through close collaboration with suppliers and customers, we have established a sustainable closed-loop packaging supply chain. Recyclable waste is collected and treated at Saica Natur, then recycled by Saica Paper, and finally transformed at Saica Pack into corrugated boxes. This integrated approach allows both Saica and our customers to minimize the environmental impact of waste and enhance the sustainability of our operations," he adds
Driving change.
As a closing thought, Brian shares his aspirations for the business' future. "Continuous enhancement is ingrained in our ethos and will remain an ongoing pursuit. The packaging sector is an exhilarating field to be a part of, especially when considering the upcoming five years. I anticipate witnessing a multitude of innovations, particularly in the realm of increasingly sustainable packaging solutions. I have full confidence that Saica Pack will be at the forefront of these advancements and developments. We have a remarkable opportunity to drive meaningful change not only for ourselves but also for our customers and the planet. This ambitious goal serves as a powerful motivator for everyone within our organization," he concludes.
Saica Pack's exemplary commitment to the circular economy and relentless innovation positions it as a leader in sustainability, shaping the future of corrugated packaging.