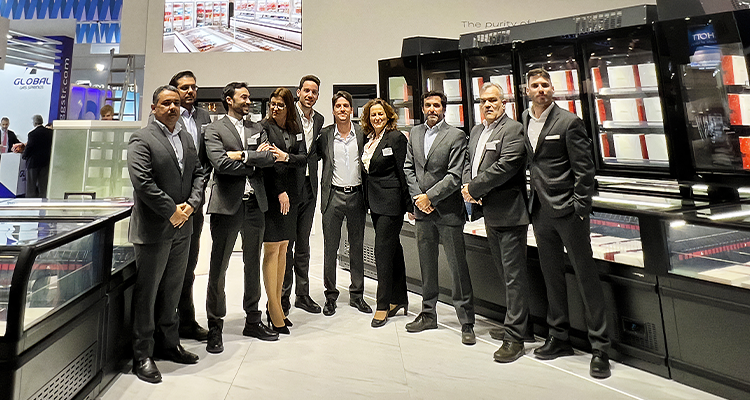 Under exemplary leadership, FRICON continues to push the boundaries when it comes to innovation in commercial refrigeration  
Artur Martins de Azevedo, the Founder of FRICON, used to say that 'growth is the product of the future that we are able to foresee.' Under this guidance, FRICON, a renowned brand established in 1976, has gained global recognition across more than 115 countries for its exceptional solutions among key business partners. In 2022, the brand achieved a remarkable turnover of more than 35 million euros, with 87 percent of its revenue originating from the international market.
Fernando Costa, Commercial Director, shares his reflection on 36 years in the industry, and the specialisms that catapult FRICON forward, making it a leader in commercial refrigeration. "Coming from different areas, I can tell you that the refrigeration world is quite addictive!"
In the early days, by embracing the challenges and leveraging its expertise, FRICON embarked on the production of household solutions targeting the domestic market. The brand's acute market insight and ability to anticipate customer needs prompted productive and procedural adaptations, resulting in an expanded portfolio encompassing beverage refrigeration equipment, ice cream solutions, eutectic innovations, and integrated solutions for food retail.
Superior solutions
Today, FRICON operates manufacturing facilities and holds delegations in three distinct countries and two different continents: Portugal, Spain, and Brazil. "This enables the delivery of superior value and answering to diverse customer requirements. The brand has established long and fruitful partnerships with household brands such as Marks & Spencer, Intermarché, Auchan, Carrefour, Jerónimo Martins Group (including Pingo Doce, Recheio, Biedronka, and ARA), SONAE Group (including Modelo and Bom Dia), Unilever, Froneri/Nestlé, and Budweiser, among others. These leading brands rely on FRICON's reputation for flawless quality and reliability," highlights Fernando.
Considering these partnerships, it is no surprise that FRICON is known for meeting the demand of food retail with unparalleled quality solutions. "Our supermarket solutions, ice cream conservators, beverage coolers, and mobile equipment meet the needs of several renowned brands seeking to boost their sales at the POS. All these solutions are 100 percent plug-in and self-contained, equipped with environmentally friendly natural refrigerants with low environmental impact,"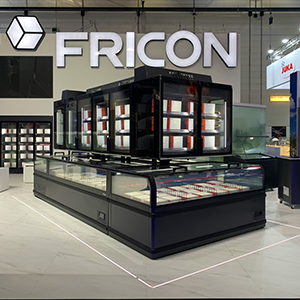 Such a high-quality level is dependent on the amount of innovation that goes into FRICON's research and development processes. "With a highly skilled and professional team, we develop and produce refrigeration equipment with high construction standards.
"To ensure maximum independence and rigor in our new developments, we have two laboratories and an extensive testing area. These laboratories allow us to simulate climatic and environmental conditions from any part of the world, conduct reliability tests, as well as measure temperatures and equipment consumption, ensuring that it performs optimally in the real-life situations our customers will encounter at the point of sale," he says.
An example of such innovation can be seen in the execution of products like Upperdeck Full Vision (UPD FV). "Designed for hypermarkets, supermarkets, and convenience stores, this innovative vertical solution consists of a 360-degree glass display and a sophisticated appearance when turned into a complete 'island'. Its purpose is to enhance the points of sale and maximize product visibility, thereby making a stronger impact on the consumer.
Integrated sustainability
"This display unit offers a state-of-the-art vertical solution, particularly when paired with the successful SMR CLS model that has already gained recognition worldwide. Its name reflects its glass composition and extensive product display area. Currently, it is available in both four-door and two-door (header) versions. Furthermore, FRICON plans to introduce a three-door version later this year, aiming to provide even greater flexibility to customers."
Sustainability also plays an integral role in the company's operations, and by remaining committed to a greener future, the business has been keeping busy by rejuvenating its manufacturing processes. "We think that sustainability should not only be reflected in the final product, but also integrated throughout the entire production process. That's why, in addition to having 12 models recognized as high-energy efficiency by the TopTen.eu organization, we constantly seek to introduce environmentally friendly materials and reduce waste.
Consumer driven
"To this end, we have implemented measures that ensure that, as of today, 98.6 percent of our production waste is recycled. Furthermore, we have achieved a 100 percent procurement rate for natural refrigerants with low environmental impact, such as R290 and R600. By prioritizing the use of these eco-friendly materials and actively promoting waste reduction, we strive to minimize our ecological footprint and contribute to a healthier planet. We continue to explore new ways to enhance our environmental practices throughout our operations," Fernando highlights. He adds that the decision-making process of consumers is increasingly associated with and influenced by the values and sustainability actions of brands.
This concept has gained its position at the top of trends in the refrigeration industry, both due to consumer demand and the need for brands to optimize their operational costs. "In this context, the role of FRICON is crucial, and it is what we focus on daily. As a partner to some of the world's largest retailers, we feel responsible for helping them achieve the best results and ensuring that our impact on the world is as positive as possible.
"To achieve it, we have developed solutions designed for the consumer to have the best possible shopping experience, as well as solutions designed for retailers to have their point of sale with low-energy consumption and high-efficiency options, ensuring the profitability and sustainability of their business in the medium to long term."
Ahead of the curve
In other exciting news, Fernando outlines the company's recent expansion project, and how it is nearing its completion in Portugal. "The project represents a significant investment in the company's history in Portugal. The expansion of facilities, restructuring of the production plant, implementation of digitalization in production lines, process automation, acquisition of new equipment, and training of employees are all crucial elements of this endeavor.
"The ultimate goal of this project is to increase both our production efficiency and capacity, with the aim of doubling the current capacity. By enhancing production efficiency, we can better meet the current needs of customers and capitalize on new market opportunities."
Furthermore, this investment project sits with the vision of Industry 4.0, which is aligned with the integration of advanced digital technologies and automation into manufacturing processes. By embracing automation, digitalization, and other technological advancements, FRICON is taking a significant step towards becoming a more advanced and efficient player in the industry.
"The project's comprehensive scope complies with our dedication to remaining competitive in a demanding sector that requires ongoing compromise, persistence, and investment. It will position FRICON in a way to better serve its customers, adapt to market changes, and remain at the forefront of innovation in the refrigeration industry," Fernando stipulates.
When asked about what the future holds for FRICON, Fernando expresses that the current focus is on completing the investment project that started in 2020, as well as developing industry-leading products. "Our teams maintain constant contact with the market and conduct thorough product analysis and benchmarking. As a result, we anticipate the launch of another product by the end of this year – the UPD FV three-door model – to complete our product range.
"By staying in touch with market trends and customer needs, we aim to continuously enhance our product offerings and provide innovative solutions. The addition of the UPD FV three-door model will further expand our range and satisfy the multiple and demanding requirements of our customers. This effort reflects FRICON's dedication to providing solutions that meet the needs of various points of sale, regardless of their size or floor area."
Moving forward, the company aims to remain top with the best in commercial refrigeration. "Innovating, challenging and continuing to be one of the leaders in the industry. On a general note, there are many challenges, mostly in the food retail sector, that are coming along, but we are more than prepared to provide solutions to all those challenges, and still be at the forefront of our industry," he concludes.