A unified brand
Operating as the parent company of five unified manufacturing businesses, Unitech Aerospace provides the aerospace, marine, medical, defence, nuclear and rail industries with composite and metallic structures and components that meet demanding and complex production requirements
Embodying more than 80 years of experience in the manufacture and assembly of high-quality composites and metallic components and aerostructures, Unitech Aerospace is a leading provider of build-to-print and design-build solutions for clients operating within the aerospace and defence industries. Unitech Aerospace is the parent company of Unitech Composites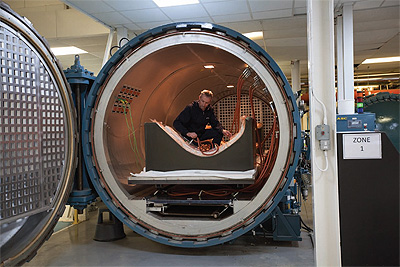 (Hayden, Idaho), North Coast Composites and North Coast Tool & Mold (Cleveland, Ohio), Paul Fabrications (Derby, UK), Tods Aerospace (Yeovil, UK) and Tods Defence (Portland, UK), which allows the business deliver a comprehensive range of specialisations comprising:
Structural and non-structural composites laminates and assemblies
High standards of quality, on-time delivery and lead-times
Fast turnaround in prototype manufacturing
Design, development, test and manufacturing expertise
Honeycomb core machining, forming and sandwich panel construction
Carbon fibre, fibreglass and Kevlar composites with multiple resin systems
In-house ultrasonic and x-ray non destructive testing (NDT)
Manufacturing and tooling engineering
Broad OEM and tier 1 approvals
The business previously operated under the name of AGC AeroComposites until February 2017, when it was announced that the decision had been taken to rebrand the company as Unitech Aerospace. Under this new branding the business continues to provide its established portfolio of services with a fully unified brand and direction. "We operate composites, tooling, resin transfer moulding and metallic-based businesses within our portfolio of companies. We felt that we should present to our various markets as a unified group and yet trade on our industrial heritage with the brand names that are well known and respected across our industry," reveals Unitech Aerospace CEO, Wayne Exton. "For example Tods Aerospace is well known as a highly engineered composites provider. Going forward we plan to maintain the Unitech Aerospace parent company name and as we progressively grow both organically and by acquisition, we will maintain the core brand values inherent in our operating businesses."
Throughout the company, Unitech Aerospace maintains a strong core of values, which are further translated into the group's processes and procedures. These processes are standardised across the business to allow each company within the Unitech Aerospace group to fully leverage the advantages of its operational procedures, while remaining committed to the local development of each division. "Our leaders can be focused on execution and growth and have significant autonomy to do what is in the best interest of their business locally. We look for our leaders to be entrepreneurial and nimble,"Wayne elaborates. "Each of our businesses has a combination of unique manufacturing processes and specific customer and regulatory certifications to support the customer base."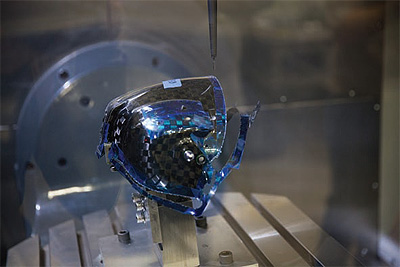 Unitech Aerospace boasts many years of industry experience of working with themanufacturing industry's top OEMs and tier 1 companies across multiple platforms andprogrammes. These include military and commercial applications, while the company carries over 30 process and qualificationspecifications for composite, sandwich and bonding related work. These are further supported by a strict quality statement that iscommitted to delivering high quality products on time through the continued adherence to AS9100 and NADCAP guidelines. "We supplyto most of the aerospace community as either a tier 1 or tier 2 partner. For example, we produce air-to-air refuelling pods for Cobham, complex fabrications for Rolls Royce engines and the F-35 BOSS helmet for Rockwell Collins.We also manufacture multiple products for GE, Honeywell, Spirit, Boeing, Airbus, Triumph and others. We provide products for the commercial aircraft, business jet aircraft and military aerospace markets. We also provide sonar domes to various sovereign naval forces as well as prime defence contractors," Wayne details.
"On the composite side, this covers the entire range of in-autoclave to out-of-autoclave operations and RTM/VARTM capabilities to support the wide range of structural applications for our products and to create the most costeffective basis for the end user. On the machining side, we possess a full range of machining applications ranging from forming capabilities tolaser weld/drill and metal forming," he continues."We also maintain virtually 100 per cent control of our manufacturing steps so that minimal outside processing needs to be performed – this gives us the broader ability to continuously improve cycle time and cost yet also maintain our total quality expectations. We have embraced lean manufacturing principles to focus on waste elimination, level loading, and high quality yield. Even our daily status boards have been standardised to drive common metrics, focus, and communication. Our end goal is an entirely visual factory providing our employees with the tools, planning parameters and capital investment to support the dynamics of the complex requirements of our clients."
At any given point in time Unitech Aerospace has a number of exciting projects moving forward, which include technology applications using its advanced fibre-laser machine or its automated composite lay-up machine. These range from continued support to the company's existing clients as well as the introduction of new services to new clients, with details of the these projectsbeing communicated through the Unitech Aerospace web-site and press releases. "Our competitive edge beyond our strong technical capabilities and track record is to develop atrue partnership with our customers abovethe normal day-to-day business. This includes dedicated resources assigned to a project, joint-planning sessions to establish a future state capabilities matrix and capacity allocation, and finally a process agreement that streamlines everything from the commercial terms to the delivery parameters," Wayne says. "We are continuously looking at new programmes and opportunities and we perceive significant potential for growth through partnership with our customers and are in the process of developing several exciting new technologies."
With years of industry experience and a newly unified and strong industry brand, Unitech Aerospace is well placed to continue to deliver world-class manufacturing solutions to its clients across a range of industry sectors. During the coming months and years, the company will focus on increasing its position and serviceportfolio, while serving the needs of both new and existing clients. "Our vision for the future of Unitech is expanded capability to take on a higher level of support for our customers," Wayne concludes. "This includes continually growing our engineering team into a world class developer of new technologies and the application of new materials as well as our methodology for creating manufacturing enhancements, sub-assembly to final assembly support and logistical control to provide a seamless interaction."
Unitech Aerospace
Services: Complex composite and metallic manufacture