Unitech Composites
Unitech Composites, a Unitech Aerospace Company, has over 35 years experience in the manufacture and assembly of high-quality composite components and aerostructures
Mark Withrow, Vice President & General Manager, began by explaining that today Unitech Composites is specialised in the production and creation of complex laminates and sandwich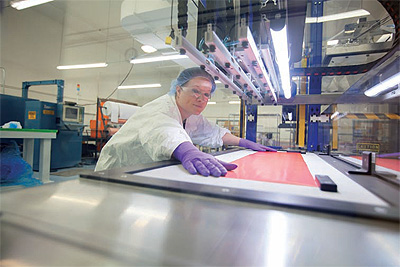 panels, as well as multi-axis machining, close tolerance fabrication and automated hand layup. "We serve the commercial and defence aerospace sectors, and we have establised a long standing reputation for quality, on-time performance, broad industry certifications and processes, low cost and agility," he said. In fact, the manufacturer has numerous design platforms and a range of manufacturing technologies from which to choose and utilises over 80,000 square feet of manufacturing space in Hayden, Idaho (close to Spokane, Washington) allowing it to offer premium results throughout all phases of manufacturing.
"We offer complete composite solutions with extensive manufacturing capabilities and a highly skilled workforce, and we have the ability to handle process specifications on a full spectrum of materials with a full suite of regulatory certifications," Mark noted, when highlighting more of Unitech Composites' skills and services. "What we provide is a low-risk, optimised solution, from a trusted lifecycle partner and we can work from conceptual design to full-rate production.
"We were founded in 1979 and we have our roots in the NASA space programme," he added, further highlighting the organisation's exemplary pedigree. Today clients include companies such as Airbus, Avcorp, The Boeing Company, GKN, Honeywell, MD Helicopters, Northrop Grumman, Spirit Aerosystems, the US Army and many more companies both large and small.
Many of these clients come to Unitech Composites to utilise its expertise in autoclave processing, the hand lay-up of carbon fiber parts and automated hand lay-up. Indeed, theorganisation has recently invested in a state-ofthe- art automated hand lay-up machine, which produces quality superior to hand lay-up and offers increased mistake-proofing, consistent laminate thickness, elimination of bridging, voids and variability. "We are committed to investing in technology to support future state-of-the-art developments," Mark highlighted.
This new technology has been added to the existing equipment used within the factory, which includes:
Six clean rooms
Three autoclaves (largest 15' x 30')
Four ovens (largest 24' x 26')
• A self-contained machine shop and tooling manufacturing centre
Complex composite ducts using eutectic salt and plaster mandrels
Three 4-axis Haas CNCs
Three 5-axis DMS CNC (largest 25' X 10')
Two 3-axis routers
In-house non-destructive testing (ATTU)
Laser ply placement
Automated ply cutting
The full spectrum of materials in use at Unitech Composites include:
Prepregs
Polyester-glass
Phenolic-glass
Epoxy-glass
Epoxy-Kevlar®
Epoxy-graphite
Cores
Nomex®-Honeycomb
Aluminum Honeycomb
Klegecell® Foam
Urethane Foam
These state-of-the-art technologies and materials are combined and used in the creation of products including:
Environmental Control System (ECS ducting)
Active Winglets
Brackets and Intercostals
F-35 BOSS Helmet
Edgebands
Weapons Pylons (Lightweight Armament Support System (LASS) and Multi Station Lightweight Armament Support System (MLASS)
It is apparent from this list that Unitech Composites' products are extremely sophisticated and used in demanding applications that require the highest levels of quality and service. "This means we have to maintain constant communication with the customer," Mark confirmed. "We are a totally customer-focused business and we have stringent quality reviews in place to ensure we always meet the needs of our clients."
He went on to give more details on specific products that perfectly illustrate the technical capabilties of Unitech Composites. "We developed the Binocular Optical Support Structure (BOSS) Helmet for the F-35, and we make this part for Rockwell Collins," he said. "This is an extremely high precision composite/ metallic structure for the helmet mounted headsup displays.
"We also developed weapons pylons – the LASS and MLASS- that were designed to replace the legacy steel weapon pylon on the Blackhawk helicopter (UH-60). These are lightweight and corrosion resistant, but use the same installation kits and procedures. Made from a full carbon structure with aluminum fittings, they offer 53 per cent weight reduction and meet all US Army service load requirements. These are currently in service with the US Army."
As it advances into 2017, Unitech Composites is in a strong position to build further success, and the recent rebranding of parent company AGC AeroComposites to Unitech Aerospace can only help to develop its reputation for performance, quality and value. "We feel that the market is strong and offers great opportunities for growth for our company," concluded Mark. "We are optimistic about the future."
Unitech Composites
Products: Composite products