Steely Success
With its headquarters in the heart of the UK, the Unitech group of companies is a leading supplier of stainless steel and aluminum equipment to the hygiene conscious industries
Originally formed in 1991 as Wednesbury Catering Equipment, the group has expanded significantly over the years and now operates from nine sites in the UK, and offices in Dubai and the US. With its 90,000 sq. ft. headquarters in Burntwood, Staffordshire, the company specializes in the design and manufacture of production and cleaning equipment for the food, beverage and pharmaceutical sectors, and is also one of the largest privately owned suppliers to the catering industry. A vastly experienced workforce means that Unitech can also offer full turnkey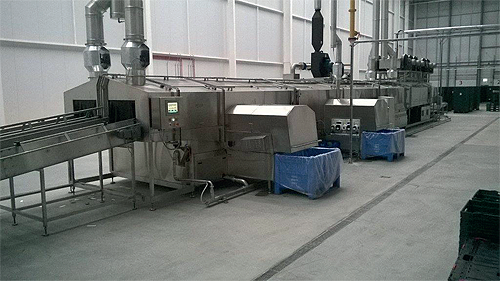 projects across the globe.
As the group has grown, it has added complementary divisions – Unitech Conveyors, Unitech Washers, Driver Southall, Unitech Machinery, Scomac Catering Equipment and Unitech Projects.
One of Unitech Engineering's divisions, Unitech Conveyors, designs and manufactures an extensive range of conveying systems. Covering a wide range of market sectors including packaging, canning and bottling, brewing, and confectionery, the company's conveyors are mainly supplied as a stainless-steel construction, however a primed, mild steel is also made available for dry environment applications.
Using a common aesthetic design, every conveyor produced at Unitech is not only efficient but pleasing to the eye, and the combination has won the firm many 'blue-chip' customers on the lookout for innovative high-quality. A dedicated team of project managers and engineers are always on hand to take clients from the initial feasibility study, right through to handover, and automation and control systems are supplied by an in-house team to ensure optimum performance. Furthermore, all major PLC manufacturers' equipment may be incorporated into Unitech conveyor systems, including that from Siemens, Allan Bradley, Telemecanique, and Mitsubishi.
Perhaps Unitech's most notable conveyor project to date was carried out in 2017 when the firm was contracted by Heathrow Bakery to produce a spiral accumulation system for its baguette baking line. After encountering repeated problems at the packaging end of the line resulting in stoppages and soiled products, Heathrow Bakery needed a system that could divert and hold goods when the line was stopped to help avoid product wastage.
In line with this brief, Unitech set to work designing a system with two luffing conveyors to enable products to be diverted from the line to a spiral accumulation system, where they could be held temporarily before being moved back to the main line when it was up and running. The framework of the system was constructed predominantly from 304 grade stainless steel and includes over 300 metres of 800-millimetre-wide modular belt. In total, the system took four weeks to design, eight weeks to produce, and one week to install. On completion, its total height measured 3340 millimetres, with spiral diameters of 4526 millimetres, and a total length of 10,176 millimetres. For Unitech, the Heathrow Bakery system is still looked upon as a landmark project and is indicative of the conveyor division's ability to create impressive professional systems, on time and on budget.
As a member of the Processing & Packaging Machinery Trade Association (PPMA), ISO9001:2008 and Safe Contractor accredited, Unitech is a tried and trusted partner for some of the food,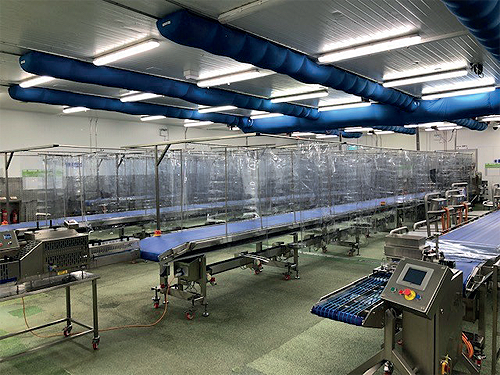 beverage, and pharmaceutical sector's biggest names, including Warburtons and Morrisons. In July 2020, the company finished work on one of its largest recent projects – the manufacture and installation of six bespoke lifting and tipping units, complete with enclosures to handle 350-kilogram euro bins. Unitech's client for this project, a specialist process engineering company called Briggs of Burton, required the manufacturer to create the units to a height of 8.4 meters, the tallest Unitech has ever produced. The lifts, which are ATEX rated and manufactured from 304 grade stainless steel, were installed two weeks ahead of schedule at a large production site in Lincolnshire, which produces a range of canned products including baked beans, vegetables, fruit, pulses, pasta and meatballs. Designed for a high-level hygiene environment, the lifts include a reduced number of parts to allow for less routine maintenance and offer the client a choice of recipes depending on the products being tipped.
Originally part of Unitech Engineering, Unitech Washing Systems Limited was formed in 2018 due to the divisions' successful growth in the design and manufacture of hygienic washing systems for the food, pharmaceutical and logistics industries, including Traywashers, Pallet washers, Tote Bin and Dolav washers, along with the provision of service, spares and support packages.
From its 20,000-square foot facility in Brownhills, West Midlands, Unitech Washing Systems has recently completed the build and installation of six high speed Traywashers for a major UK supermarket, significantly increasing the capacity and efficiency of washing its store and home delivery trays. The features of these machines incorporate High flow and self-cleaning filtration, high pressure label removal and Air knife drying systems. They have also removed the need for pre-sorting returned trays into different heights, with the introduction of a self-adjusting guide rail system, saving the client time and labour cost.
Another success for Unitech Washing Systems is its overseas exports, with crate and pallet washing systems, where reliability is paramount. Many machines have been installed in the Middle East and African markets, where Unitech Washing Systems and its Lebanese and Polish based partner Technica, who provide a full range of high quality crate and pallet handling equipment, have installed full turnkey wash plants for several blue-chip companies. This has included robot handling, de-stacking, re-stacking and inspection systems. With Unitech Washing Systems back up and service, these handling and wash systems are also offered within the UK market.
In August 2020, Unitech Washing Systems announced a brand-new partnership with Cleaning Technologies Group LLC (CTG) of Cincinnati, Ohio, which will see CTG become a distributor of Unitech's food industry washing systems and hygiene equipment in the United States for years to come. With over 100 years' industry experience in industrial cleaning Technology, CTG's knowledgeable sales and aftermarket service teams will provide installation services, maintenance packages, and aftercare support for all US Unitech customers. In addition, Unitech Washing Systems have taken over CTG's UK based operation, which will expand their interest in engineering component cleaning systems with the Ransohoff and Blackstone Ultrasonics brands, and offer service and support for CTG's UK and European based clients.
Throughout 2020 – a year like no other – Unitech has worked tirelessly to support the food industry and keep businesses running in line with government restrictions. In April, leading manufacturer of convenience foods Greencore Atherstone required a solution to Covid-19 induced social distancing requirements at its facility, so it turned to Unitech for an answer. After consulting Greencore, Unitech was able to manufacture and install multiple protective screens with stainless steel frames and clear plastic sheeting. The screens allowed employees along the lines to continue working efficiently, whilst staying protected. Following this, several other major food suppliers have employed these social screening systems, which have allowed clients to safely maintain operations in these difficult times.
The flexible nature of Unitech's manufacturing processes, and the ability to adapt has kept the company busy throughout 2020, and it will no doubt to continue to drive growth at home and abroad for Unitech in the future.
Unitech
Services: Supplier of hygiene-friendly stainless steel and aluminum equipment
www.unitech.uk.com