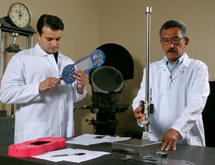 Point-of-purchase (POP) displays are proliferating in the aisles of mass merchants everywhere, and creative, colorful displays sometimes have to appear overnight in thousands of stores nationwide. Pulling off that magic trick is the job of United Displaycraft and its customers, who produce displays that change with the seasons and coincide with specific events, such as the Super Bowl or a new product launch.
United Displaycraft works in the world of permanent merchandising and builds displays specifically for high-profile customers. The programs are national and international and require a deft coordination of manufacturing and distribution. These merchandising programs range in scope from the simple manufacturing of grid wires to the use of interactive displays that inform and educate customers in what products are available.
Producing this variety of products requires multiple manufacturing processes. Some processes are in-house at United Displaycraft's single 250,000-square-foot facility in Des Plaines, Ill. Some are produced out-of-house by contracted suppliers. Display materials can be sourced nationally and internationally. All materials are checked for quality before packing.
New Equipment
"All projects have tight timelines today, even rerun business," General Manager Tom Jaworski reports. Heestimates a point-of-purchase display project may take from four to eight weeks to produce, from purchasing the raw materials, creating tooling and fixtures, combining metal, wood or plastic components that involve different manufacturing processes and then finishing it off with printed materials. Any variety of combinations are packed on lines that are custom-created for each project.
United Displaycraft runs its U.S. manufacturing facility in two to three shifts, six days a week. With the fast turnaround times required in the POP display industry, new production equipment and lean manufacturing techniques are necessities. United Displaycraft primarily is a metal and tubing shop. Wood and plastic components are sourced from outside suppliers and assembled into finished displays.
One major production activity at United Displaycraft is welding wires into several different mesh patterns. "A specific display might have a dozen different grid patterns for a back panel or a shelf divider," Jaworski explains. "These grid welders take multiple wires, organize and weld them automatically."
An operator drops the wires cross-wise into a welding fixture for a grid that might be 18 inches wide by 5 feet long. The wires are positioned automatically by the machine using CAD and then welded. Depending on the job, the grid might have brackets or a front metal channel welded onto it.
Grid welding is one example of a long list of automated equipment necessary to compete in today's marketplace. Robotics are used to weld tubes in position and bend raw wire directly off a roll and into a three-dimensional device.
Equipment such as roll formers, automated CNC punch presses and laser cutters allows United Displaycraft to design-engineer its customers' displays.
United Displaycraft brought printing in-house two years ago. The company's two digital four-color presses can print on a variety of substrates including paper, plastic, wood, glass, metal and even pegboard.
"Many times, we receive customer-provided artwork at the eleventh hour," Jaworski says. "Having in-house printing  allows the flexibility to meet those dates."
Environmental Initiatives
United Displaycraft always has had a commitment to environmentally friendly initiatives. To finish its parts, an environmentally friendly, automated powder paint line is used, which eliminates the use of solvents.
In the past five years, the company reports it has reduced its consumption of electricity by 24 percent and of natural gas by 36 percent. These reductions were obtained while the company says it grew its operations by 35 percent.
United Displaycraft has approximately 50,000 square feet of solar panels on the roof of its 70,000-square-foot warehouse at the company's headquarters. The panels produce approximately 15 percent of the overall energy the company campus consumes. When not being used by United Displaycraft, the electricity is sent to the local electrical grid and the company earns energy credits.
Some Assembly Required
Most displays require some assembly when received. "We manufacture a thousand displays at a time and distribute them either to the retailers' warehouses or direct to individuals who will assemble the programs in store," Chief Marketing Officer Anita Michals explains.
"To minimize shipping costs, we design the unit so it can pack into a carton that will withstand the rigors of transportation and has a realistic transportation cost," Jaworski says. "It is probable we will ship several thousand units within a short rollout period." Those periods vary in length from one day to several weeks.
Quality control is critical for displays that will be used by consumers. "We're constantly evaluating and improving our controls," Jaworski emphasizes. "We have a quality assurance department that inspects all incoming raw material against a set of standards established by our production engineering.
"During manufacturing, we hold our operators accountable for quality at their station, plus there are floor supervisors inspecting and checking fixtures at every machine," Jaworski continues. "Finished goods are staged in the packing department as well as a fully assembled merchandiser. Design and production engineers, project managers, packing line supervisors and a host of other personnel review packing procedures before work begins.
"Supervisors and line managers check continuously that proper procedures are followed," he concludes.
In this way, United Displaycraft continues to retain a Top 50 POP company designation for its Fortune 500 customers, ensuring growth and success in the future.