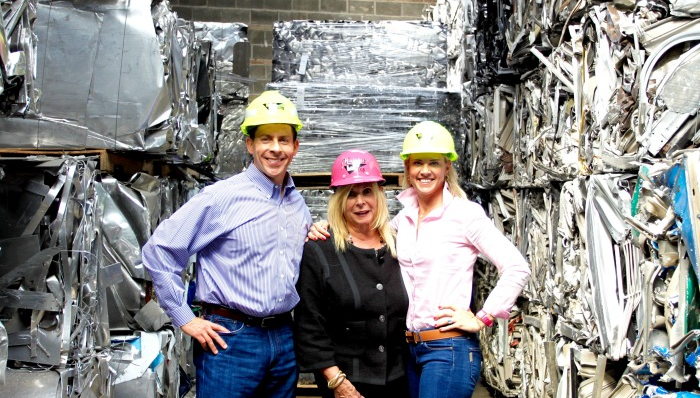 United Scrap Metal (USM) always makes the client its highest priority. "Our needs come second to the customer," CEO Marsha Serlin says, noting that they can reach out to the company 24/7.
"We're willing to go above and beyond," Senior Vice President Jodi Keller adds. "We're not your typical scrap company, far from a transactional approach."
Cicero, Ill.-based USM purchases, processes and markets recyclable commodities for more than 2,500 commercial clients coast-to-coast. Serlin founded the company in 1978 with $200 and a single rental truck.
At the time, a divorced, single parent with two children and little business experience. She collected scrap from alleys, manufacturers and facilities. Some of her competitors, Serlin admits, did not think her business would survive.
"[They] looked at me and said, 'She'll never last a year or even six months,'" she recalls, noting that her strong work ethic and perseverance helped USM outlive those naysayers. As her competitors took days off during the Chicago snow blizzard of 1979, Serlin kept working and scrap moving, which prevented Del Monte Foods avoid a plant shutdown from occurring.
Her status as a woman in the manufacturing world also set USM apart. "That was helpful, because the buyers were so curious about why a woman would want to be in this business," Serlin recalls. "It created the foot in the door."
Serlin's strategy was to be transparent with the customers and share open book pricing, unusual at that time in the industry. She also stayed true on all commitments. "If people don't do that, they lose the business," she says. "We think we are better than anyone in our business because we set a precedent. Our customer capital and solution driven success stories are second to none."
Business Evolution
Today, USM operates facilities in five states and employs over three-hundred team members. Fifty percent of the company's business, Keller notes, represents the manufacturing sector, while the balance includes utilities, service centers, demolition/construction contractors and a recycling center.
The diverse customer base is one area of the company's overall risk adverse approaches to business. For example, "When manufacturing is down, we have the utility and demo/construction business to offset the soft market conditions," she says. "We are consistently monitoring our customer percentage/allocation while forecasting new business to offset seasonality and the demand curve."
The company also aggressively grew under the leadership of Serlin's son, President Brad Serlin. "He [put] allocated substantial time formulating a vision coupled with game plan," Keller says, explaining that he built the company's sales team, value proposition while also putting distinct measurable around each respective operating unit. He is also responsible for a talent management system. Incorporating a formal program to attract, develop and retain team members. He has equally invested time towards building strategic alliances with both customers and consumers. Since implementing his vision in 1989, the company has resulted in unprecedented growth and geographic expansion.
Keller has witnessed an evolution with her experience in scrap sales. Sales approach has changed from a waste removal mindset…to a consultative sale. Due to the rise in raw material costs along with sustainability goals, scrap metal has now become more visible and a major revenue factor within the supply chain. USM has organically grown through establishing greenfield sites in the following geographic regions: Philadelphia; Richmond, Va.; Charlotte, N.C.; and St. Louis.
Touring clients' operations, "[We're] able to look at the facility and provide ways to improve their program," she says. "[We] say, this could include commodity separation recommendations, reduce material handling expenses, volume aggregation incentives and removing non-metallics from waste stream, etc."
Building USM's Family
Marsha Serlin refers the USM team members as family. Personally getting to know the team has been a priority for both Marsha and Brad. It is their belief, in order to create a meaningful culture, you not only need to take care of the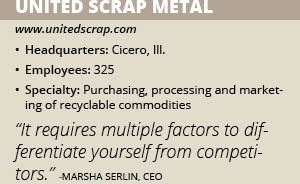 external customer but more importantly, the internal customers, also known as the workforce.
The interview process is quite unique, which Keller experienced first-hand 14 years ago. "[Marsha questioned], 'Tell me about your upbringing your role models and what you learned from your parents," Keller recalls. "To me, this style of questions referencing traits and attributes versus career experiencemakes this place unique and must be an exceptional place to work."
"We're looking at life experience," Brad Serlin says. "[We want] team members who have overcome challenges and adversity to earn everything they've received.
"If you look at this as a job versus a career, you're not a good candidate," he says, noting that his sister tried working at USM, but later left the company. "Marsha recognized that it wasn't going to be a long-term success.
"That's totally OK," Serlin comments, noting that some people just are not meant to work in a metal recycling business. "There's nothing worse than when I see a family member in a manufacturing company that doesn't want [to be there]."
The company also has been known to switch people when they seem like a better match for another department. "We've pulled people from accounting here in to operations," he describes. "It works extremely well. Maybe it's not quite what they signed up for, but they enjoy it with a better job fit."
Solid Strategies
USM survived the economic crash of 2008. "I remember everybody was all nervous," Marsha Serlin recalls. "I said, 'I've been through this before.' It's going to be okay."
The company faced the challenge directly by immediately recognizing where changes needed to be made in order to ride the tough economic wave. "We have since put in place disciplines to prepare ourselves for market volatility," Keller says.
Improving its operating metric dashboard and instilling even better practices were essential to not only survive, but thrive. "The Executive team came to the conclusion we were getting a little bit too comfortable, we have to get comfortable being uncomfortable to reduce risk," Keller says.
The disciplines created a more accountable culture. "What gets measured gets accomplished," Keller says. Some daily best practices include visible daily cash reports, customer profitability analysis and evaluation of operating expense.
One discipline Keller claims to be a game changer, was the how the company viewed what defined a customer relationship. "It meant having a win/win between the partnerships. If a customer didn't represent a 'fit,' we are willing to walk away. Trying to be 'everything to everyone' is a deadly approach. We are looking for loyalty and sustainable business."
Being Both
Keller sees a strong future ahead for USM. "We're at a point where there's a fork in the road," she says. "Do we want to be the biggest or the best, or can we be both?"
But she has strong opportunistic vision. "We are more than capable to maintain the 'Award Winning Leader in Recycling Solutions' status…we have only just begun to touch the surface of what we are fully capable of becoming. Whether that is to become the largest recycling company remains unknown," she says.
What she does know is that USM will never lose its competitive advantage achieved via customer service. "Delivering above and beyond customer expectations will always remain [the] No. 1 priority.
"Upholding the company's core values, facilitates customer loyalty." That is hard for competitors to break.
At the Table
United Scrap Metal (USM) Senior Vice President Jodi Keller takes pride of her tenure with the company, which recently earned her the 2016 Women in Manufacturing STEP Ahead Award. "I'm most proud of being able to grow my personal career in 14 years, to be an influencer at the executive table while driving change internally and externally is truly a blessing.".
Keller's mentors, founder and CEO Marsha Serlin and President Brad Serlin, guided her growth as a woman in the manufacturing world. "There was extreme intimidation entering a room with those in the business for decades," she recalls. "Brad ensured I was properly trained to carry valuable and meaningful conversations while building my confidence to remind me there is no reason for fear. This guidance has enhanced both my personal and USM brand."
She notes that the ever changing business environment fits well with her personality. "It's fun," Keller says. "I love the ever-changing dynamic economy and challenges it represents. Being bored is not for me…I feel alive when presented with an obstacle and creating a solution. Our team truly takes pride in our diversity plus innovative spirit that drives us to be our best.