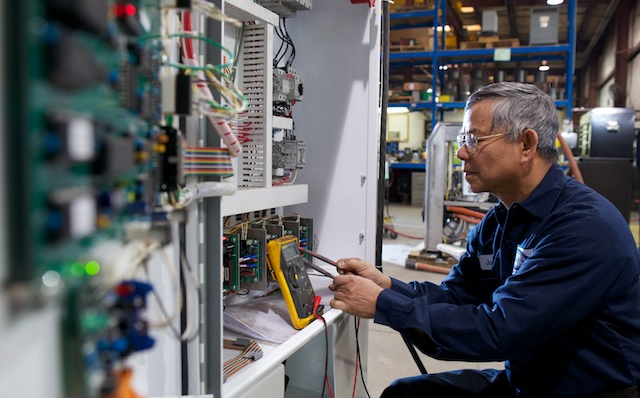 Universal Dynamics plans to more than double its production over the next three years by continuing to be a leader in the design, manufacturing and installation of auxiliary products for the plastics processing industry. The company plans to occupy its new North American headquarters in Fredericksburg, Va., by the end of this year and next year begin to roll out new product lines.
"We design and manufacture sustainable systems that have enough robustness and versatility that they can be the system in place now and a generation after installation," President and CEO Bill Goldfarb says. "One of the most rewarding things for myself is that I can go to a system that we designed and installed 20 years ago and it's still running in the same fashion it was designed to do."
In 1957, Universal Dynamics began manufacturing dehumidifying equipment for the U.S. government to preserve valuable, vital material at missile sites, warehouses and on mothballed ships. In the 1960s, the company moved to the Woodbridge, Va., facility it occupies today, building the first large capacity dryers needed by the plastics industry for processing resin material in refrigerator liners and other large parts formed from sheet material.
"As time and technology marched on, there was a connection to supply drying equipment for plastics material," Goldfarb says. "That was in the '60s, and at the same time the plastics industry was growing. There was a need for suppliers with all types of equipment, not just single-purpose equipment."
To meet its customers' demands, Universal Dynamics evolved to become a full systems supplier. "We took on as much as we could build in our range of products and made alignments with allied vendors who supplied other supporting equipment. Today, we are a fully integrated system," Goldfarb explains. "We were one of the first to recognize that and supply full support of equipment installation from a single source. In fact, one of our taglines was 'one source,' which emphasized we were the one place to go and one vendor you could get everything you needed for your processing equipment needs."
Today, Universal Dynamics continues to increase its range by producing an extensive product line for material handling, drying, conveying, feeding, blending, size reduction and industrial cooling/heating equipment. Its product names include UNA-DYN, AutoLoad and AutoGrind. "We analyze our customers' requests, design systems to supply a complete system, and couple that with installation and system commissioning," Goldfarb says.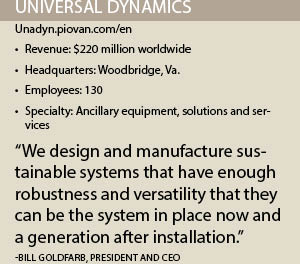 Reliable Performance
Universal Dynamics' customers expect quality performance, uptime and usability in its equipment. "They expect that our equipment easily meets the required rates and flexibility combinations of production and does so reliably," Goldfarb adds. "Meaning, our equipment runs with minimal intervention so that when customers want to run production they can do so – our system won't be the limitation."
The company designs its equipment to capitalize on the latest technology. All of its equipment can be remotely monitored to operate at full optimization. "By 'optimized' I mean the motor is not just turned on at its maximum fixed rate, but turned on to match the range of the application," Goldfarb explains. "For example, if you have something that's designed for 200 pounds an hour and are only running 100 pounds an hour, we can sense that lack of load and adjust the energy and utilities accordingly."
Universal Dynamics designs its equipment to address its customers' pain points. "What is it that prevents them from having reliable, flexible and uptime-sensitive equipment?" Goldfarb explains. "What gets in the way of that? We pick up on that and design our equipment to overcome those issues."
Because Universal Dynamics specializes in custom-built equipment, the company designs and builds prototypes that it further researches and develops in its lab. The company then tests the equipment in the field at a beta site – a customer location where Universal Dynamics installs and monitors its performance in real situations. "It's one thing to do a process in a lab, but in response to actual machine conditions is where you really find out whether the equipment will be viable," Goldfarb explains.
Uniform Space
Universal Dynamics is building a new 90,000-square-foot facility in Fredericksburg, Va., which will become the company's new headquarters. Dec. 1 is the expected occupancy date, Goldfarb notes. "The new facility is designed to give us more space but also a defined, uniform space versus the organically grown multi-building operation we have now," Goldfarb says. "We will have a single factory floor developed for lean manufacturing standards."
Five years ago, Universal Dynamics developed its kaizen leadership team to reinforce continuous improvement and implement lean principles. "This has given us the foundation for our new facility, so that when a department moves they are ready to operate in a lean environment because it won't be unfamiliar to them," Goldfarb says.
The Fredericksburg facility will take a fresh approach to Universal Dynamics' lean manufacturing standards, Goldfarb says. "All the raw materials are received at one end of the plant and are downsized via laser cutters, then bent, rolled and transformed," he describes. "The machines are then assembled in a production line environment and get shipped out from the opposite end of the plant. It flows from raw material to finished product in a straight line."
Universal Dynamics' new facility will be its sole manufacturing plant in North America. The company also operates facilities in Canada and Mexico. Those currently are sales and service locations to be supported by the U.S. facility.
The new facility will give the company space it needs to once again expand its product range. "We do not supply granulation and industrial heating/cooling equipment, but we do around the world," Goldfarb says. "We currently buy this type of equipment from our parent companies and resell it. In the future, we will be able to supply the equipment out of our own factory versus importing from our parent company in Europe."
Universal Dynamics believes in thinking globally while building the equipment and supporting it locally. A new production line will be developed in the Fredericksburg plant and production will begin in 2018. "We plan to be a $100 million company in the early 2020s," Goldfarb says. "It's more than doubling our current production with these actions. We want to have the ability to supply to full current demand as well as supply these new product ranges and supply equipment for all of North America."