A collaborative mindset
Universal Robots is dedicated to bringing safe, flexible and easy-to-use robots to all types of businesses around the world
Although officially founded by Esben Østergaard, Kasper Støy and Kristian Kassow in 2005, Universal Robot's history goes back two years earlier when the three men met at the University of Southern Denmark in Odense. While analysing the special requirements for robots in the food industry, they came up with the idea of creating an easy-to-install and simple to programme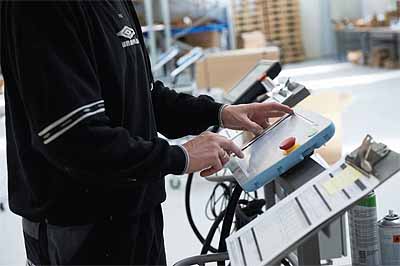 light robot in comparison to the heavy, expensive and unwieldy robots that dominated the robotics market at the time.
In 2005, following investment by Syddansk Innovation, the company was established with thegoal of making robot technology accessible to small and medium-sized enterprises. In 2008, theDanish State Investment Fund became convinced of Universal Robot's potential and invested in the firm, along with a new CEO. Looking back at Universal Robots' early days, Co-Founder and Chief Technical Officer Esben Østergaard comments: "Myself and the other co-founder spent around three years making our product and running out of money, getting investors on board and taking on a CEO in 2008. One year later, in 2009, we started to sell our products commercially; since that moment we began to focus on the business, however a few years back we then moved back to focus on product development and now we do both.
"When we first entered the market it was dominated by a few big players who made robotsespecially suited for the needs of the automotive industry, however we wanted to make a new kind of robot suited for small and medium sized companies and serve their needs for flexibleautomation. These types of organisations couldn't have huge monolithic installations, they needed something that can fit on existing manufacturing lines and can be easily programmable; we made that kind of robot for them. We had some success with this and found that large companies need flexible automation too, so we expanded into this arena as we want to make it easier for everyone to automate. Today we have three models of collaborative robots and areworld leaders in this category with around 60 per cent of the total market share and increasing revenue every year. This has been a trend for the last seven years and is something we aim for every year."
Following an acquisition by US company Teradyne for $285 million in 2015, Universal Robots went on to open regional offices in Delhi/ Bangalore, India, Munich, Germany and Prague, Czech Republic. This expansion has enabled the company to offer more local service to its diverse customer base, which typically includes those in the metal, plastic, wood and food industries but also includes industries such as film and TV, hospitals, construction and supermarkets. "I saw one of our robots land a Boeing 737, it was a robot co-pilot; although the main part of the IT is not ours, it is cool to see our arm used in this kind of application. Additionally, one of our robots was featured in the Alien Covenant trailer as it was building an android."
There are currently more than 12,000 collaborative robots in use worldwide in a variety of industries. Easily integrated into existing production environments, the three different collaborative robots have six articulation points and a wide scope of flexibility as they are designed to mimic the range of motion of a human arm. To further enhance efficiency and flexibility for customers, Universal Robots has recently launched two initiatives, UR+ and UR Academy, as Esben discusses: "UR+ is our way of making it easier for everyone to automate; the initiative was launched in 2016 at Automatica and is an eco-system of developers that make add-on products to our robots. It has had some traction so far and is going really well as it brings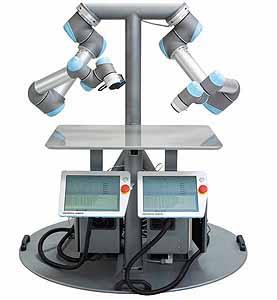 technology down to a more accessible level. By packaging up technology in modules, or caps as we call them, more people will have access to state-of-the-art technology and more integrators can require jobs from end users."
UR Academy, meanwhile, is a micro-education service that is free and available online to anyone and enables Universal Robots to not only train itsdistributors and integrators but also its customers' employees. "By working with the staff of our clients we can train them to go from working like robots to becoming robot programmers. Unlike what traditionally happens where robots replace people, our customers can combine the benefit of its employees' process knowledge and promote them as robot programmers while the robot delivers the consistency of quality and flow that automation provides. It is ultimately about humans being good at something and robots being good at something and combining the best of both worlds. It also means we can close the gap on who can automate and what can be automated, which offers a lot more potential," says Esben.
"Our whole way of working and what we deliver is based on collaboration, so it is collaboration between robot and operator to deliver the products on the factory floor, but also the collaboration between us and users ofthe robot; we take the user very seriously when making a product for them. We also collaborate with our partners, for example with the UR+initiative, by providing a free sales channel to them on our website and thus provide the global market with access to cutting edge technology," he adds.
With sales offices across the globe, the Denmark headquartered firm anticipates further significant growth in line with the trend of success over the last seven years. In response to this, Universal Robots will continue to invest in manufacturing facilities, sales offices and personnel while also maintaining a technical leadership position on a global scale. "On top of this, with the launch of UR+ and UR Academy, we want to get more automation out there and open up more potential markets. This is something we will continue to work on and improve," Esben concludes.
Universal Robots
Products: Collaborative robot technology