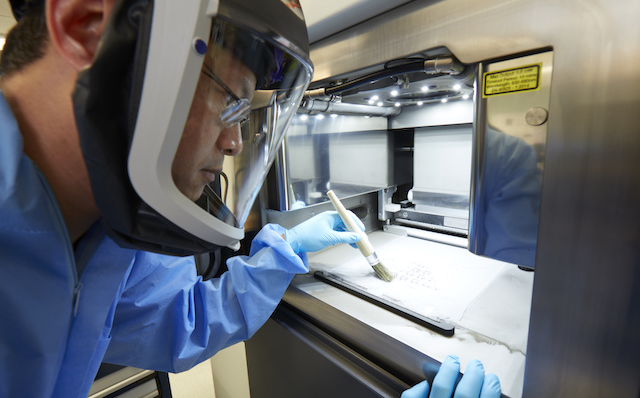 University of Waterloo-MSAM Lab
Although the University of Waterloo's Multi-Scale Additive Manufacturing (MSAM) Lab is 14-years-old, the university is expanding its square footage to advance additive manufacturing (AM) in Canada even more.
Once the expansion of MSAM is completed in spring 2018, the lab will be one of the largest research and development metal AM facilities in the world. With currently nearly $27 million in funding from the government, industry partners and university and more to come, the lab will not only help companies adopt AM processes for innovative and customized products, but also further develop the technology through research.
AM, commonly known as 3-D printing, is a process where parts are built from scratch, layer by layer with raw materials such as metal powders. Mark Barfoot, MSAM's managing director, says the funding will help the university focus in particular on researching improvements to the metal printing technology.
"We're not only doubling the space of our lab, but we also are investing heavily in cutting-edge technology," he says. "We've bought the latest and greatest technology for metal manufacturing. By the time we're done, we will have 99 percent of the various metal technologies that are available for additive manufacturing."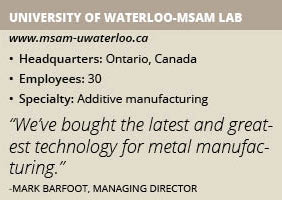 Some of the advanced AM equipment the university has invested in currently includes an EOS M290 and Renishaw AM400, each manufactures complex parts from a variety of metallic powders; a Stratasys J750, which can mix up to six materials at once; a custom in-house binder-jet system with added patented systems; and an Optomec aerosol jet that can print electrical traces.
"We also have a series of equipment for measuring particle sizes, and a CT scanner to check internal parts," Barfoot notes. "We're also looking to add several other equipment including a hybrid-based machine, which combines machining and 3D printing in one."
The University of Waterloo aims to become a leader in additive manufacturing and help expand its use in Canada.
"Additive manufacturing is not as far advanced here as it is in the U.S. or Europe," Barfoot explains. "So we would not only be helping the next generation of additive manufacturers, but also existing companies who may be struggling to apply additive manufacturing in their own businesses."
MSAM's research focuses on the entire development of an additive manufacturing product, including material characterization, process development, and improvements to existing machines or new purpose built machine development.
"We will be working closely with our industrial partners in determining the best technology and process parameters to utilize in creating their specific part using additive manufacturing," Barfoot says.
The university's research team consists of nearly 30 people, including professors, engineers, post-doctoral fellows, graduate students and co-op students.
"By the end of the year, we should be closer to 50," Barfoot says. "We have also hired a few graduate research associates who are working with our industry partners on specific industry needs. All of the manufacturers who have signed on are pretty excited to work with us, and vice versa.
"Having access to the capabilities right here in Waterloo is great because we are centrally located in Ontario," he adds. "So although our primary focus is still advancing additive manufacturing in Canada, we're not limited to only working with Canadian companies, as some of our partners are outside of the country."
Barfoot notes the university and its team's intent is to take a holistic approach to AM, and then educate companies in Canada and around the world.
"We want to help companies bring their parts into full additive manufacturing," he says. "No job is too small. Although many of our partners do not know much about additive manufacturing, we also have partners who are well versed in it and want to take it to the next level. We are also working towards implementing classes to help students learn more about it."
Barfoot joined the University of Waterloo less than one year ago, and brings nearly 20 years of experience – 16 in AM – to his role as managing director. His passion is to see AM and 3-D printing utilized more in Canada, he notes.
"This role provided me with an avenue to fulfill that dream," he says. "Metal technology is a great opportunity because you can produce more than prototypes.  Additionally, we are planning to expand into plastic technology in the coming years."